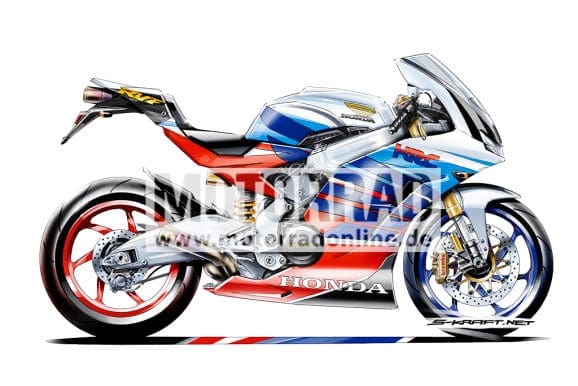 Top German motorcycle magazine Motorrad is getting suitably excited about the 'Super Blade' story now, and have gone and published this very sexy illustration on what they think it will look like.
As we've been telling you for months now, Honda is going to bring out a high-spec Fireblade (possibly carrying the iconic model name RVF) to go head-to-head with the likes of the ZX-10R and R1-M.
The bike will feature a host of electronics and WSB-spec suspension, it's also likely to be dripping in carbon fibre bodywork (basically, this will be the hottest Blade ever). The idea is that the basic Blade stays just that, basic, then there'll be a 'Super Blade' which will be a Blade mixed with RCV213V-S MotoGP-for-the-road which will give us the WSB racebike AND something super exotic for the road, too.
We love Motorrad's illustration, especially with the stubby exhaust and more rakish fairing. What do you reckon to this 'Super Blade'?