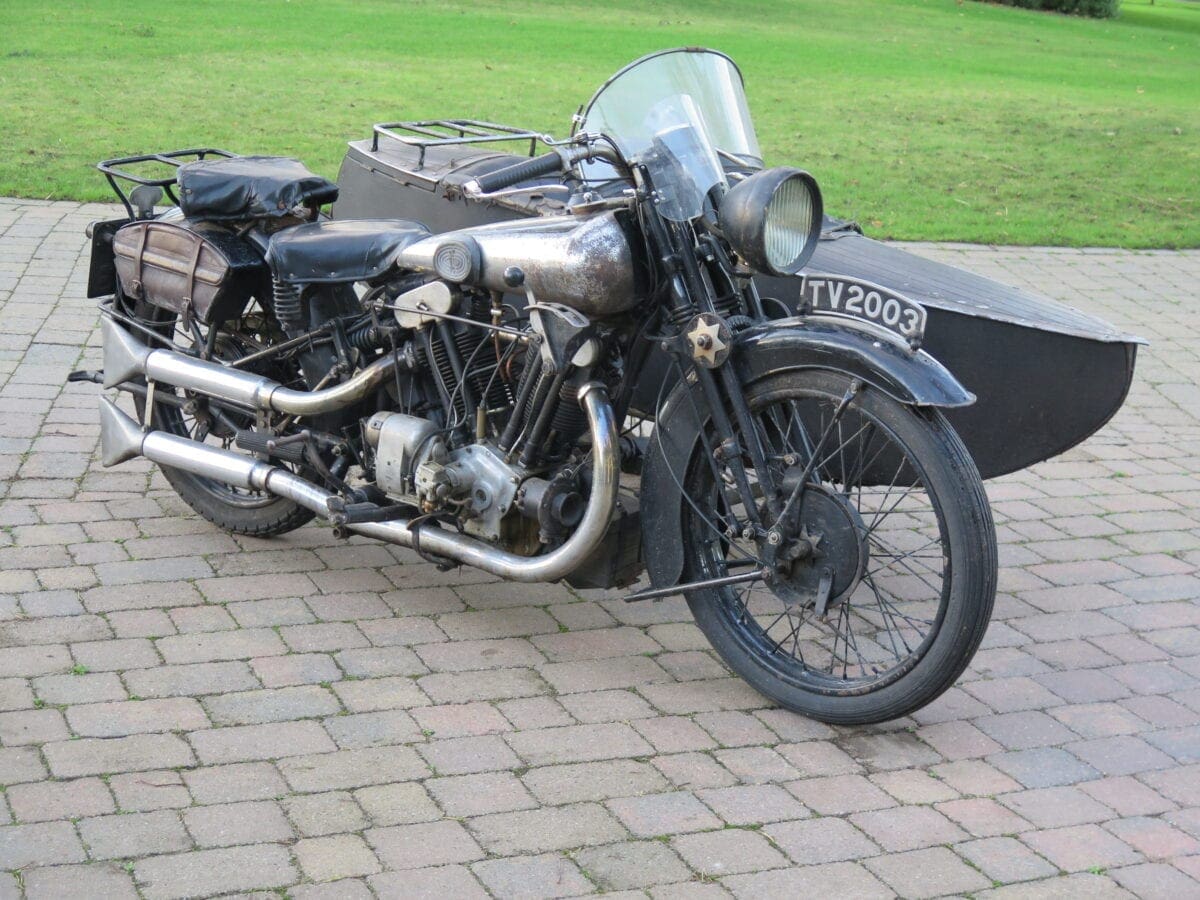 A magnificent unrestored Brough Superior with sidecar, registration TV2003, will be on sale with H&H Classics at IWM Duxford on April 19th for an estimate of £280,000 to £350,000.
The Brough Motorcycle marque will be forever associated with T.E. Lawrence, known as 'Lawrence of Arabia' who bought one of the first SS100s in 1925 having previously owned three Brough SS80s. The crash that would end his life came while riding another SS100, on a narrow road near his cottage in 1935.
Sixty-nine SS100s were produced in 1925 at £170 each, (equivalent to £8,700 in 2016) and were advertised by Brough as the 'Rolls Royce of Motorcycles'. All bikes had a guarantee that they were capable of 100 mph (160 km/h). The current world record for a Brough Superior SS100 is £315,000.
George Beale, Director of H&H Classic Motorcycles, says: "The fact that this magnificent motorcycle is unrestored only adds to its attractiveness for specialist collectors who might decide to restore or, indeed leave it in its present good condition much as it left the factory 86 years ago. It has been owned by just four previous owners, the last, the current vendor, Frank Solano has loved and used it on many rallies for the past 26 years."
A total of 283 SS 100 models were produced from 1925 to 1934 and only 131 are known to have survived.  Only 21 SS100 models were produced in 1930 and it is possible that this is the only motorcycle to have actually left the works with a sidecar fitted .The build card indicates that this machine was made to order and lists all the non standard items which were to be fitted.
The Brough, Registration number TV 2003 has a Bentley and Draper spring type frame, number   S 1017 with a J.A.P overhead valve 'V' twin 994cc engine – number JTO/W 91700  /SC.
The bike is fitted with a four-speed gearbox rather than the standard three-speed item.  According to the Brough Club the gearbox number indicates that this would have been fitted in 1933 and more than likely at the Brough factory.