Death Machines of London joined forces with Pete Boast and his young protégé; creating a trick Ducati Monster flat tracker that's ready to race.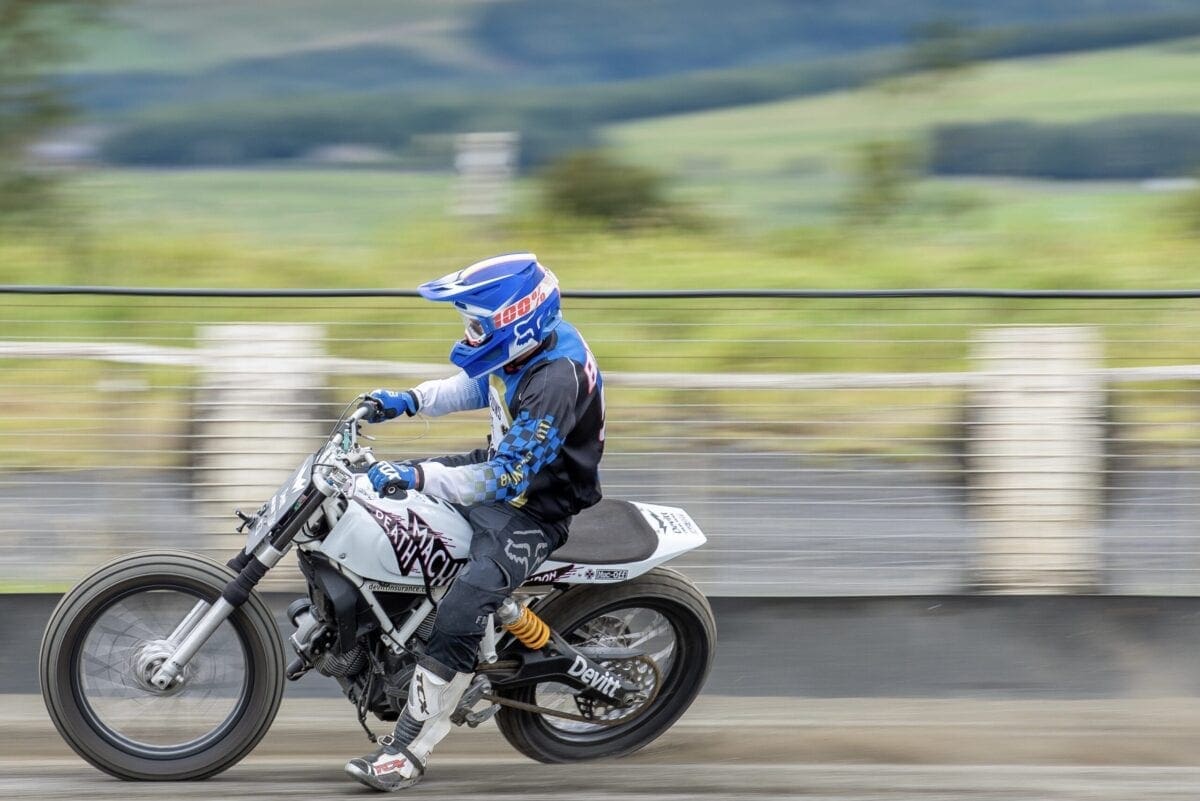 When Death Machines of London's expert custom bike builder Max Vanoni, joined a friend at a Flat Track Racing event in 2018, he had no idea that it would kick start the creation of a new team. He had even less idea that the rider line-up would include the man widely regarded as the Godfather of Flat Track in the UK, Peter Boast, and his new-found protégé. We caught up with Max and Peter to chat about the DMOL x Devitt Flat Track Team, how it was born and where it's heading in 2021…
Max Vanoni, who is originally from Italy, has been involved with motorcycles and motorcycle racing for most of his life. His work as a custom bike builder at Death Machines of London sees him creating beautiful bespoke motorcycles from the ground up, but Flat Track hadn't really been on his radar.  "I knew of Flat Track, of course, but I'd never actually been to a race before," explains Max. "I went along with a friend and quickly realised this was something I'd love to get involved in. It looked like a good grassroots sport and also a lot of fun! It was at the same meeting that I was introduced to Pete."
As the man credited with bringing Flat Track Racing to the UK back in 2005, there isn't much that Lincolnshire man Peter Boast doesn't know about the sport. The road racer and former British and European Flat Track Champion has knowledge and experience that is almost unrivalled, certainly on the British circuit.
"Pete and I got chatting and had a very loose conversation that went along the lines of 'If you build the bike, I'll ride it' and 'If you ride the bike, I'll build it", continues Max. "We understood what we wanted from each other and and how our respective expertise could help us both. I'd never built a Flat Track bike for competition before, so Pete's input was invaluable."
The pair set about developing a competition bike for the 2019 season using the framework of a Ducati Monster. "It's not actually that difficult to prepare a bike for Flat Track on a basic level," explains Max. "You can literally just add a 19" wheels, big, wide handlebars and a Flat Track seat and you could go out and race at the weekend, but we wanted to build a bike that could lead the pack so we've gone way past the basics with our machine."
Such ambition takes time and patience and the bike in its current incarnation has been a labour of love and dedication. "As it turns out, what we did in the very beginning didn't work that well at all," continues Max. "We went back to the drawing board each time, making tweaks here and there, and as the season progressed we definitely hit our stride. On the very last race Pete got on the podium, which is more than I could have asked for in the first year."
Riding the high of the late-season podium finish, Max spent the winter of 2019 re-building the bike from scratch, this time with a Ducati Scrambler framework, but based on everything they had learned that year. By early 2020 it was good to go and ready for Peter to start testing, however they soon discovered things weren't going to go according to plan and the project almost faltered.
"Pete and I realised early on that there was a lot of conflict on the racing schedule between the Flat Track Nationals and his other racing events, such as the Isle of Man TT, so it would have been impossible for him to commit to a full season" says Max. "It was at that stage that I asked if he knew anyone else who could take up the ride in the Nationals on the bike we had developed. He immediately suggested Jack Bell."
Max hands over to Peter to explain. "Jack started coming to my Champions Flat Track School four years ago when he was 14 years old,' he says. "I'd come across him on the sand racing circuit in Lincolnshire, but when I saw him ride at the school I could see straight that he was pretty special. I kept an eye out for him competing in the Flat Track Junior class and you could tell that his level was really, really good. I just thought 'yeah, he's got it.'"
In an age where many youngsters are concerned only with popularity and how they look on social media, the now-18-year-old Jack is a breath of fresh air. "I'd honestly say about 50% of the kids at my school are only there because their Dads want them to be or because they just want to look good on Instagram, but Jack isn't like that one iota," says Peter. "His attitude matches his talent, which is testament to his mum and dad, who I also have a lot of time for. He's a really impressive young lad and I think that he can go along way – he just needs the right guidance."
"Oh, absolutely," agrees Max. "Honestly, he is a really special, very talented young man. You can just see it. Jack is incredibly dedicated to racing and he's an all-round nice guy, with a supportive family behind him. When I met him he'd just won the 2019 British Flat Track Youth Senior Championship, but he's not big headed at all. He knows what he wants and knows how to get it, and with the right team I'm sure he will make the most of his talent."
And this is where Max and Peter come in. With Max's newly-built bike and Peter's expert advice, it looked as though the team could really start making waves in 2020, with Jack competing in the Nationals and Peter doing the Euros, but of course, nobody had factored a global pandemic into the mix.
"As it turned out, none of the dates really went ahead because of Coronavirus," says Max. "It meant we didn't get the racing we had hoped for, but what it did gives us was the chance to get Jack on the bike without too much pressure in year one. It actually worked out well for us. We did a lot of testing and in the one and only race that we did do, in the same field of competitors you'd expect on a normal race weekend, Jack came in second place!"
Covid-19 allowing, the plan for 2021 is now much as it should have been for 2020, with Jack racing in the Hooligan class in the Flat Track Champion Nationals and in the Euros. This time, Jack has some miles under his belt and a bike that he's happy with in terms of set-up.
"The bike for this season is the same bike Jack rode last year, but with a few refinements," explains Max. "It's an evolution based on the feedback that he gave us throughout the season and we're in a very good place to start the year. Realistically, the target is to be in contention for the podium at every race. I'd be more than happy with that. Jack's already proved that he's not afraid to get in the mix with the established racers in his category, so I have no doubt he will do well."
Pete agrees, "We made great progress with the bike towards the end of last year and the bike that Max has built is top notch. He's made a lot of changes to the converted Ducati Scrambler and I honestly think that on this bike with Jack on board, we can challenge for the British Championship."
So if 2021 and beyond goes according to the plan, what's the dream for the young protégé? With his heart and soul in Flat Track, Peter would like to see Jack complete in the birthplace of the sport – the United States of America.
"You know, this is a sport that still developing on a professional level," he explains. "There is now the FIM World Championship and, going forward, I'd love to see Jack compete on the world stage. Beyond that, the dream is for him race in America. It's where the heritage of Flat Track lies, so it would be great for him to do a season out there."
Max agrees that for Jack, the racing world is his oyster. "He's definitely got the talent, so it's really up to him where he takes it. In terms of Flat Track, it's racing in the States that really pays the bills, or he could go down the short track road racing route, such as BSB and beyond. Either way, he'll go far."
Whatever the future holds for Jack Bell, he's currently in very good hands with Max and Peter's expertise and guidance at his disposable and it seems they have found the perfect recipe for Flat Track success.
Despite challenges presented by the Covid-19 outbreak, the team has still managed to make excellent progress on the Ducati – and they are now more than ready to take on the challenge of the Nationals, with their hopes pinned on reaching the podium and challenging for the championship title. The opening event of the five-round 2021 Flat Track Nationals is due to take place on 14-16th May. For more information, click HERE. And for a complete guide to Flat Track Racing and more information on Devitt's motorcycle insurance, click HERE.
---
Advert
---
Enjoy everything More Bikes by reading the MoreBikes monthly newspaper.
Click here
to subscribe, or
Read FREE Online
.
Sign-up to the More Bikes Newsletter
Enter your e-mail address below and get regular updates straight to your inbox… You can unsubscribe at any time.