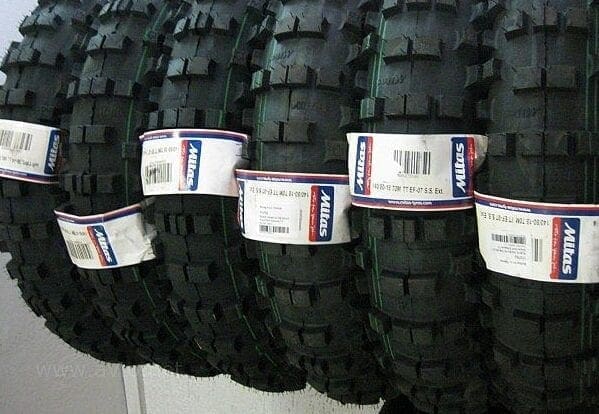 Gwynn Baraclough from Mitas Tyres has had hundreds of tyres stolen, and is asking for people to help keep an eye out for them.
A delivery was made to the warehouse in Clacton on Sea, and while details are a little sketchy, the lorry was broken into and around 200 tyres were stolen. What the driver was doing is said to be unclear, but it isn't a two minute job to unload that many tyres.
These will without doubt be offered up for sale very cheaply within the next couple of weeks – almost all are Motocross and Enduro tyres, fronts and rears in the most popular sizes 120/90-18 and 90/90-21. Some though are the EF-07 Super Soft Enduro tyres with the Double Green Band in size 140/80-18 and single Green Stripe EF-07 in size 120/90-18. Also there are some of the white banded XT-946 Ice Soft Tyres.
The theft also included the very first set of E-10 Tyres for the new GS; Rear 170/60-17 and Front 120/70-19, these are pre-production tyres so there certainly no others in the country.
If you have any information at all, please email info@mitas.co.uk or call 01288 381541.