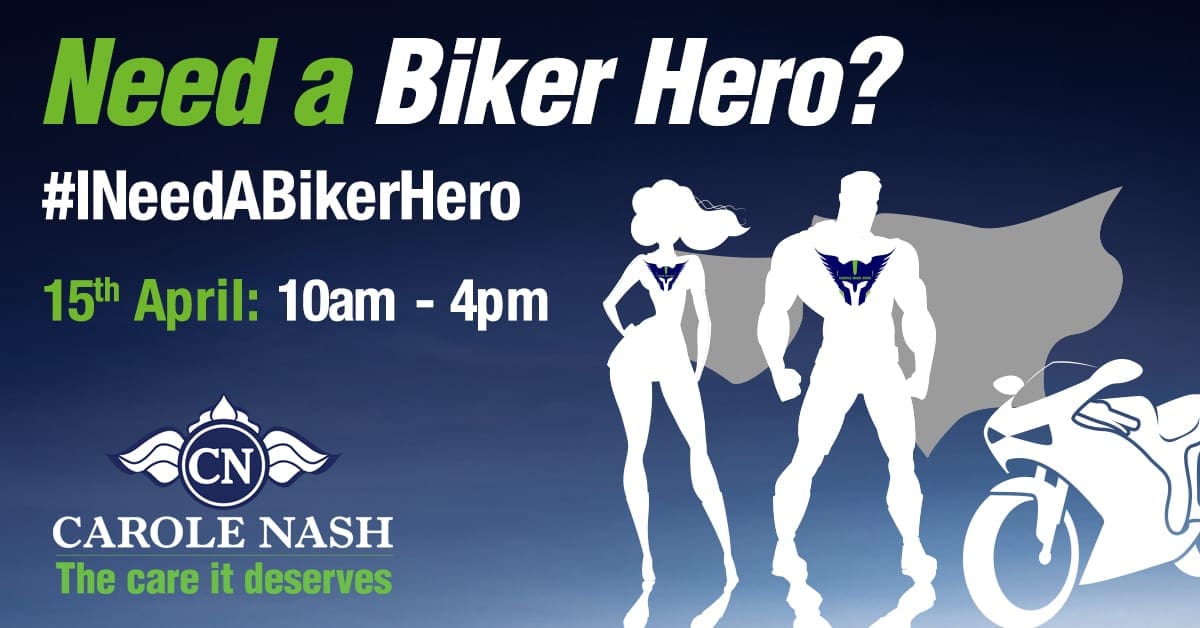 This Friday (15th April) biker heroes around the country are giving up their time between 10am and 4pm to become a biker hero for those in need.
To celebrate the beginning of bike season, the UK's favourite motorcycle insurance broker, Carole Nash, is giving back to the community by teaming up with several generous bikers across the UK and launching its first ever Hero Day.
On the Hero Day, people in need of a helping hand will be encouraged to tweet to the Carole Nash @insidebikes Twitter account using a designated hashtag #Ineedabikerhero.
Whether it's picking up your lunch, taking flowers to your loved one or even posting your mail at the post office, the Carole Nash biker heroes are around to help. As a thank you, Carole Nash will provide fuel costs of up to £50 and donate £50 to the charity of their choice,
Rebecca Donohue, Head of Marketing at Carole Nash, said: "We want to tackle the everyday struggles and we are pleased to be able to offer a helping hand to people on our Hero Day. We were overwhelmed with the number of responses from bikers who offered to help out and we thank our heroes for giving up his time to take part.
"We want to show that the biking community is one of the friendliest, most warm and welcoming groups to be a part of, shattering any sort of misconceptions or stereotypes about bikers and biking."
As the biker heroes might not be able to help everyone, Carole Nash will also be sending out random acts of kindness gifts to a selection of lucky people who tweet @insidebikes on 15th April.
And it doesn't stop there. Carole Nash are encouraging the whole community to do what they can on the day to help others. This may be helping an elderly neighbour do their shopping, buying a treat for a friend who is having a hard time or donating items to charity.