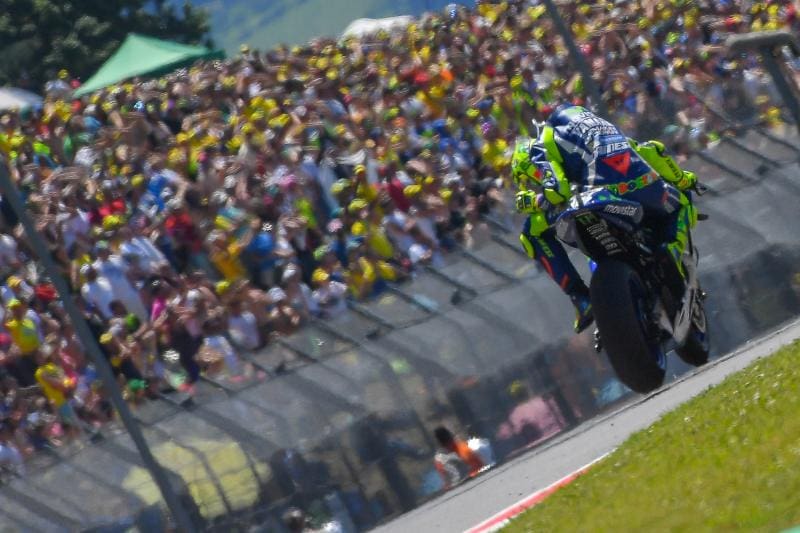 The Italian GP was a race full of potential for Valentino Rossi but one that eventually ended in a puff of smoke and disappointment.
For the first time since he last took victory in Mugello, Valentino Rossi started the Gran Premio D'Italia TIM on pole position and had shown a threatening race pace during Free Practice 4. His Movistar Yamaha MotoGP teammate Jorge Lorenzo made a stronger start as the lights went out but Rossi was right with him. 'The Doctor' waited patiently, sniffing up the inside at Turn 1 but unable to quite overcome Lorenzo on the brakes. As the laps went on his attacks became more frequent, forcing Lorenzo to change his lines to more defensive ones. Rossi looked to be getting stronger and stronger as the race went on until lap eight when his M1 began to spew smoke. With a shaking head he pulled off to the side of the track and retired from his home race.
Mugello was silent as Rossi made his way back to the pits. Failing to score sees Lorenzo open up a 37-point gap in the championship table, a sizeable gap. This is Rossi's second DNF of the year, his first season with more than a single DNF since 2011. It's onwards and upwards to Barcelona for Rossi as he looks to get his championship challenge back on track.
Valentino Rossi: "It's a great shame, because it's always a pity when you have a problem with the bike in the race, but here even more so because it was in Mugello in front of all the crowd. I was very competitive in the race and very fast, I had a good start and I was there. I think I could have fought for the victory because I had a very good feeling and a strong pace. It's also a great shame because this zero points score for the championship weighs very heavily. Lorenzo and Marquez finished first and second, so now the distance is hard, but it's like this. The positive thing is that I was competitive over the whole weekend and I was strong. I could have fought for the victory, so now we wait for the next race in Montmeló. Catalunya is one of my favourite tracks, I like to race there a lot, so I think we will have a good potential, but now we have to wait ten days and after that we will see."