Bell helmets to test prototype 360fly camera helmets during this year's TT races.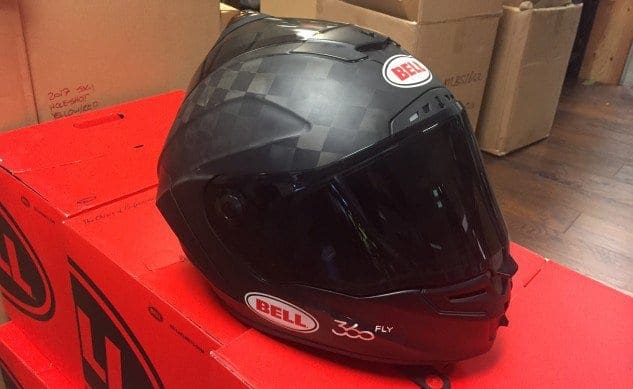 Bell helmets has said that it will road test working prototypes of the first-of-its kind 360-degree-camera integrated helmet, the Bell Pro Star with 360fly, during the 2016 Isle of Man TT.  Bell ambassadors, Gary Johnson, William Dunlop and Brandon Cretu will wear prototypes of the ground-breaking helmet, scheduled for release later this year, during practice and competition.
Along with road testing the Bell Pro Star with 360fly,Bell Helmets and Team T3 Racing will raffle off seven special edition Gary Johnson Pro Star helmets to fans that enter online.
First unveiled at the 2016 Consumer Electronics Show in Las Vegas, Nevada, the Bell Pro Star with 360fly features an integrated 360fly 360o 4K camera. The three Bell ambassadors will road test the helmet and integrated camera during the race's intensive conditions as a critical step in the ongoing research and development of the product, providing feedback, expertise and insight based on their first-hand experience.
"Countless hours of testing and development go into our state-of-the-art helmets, and a crucial element is feedback from our world-class riders," said Chris Sackett, Vice President of Bell Helmets. "Testing at our Dome facility in Scotts Valley is critical to the process. But now we'll get a chance to see how the helmet and integrated camera perform under the types of intensive conditions that can only be experienced at Isle of Man."
While Bell riders are putting the Bell Pro Star with 360fly prototypes through the paces on the road, Bell Helmets and the new TT squad Team T3 Racing will be offering race fans the chance to win a Pro Star helmet of their own. Seven (in honor of Johnson's race number) Gary Johnson replica Pro Star Helmets will be made available to fans who purchase one of 675 raffle tickets, currently available at www.tt3racing.com. The winning tickets will be drawn by Gary Johnson.