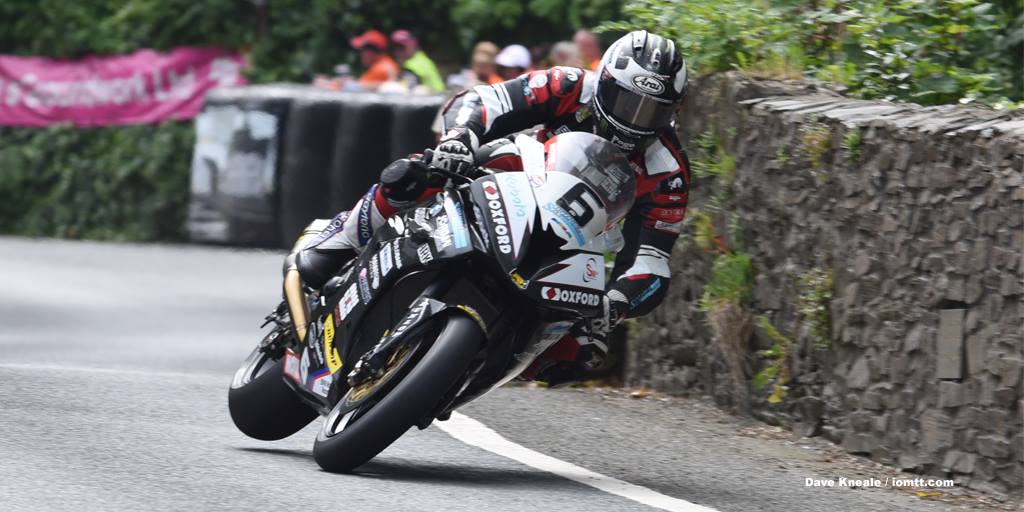 In an amazing on-track duel that saw arch rivals Michael Dunlop, Ian Hutchinson and John McGuinness almost lapping together it was Dunlop who reigned supreme in the first race outing at TT 2016.
Dunlop was unstoppable on the Hawk Racing BMW right from the start of the six lap race, smashing the record books with an astonishing 133.37mph average speed lap from a standing start on lap one.
That's the first time anyone has ever broke into the 133mph bracket in a race by posting a 133.369mph on lap one. The previous quickest was set in last year's Senior race at the end of Race Week by John McGuinness when he clocked an in-race best-ever time of 132.701mph.
But Dunlop wasn't done just yet and in lap two he went even faster – clocking a best of 133.393mph a new lap record! Dunlop was also the first rider to ever lap under 17 minutes for a lap of the TT with a best of 16.58.254s.
What makes Dunlop's achievement even more remarkable is the fact that he set the first 133mph lap from a standing start. Most records come from a flying lap across the start/finish line but Dunlop's BMW record was clocked from a dead-still beginning.
Dunlop held the lead throughout the race, averaging 19 seconds over Hutchinson and although the pair were almost side-by-side as they crossed the line Dunlop knew he had the win. The race was won by a huge 1m 15.634s over the previous fastest total race time for the Superbike outing.
Dunlop said: "This whole thing… the pressure was against us and kind of it felt like we were on the back foot. I knew I could do it. If I could tell you where this bike was built, the size of the workshop, the size of the team you wouldn't believe it.
"The boys said that they couldn't give me a factory bike but they could give me a fast one and they did it. I just went for it from the start and once I built the lead up it was a case of holding the lead from there.