Kawasaki secret updates for ZZR1400 revealed in hidden design.
Kawasaki has tried to sneak this mystery motorcycle's design through the patent system – by hiding under a listing for a new headlight outer.
Now, to be honest, we haven't had any information through about this other so we're working on what you can see in the images. Looking at the head-on image of the what-is-that-bike we can see one major, circular headlight with three smaller lights set on each side.
What is clear from the front drawing is that the three lights on each side of the retro-ish centre headlight are cornering lights. In the drawing below you can see that the top light on each side is the first to light up automatically when the bike is leaned over in the same direction. As the bike leans over more the second light then lights up in addition to the top one, further over still and all three lights on that side of the bike are lit, along with the main headlight which is on all the time.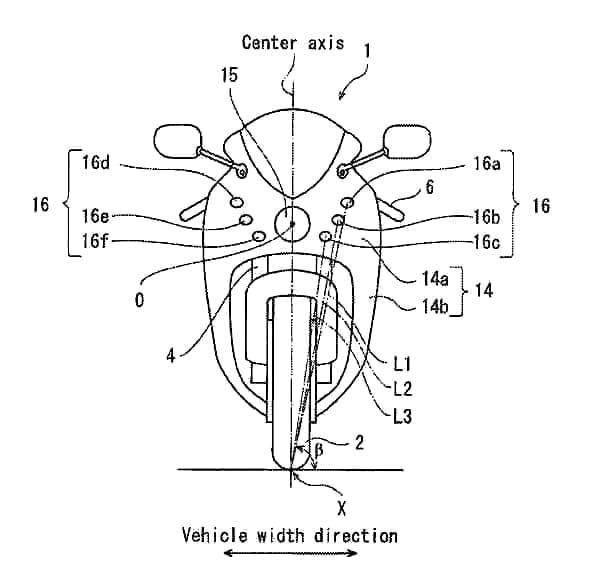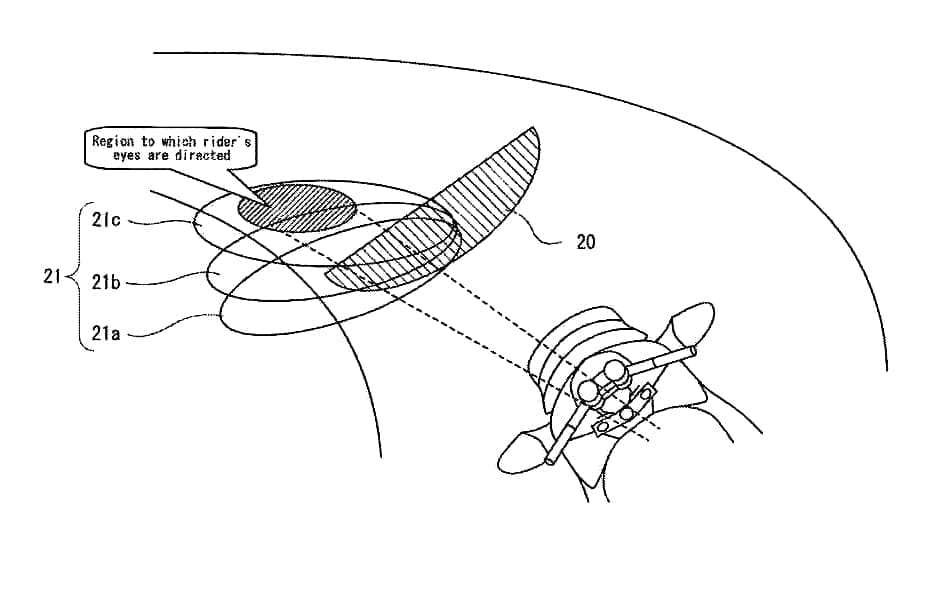 It's not the first time a system like this has made it to market, the KTM 1290 Super Adventure is one model with cornering lights built into the bike's farings as standard, but this is the first time that this tech has been seen on a future Kawasaki plan.
What also makes this design all the more fruity is the image of a whole bike which is seen from the right side, below.
Now, it's highly unlikely that what we have here is a finished version of an all-new Kawasaki (the patent is nowhere near detailed enough for that just yet – a lack of vents in the bodywork and details in the petrol tank/tank cover are missing) but it's also very unlikely that is just some flight of fancy from a bored Kawasaki employee who's got a hankering for an old-school-styled ZZR1100 throwback.
No, what we have here is something coming from Kawasaki that's more retro-modern and possibly a big capacity bike – with what looks like external rails in which you can mount panniers on (on the drawing it looks like a chunky subframe but its drawn with solid lines – that indicates that this is on the outside of the bodywork, dotted lines indicate something inside the bike, hidden from view). Whatever this bike turns out to be, it's big, spacious and looks a lot like an older-styled bike. There's a chance that this could be the new-look and new-take on the ZZR1400 (current bike, pictured below). That bike is currently Euro 4 but if this is the replacement/new version then the look of the big mile-muncher is going to change quite a bit.
In all honesty, we've not got a clue about this – and we didn't know Kawasaki was about to file this idea. But now that we've stumbled across this bit of biking details we figured we'd show you it so that you can have a go at deciphering exactly what it all means.
---
Advert
---
Enjoy everything More Bikes by reading the MoreBikes monthly newspaper.
Click here
to subscribe, or
Read FREE Online
.
Sign-up to the More Bikes Newsletter
Enter your e-mail address below and get regular updates straight to your inbox… You can unsubscribe at any time.