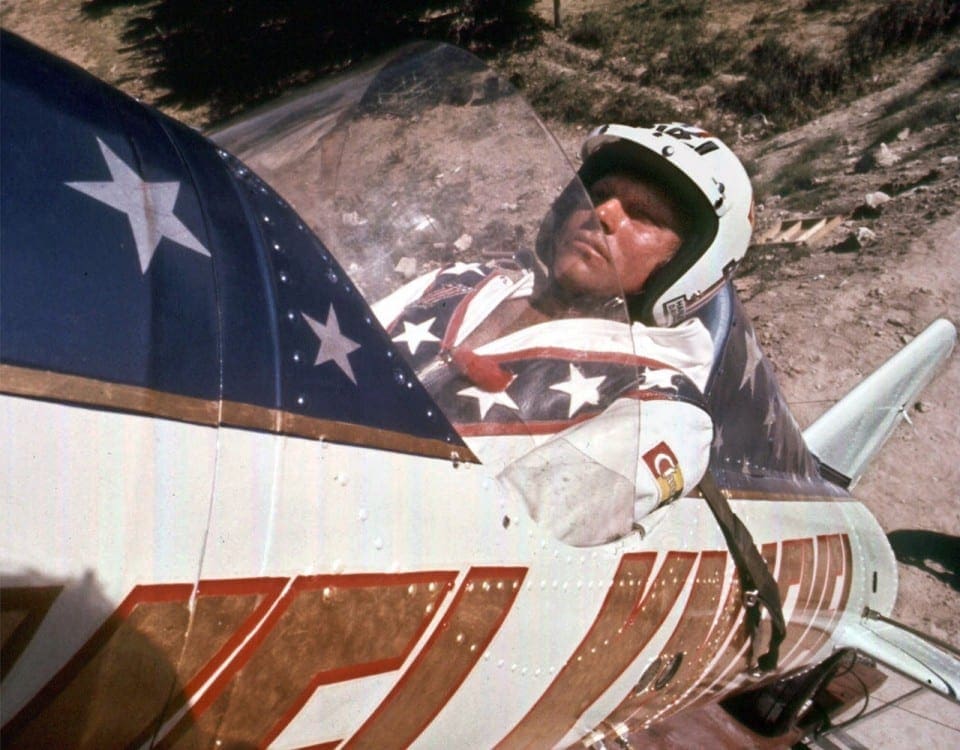 This is going to make every child of the 1970s with a passion for motorcycles sit up and take notice. That's because this is Evel Knievel's iconic launch, Take II.
Hollywood stuntman Eddie Braun, fuelled by the memory of the late daredevil, plans to strap himself into a steam-powered rocket cycle on September 17 for his most death-defying role yet – replicating a launch over the Snake River Canyon in Idaho. A stunt that almost cost Knievel his life when first tried 42 years ago.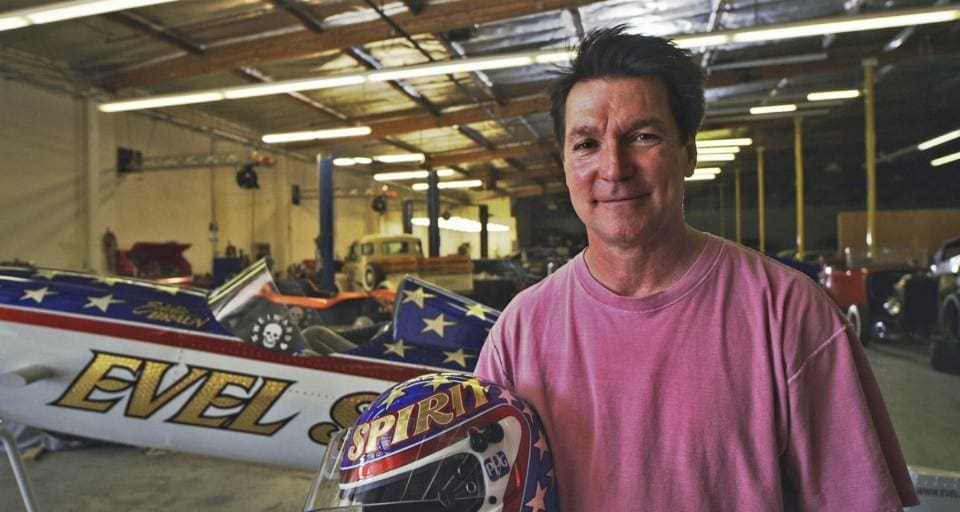 Braun, pictured above, has named his rocket "Evel Spirit " after his boyhood hero. Powered by compressed steam, it's nearly identical to the model Knievel used for his failed canyon attempt on September 8, 1974. Braun wants to prove Knievel could've made it had his parachute not prematurely deployed.
Along for the ride in this endeavor are two sons eager to complete the legacies of their fathers: Kelly Knievel, who was present the day of the crash, and rocket designer Scott Truax, whose dad, Bob, constructed the original rocket cycle for Knievel.
"Evel took off on one side of the canyon in 1974. I'm hoping his spirit lands on the other side of the canyon in 2016," said the 54-year-old Braun, who says he completed the necessary paperwork and will launch a few miles away from Knievel's original site that's near Twin Falls, Idaho. "How many people get to fulfill the dreams of their hero? It's kind of like touching Superman's cape."
Braun has long been fascinated by everything Knievel, the popular figure who attempted so many memorable motorcycle jumps over an iconic career which included:
— The fountains at Caesars Palace in 1967 (crashed, crushed pelvis and femur)
— 13 buses at Wembley Stadium in London in 1975 (crashed, broke pelvis and back)
— 14 Greyhound buses at Kings Island theme park in Ohio in 1975 (success)
— A 90-foot tank filled with sharks in 1977 (crashed on landing ramp during rehearsal, broken arms)
And, of course, the Snake River Canyon attempt. Wearing his patriotic jumpsuit, Knievel was the epitome of showmanship.
Soon after take-off on the original attempt more than four decades ago the parachute deployed and halted the rocket's momentum. Watching that day was son Kelly and the rocket's designer, Bob, who put a comforting arm around Kelly as the cycle drifted into the canyon. Knievel walked away with only minor injuries.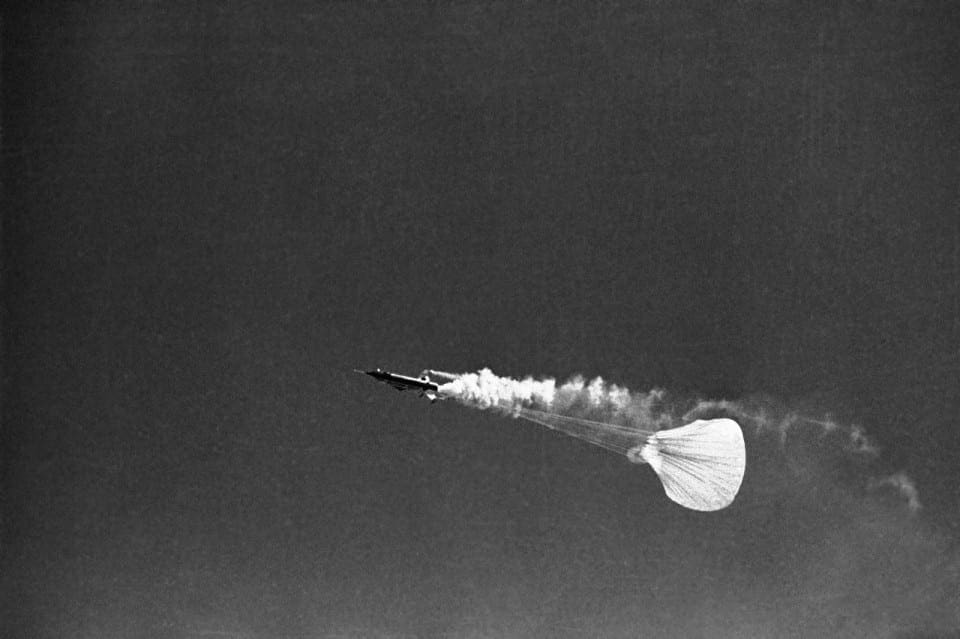 "He flipped a coin with his life and came out alive," explained Kelly Knievel, whose father died in 2007 at 69 after suffering from diabetes and idiopathic pulmonary fibrosis. "My dad certainly had nine lives, didn't he?"
Braun says that he's secured the proper permission and permits from private land owners, Federal Aviation Administration, even Homeland Security, to green light his blast-off. Others have stepped up as well, including Slash from the Guns N' Roses rock band. Braun said the guitarist recorded a theme song for him — fittingly using Elton John's hit, Rocket Man.
The jump will be live-streamed on the internet.
For years, many believed Evel Knievel's daredevil son, Robbie — who's completed more than 350 jumps — might be the first to take a crack at the canyon. At one point, Robbie Knievel was looking at the jump in 2011, but it didn't take flight.
"Eddie put together the team and he's the one that got it done," Kelly Knievel explained. "It's very dangerous — and very ambitious."
Scott Truax used his father's blueprints to reconstruct the rocket. He wanted to show that his dad's version of Evel Knievel's "X2 Skycycle" would've worked, if not for the parachute malfunction.
The late Robert Truax was considered one of top rocket scientists of the 20th century.
"With this re-creation, it is my intent to clear his name and tell his amazing story," Scott Truax said. "I like to think that instead of looking up at the rocket launch, he and Evel will be looking down on it, and that's a much better view."
The rocket will reach a top speed of 400mph in about three seconds and an altitude of 3000 feet before the engine cuts off and the parachute deploys. Since parachute technology has come a long way with modern technology, that system has been revamped.
---
Advert
---
Enjoy everything More Bikes by reading the MoreBikes monthly newspaper.
Click here
to subscribe, or
Read FREE Online
.
Sign-up to the More Bikes Newsletter
Enter your e-mail address below and get regular updates straight to your inbox… You can unsubscribe at any time.