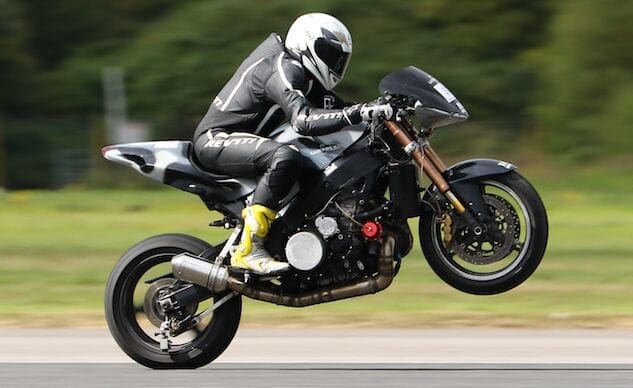 The world record for fastest speed in a wheelie has been shattered by Dutch rider (and perfectly named for the event) Egbert Van Popta after an amazing 213mph+ run at the Straightliners Event at Elvington Airfield in Yorkshire.
The rider from the Netherlands' first run saw him hit a top speed of 214.669mph but he dropped the front wheel down just between the timing beams for a fail.
It was the second run where Van Popta bagged his highest speed, clocking a 213.309mph best to set a new motorcycle wheelie world record.
Van Popta was congratulated on his return to the pits by previous record holder Gary Rothwell from Liverpool. Gary was second quickest on 206.049mph, just shy of his 208.8mph record.
Third in the competition, from Minneapolis USA, was Cecil "Bubba" Myers on his third visit to the event. Myers hit a new personal best close with a 197mph, his previous best was a 134.4mph. 15 other riders successfully completed the kilometre-long wheelie at pace.
Here's the onboard video of the new world record as it happened. It's a quick wheelie for sure but stay with the film until the end where you can here Van Popta's crew tell him he's bagged the record and Gary congratulate him – it's a great moment.