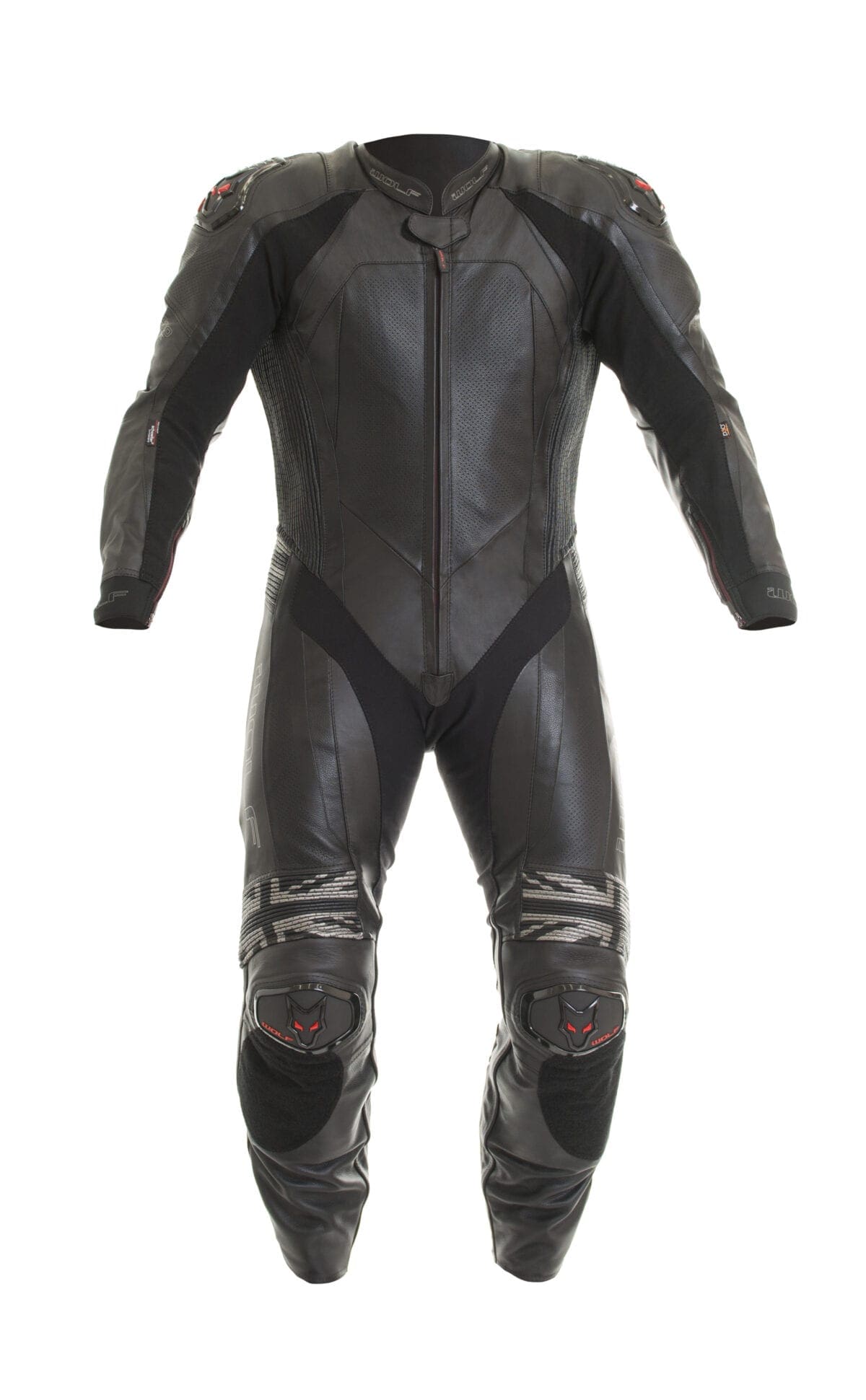 Tested by: Mikko Nieminen // RRP: £749.99 // Sizes: UK 40-50 // Colour: Black // Info: www.wolf-moto.com.
The Racing-K suit is part of the new Wolf range for 2016, and from the first glance you can tell this is a quality piece of kit. The materials, stitching and choice of protectors are excellent. The suit is designed and developed in the UK, and put together in Pakistan.
Wolf was one of the pioneers of using kangaroo hide in one-piece suits, introducing it into the range in 2004. The Racing-K mixes 40% kangaroo hide with 60% full-grain cowhide. The thinking behind the mix is to get a good balance of strength with a light and supple feel.
The Racing-K features what Wolf calls the 'Wolf Natural Movement System'. In other words, there are stretch panels behind the arm, the calf, the full length of the torso and on the lower back to enable movement on the bike. It might sound trivial, but they really make a difference and the suit is comfortable both on and off the bike. I did have to go up a size from my usual size 44, because the back wasn't quite long enough, but that's more to do with my long back and short legs combo (not ideal for wearing one-piece leathers). Once I opted for the bigger size the fit was great and from the start the leathers felt like I had already worn them in.

Wolf says that due to the softness of the kangaroo hide the suit enables the use of a back and chest protector without compromising the comfort levels. I always use a back protector with my leathers, and it certainly hasn't bothered me in the slightest.
As you'd expect, the Racing-K is designed with rider safety in mind. The suit features Oxley bonded nylon thread, triple and double stitching in all the seams, and D3O Level 2 CE-approved armour in the shoulders, elbows and knees. There's also external TPU armour at the main impact points (shoulder and knee). The idea is that due to their low-friction qualities they allow the rider to slide on first contact with the ground, lowering the risk of going into a nasty tumble. The shoulder piece also reduces the risk of breaking the collar bone by glancing off the energy of an impact rather than directing the force directly to the body. Luckily I haven't had to test the effectiveness of the safety features in practice, but put together, they all add up to an impressive list, which gives me plenty of confidence in the product.