Not long now until the BRILLIANT Classic Bike Show at Stafford! FOUR legendary guests topping the bill!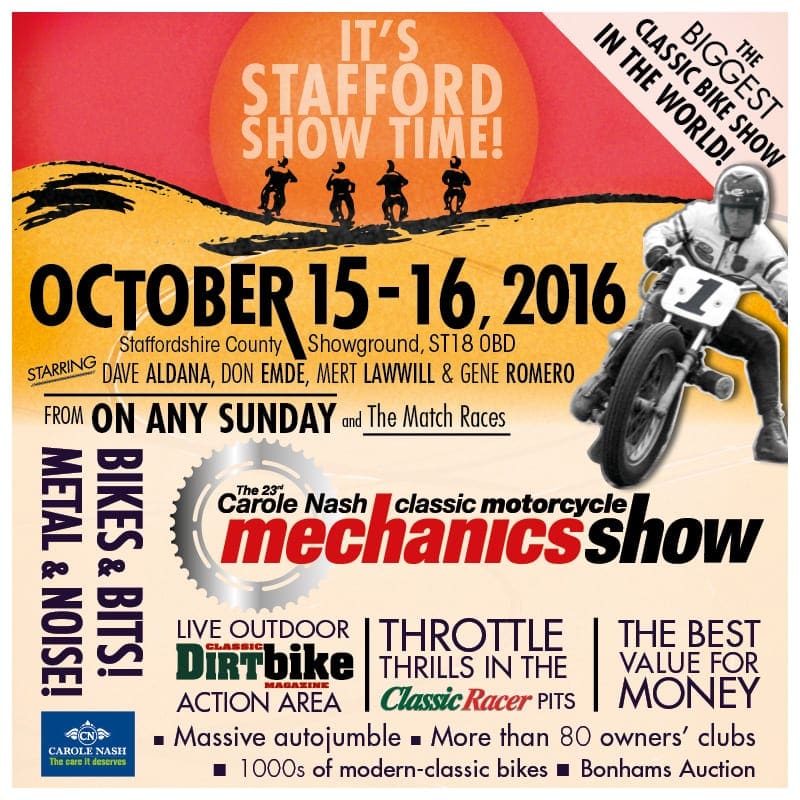 It's just TEN DAYS to go until the excellent Carole Nash Classic Motorcycle Mechanics Stafford Show gets underway so get your diary out and pen the event in because you'd be daft to miss it.
Our sister publication CMM always delivers the GREATEST classic motorcycle show you'll find in the UK with the funkiest machines, ear-splitting start-up displays and wallet-loosening bikes, bits and bobs for your motorcycling life.
And this year, there's not one special guest but FOUR giants of motorcycling cool headlining all things classic and retro. Four superstars from the iconic 1970s motorcycle movie ON ANY SUNDAY, Mert Lawwill, Dave Aldana, Don Emde and Gene Romero are joining up once more to meet fans and share experiences of the film, the time and the world's they made their names in across the show weekend.
Here's the original, 1971 trailer for the movie that changed motorcycling forever and inspired generations of bikers to get out there and ride it:
These are the mega-stars of motorcycles that inspired the likes of Steve McQueen, Wayne Rainey and Kevin Schwantz. They were the two-wheeled world's original rock and rollers of being rapid and they're going to be at Stafford for one time only, so make sure you're there to see them for this once-in-a-lifetime event.
To buy tickets for what's going to be the best classic show of the year, click HERE.