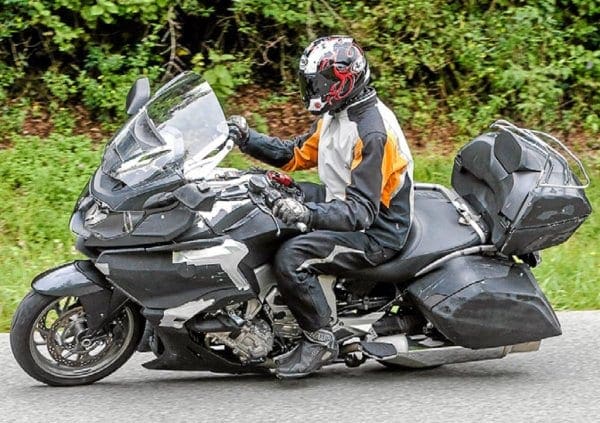 We've been seeing the next generation BMW K1600GT doing the testing 'rounds' for a while now and ahead of the launch of the bike at the upcoming motorcycle show at Intermot, Germany, details have come in from our friends abroad about the big tourer.
Essentially the big tourer is staying at the same power, little in the actual motor and powertrain of the big bruiser changes from this year to next meaning that the compact in-line 6-cylinder 1649cc engine will still punt out around 160bhp and 129lb-ft of torque.
Looks-wise the bike won't be outwardly that different to what's on sale now – you'll certainly have to have the current and future models side-by-side to be able to spot the differences. In reality the bike's fairing 'wings' have come in for some serious re-work to smooth out air flow around the bike and keep the behemoth contemporary.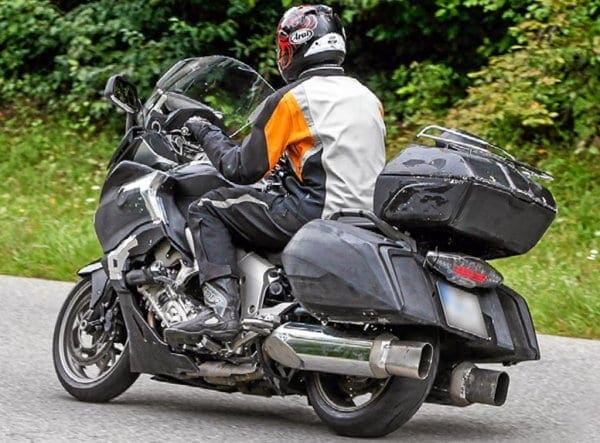 We've already told you that the K1600GT is getting BMW's emergency automatic calling system which is where the bike calls an accident assistance centre if onboard sensors register that it's been in a crash (it's the same system as used in BMW cars). Here's the details of how the system works with the video of it on a K1600GT that we first brought you back in May – HERE.
We've already seen the new, bigger dash that's essentially an all-weathers digital screen with a host of customisable information and that will be married to an intuitive smart-phone hook up which, in turn, will bluetooth to compatible helmet systems.
The bike is also getting a reverse motor for those of us short-legged or not-chuffed with paddling a 332kg bike around and the long-awaited electronic suspension (which is also going on the future Gold Wing which, like the current K1600GT has, is running duolever front forks in ITS next generation) is also finding its way onto the bike.
We'll get the official, full reveal of the bike at the Intermot show in Germany and that's on October 4.