So you stop to help a stranded biker… and it turns out to be Bruce Springsteen.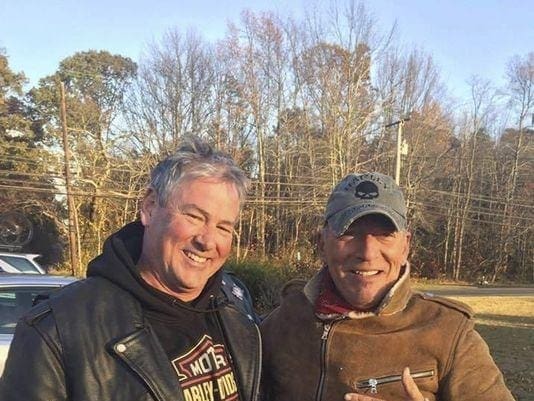 So you're riding along with a couple of friends and you spot a biker broken down by the side of the road.
You pull over to offer a hand to find out that the biker in question is none other than Bruce Springsteen.
Broken down on a Harley-Davidson by the side of a New Jersey road could probably be a lyric from one of The Boss' songs, but it really happened for a group of bikers.
Riders from the 'Freehold American Legion' were travelling after a Veterans Day event on Friday when one of them, Dan Barkalow (above, left with Springsteen right), spotted a stranded motorcyclist near Allaire State Park in Wall Township.
"Bikers gotta stick together," he said. "I stopped to see if he needed help and it was Bruce."
Barkalow says the group tried to help get the singer's bike running, but when they couldn't Springsteen, 67, hopped on the back of Ryan Bailey's bike and the group headed to a local bar.
Barkalow said: "We sat there and shot the breeze for a half hour, 45 minutes until his ride showed up. Nice guy, real down to earth. Just talked about motorcycles and his old Freehold days.