Launch review: 2017 Kawasaki Z650.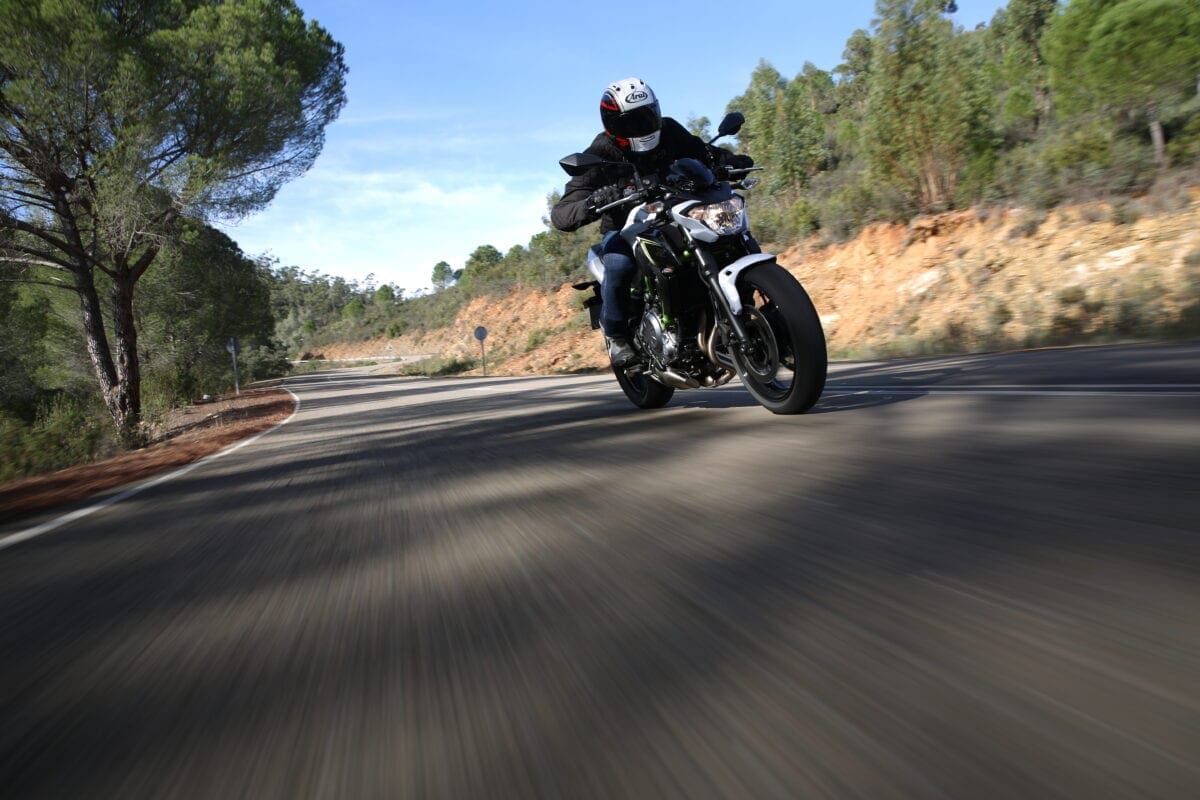 Tested by: Bruce Wilson // Power: 67bhp (50.2kW) @ 8,000rpm // Torque: 48.4ftlbs (65.7Nm) @ 6,500rpm // Wheelbase: 1,410mm // Seat height: 790mm // Weight: 187kg // Price: £6099 (Sport model – £6,999)
The Z650 is an important bike to Kawasaki, having already racked up in excess of 12,000 pre-orders for 2017 so even though it's not been released yet – the middleweight naked's already a glowing success story, built on the foundation of the popular ER-6N that was introduced back in 2005 and has sold over 121,000 units since. But what's made it so popular? The answer's multi-faceted, with affordability, practicality and usability being its key credentials. And it's those same virtues that are at the heart of the Z650, which has also retained a number of its predecessor's components. Behind the all-new styled bodywork, LED rear lighting and stacked LCD dash, lays the same familiar 649cc parallel-twin motor.
Well, kind of.
Externally it's near identical to what's come before, aside from a new engine mounting position, but as far as the internals are concerned pretty much every component is new. These alterations were made to not just make the motor Euro 4 compliant, but to also revise the output performance, with a greater focus being on low-to-mid-range power. From a horsepower perspective, the Z650 actually makes less bhp and torque than the ER-6N, but power graphs actually show huge gains between the 3-6000rpm zone, which is where Kawasaki claims this bike needed to perform. Another notable difference is to the fueling of the machine, which has been tweaked to best suit the smoothness of  the new incarnation motor, while improving fuel economy at the same time. This will no doubt be music to the ears of all those considering the Z650 as an everyday commuter, but the message put across by Kawasaki during the model's presentation in the south of Spain was that this bike is not targeted at any particular group of rider. It's a product that's just as suited to new riders as it is to female riders, experienced riders to those who want a credible alternative to a large capacity street bike.
In fact, the sizing of the bike was a real talking point, with its sleek new look being partly responsible for its substantial weight loss of some 20kg. The bike's new frame is also a major contributor in its slimming down, single handedly being accountable for a 10kg saving, and the swing-arm has seen another 3kg lobbed off its mass.The Z's exhaust is also new and lighter, and it's the same case for the model's one litre smaller fuel tank – now 15 litres.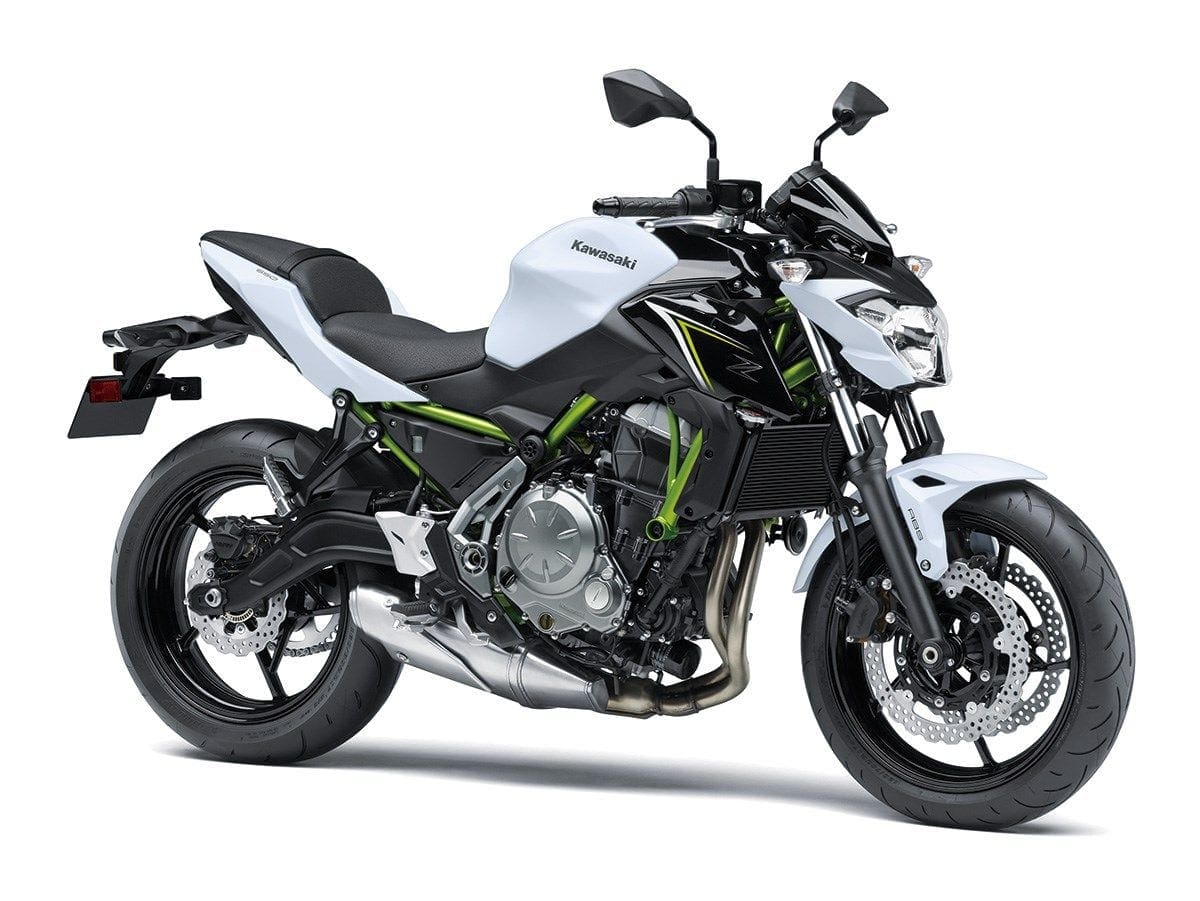 Sleekly styled
When I first sat on the bike it was instantly noticeable how narrow the new tank felt, blending in nicely with the equally slim-looking frame and its remodelled tail unit. The compact feel was maintained by the new seat unit, which sat just 790mm off the ground and made me feel tall despite being just 5'9". The pegs seemed generously placed, too, and I was also an instant fan of the bike's wide handlebars, which didn't require any extreme stretching to reach. In essence, the bike felt comfortable, and its low mass weight only gave me more reason to like this bike. Middleweight machines are so often overlooked, but it's only when you go to manoeuvre one by hand that you're reminded just how heavy and awkward big bikes are. It was a welcoming package, with no baffling technology requiring hours of studying to work out how to draw the best from the bike. A simple turn of the key and push of a starter button was enough to get the parallel twin burbling into life, kicking out an impressively raucous note from the machine's underslung, and stylish, end can.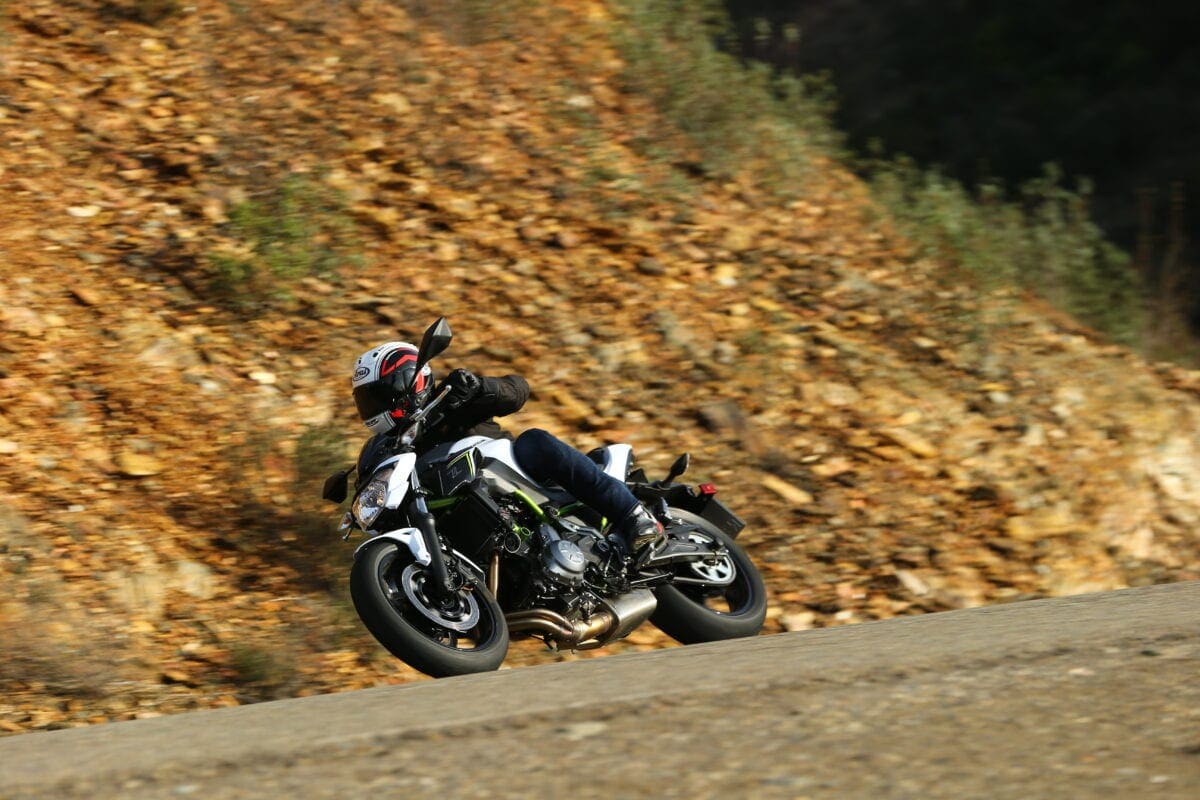 First impressions
We had a 160-mile test route lined up, with a good mix of rural, urban and mountainous roads to test the Z's metal. But first we had a good stint of motorway to tick off. The bike's motor proved decent from the off, and it didn't show itself up when it came to travelling at a fair rate of pace. The fuelling was creamy smooth, and the twin was far less vibey than I was expecting. The pick-up was decent enough, taking the bike's capacity into account, but it certainly wasn't intimidating in any way. It's not often you can get on a contemporary motorcycle and genuinely feel the boss of its motor, but that was the case in this instance. Obviously, there was no wind protection on offer, but the riding at 70-80mph didn't prove unpleasant.
Nonetheless, it was a relief to get off the big road and find out more about this bike on twistier, smaller routes. One thing that hit me early on was how decent the front brakes were. We had to pass through a succession of round-a-bouts, with late braking on their approach becoming a regular habit. Working in tandem with the new slip assist clutch, the Z650 proved a smooth and predictable bike to haul up, and it was only after some exaggerate braking that the Bosch ABS system was kicked in. Otherwise it remained completely unobtrusive, much to my liking.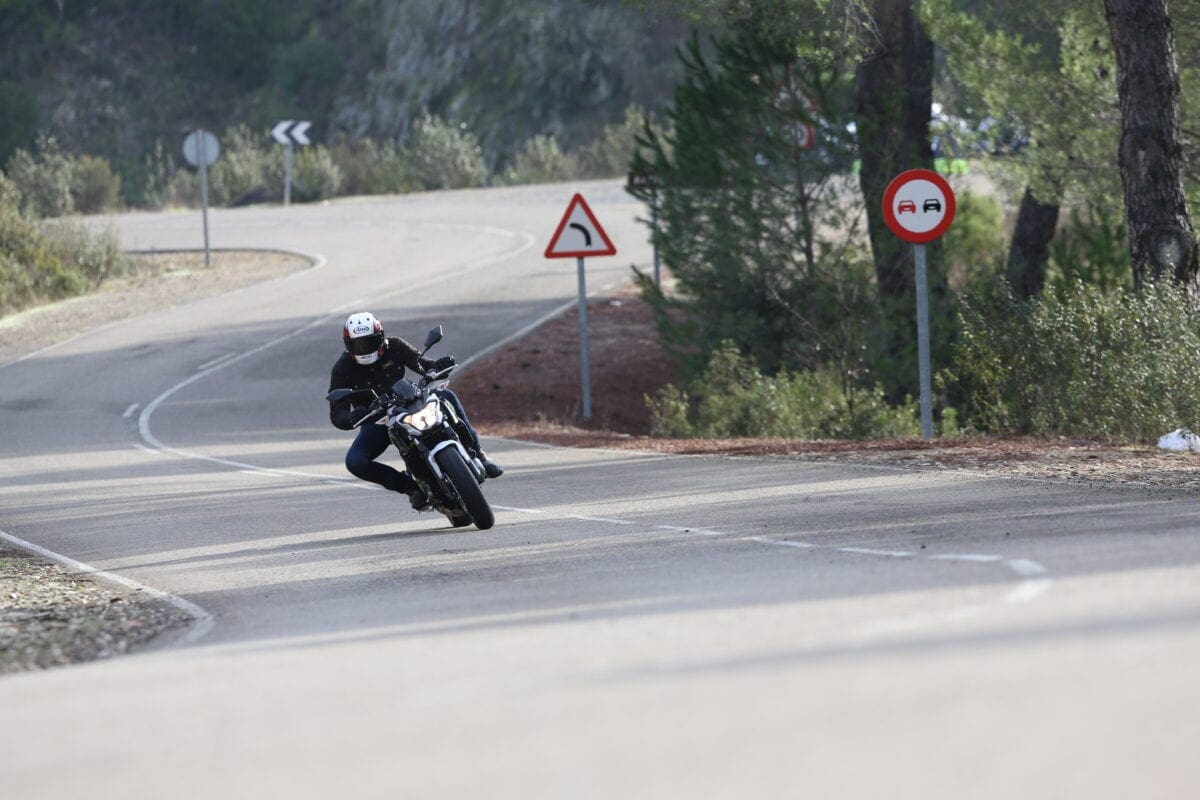 Hitting the bends
Nearly two hours into the ride we came across some fantastically winding roads, high up in the mountains. Fourth gear was mostly the weapon of choice, with the throttle nearly almost fully open as we blitzed from apex-to-apex. The Z650's agility was exceptional, but I was also blown away by the stability of the bike. The roads were mostly smooth, but the occasional imperfection did nothing to set the bike off line or provoke even a moment's thought of being out of control. The low weight made the handling effortless, and it was a real pleasure to hustle the bike around so confidently. Not even sporadic damp patches on the road's surface were enough to spoil the party, as the Z's Dunlop Sportmax rubber took whatever was thrown at it on the chin and never relented in the grip levels being offered. The only criticism was to their general lack of feel.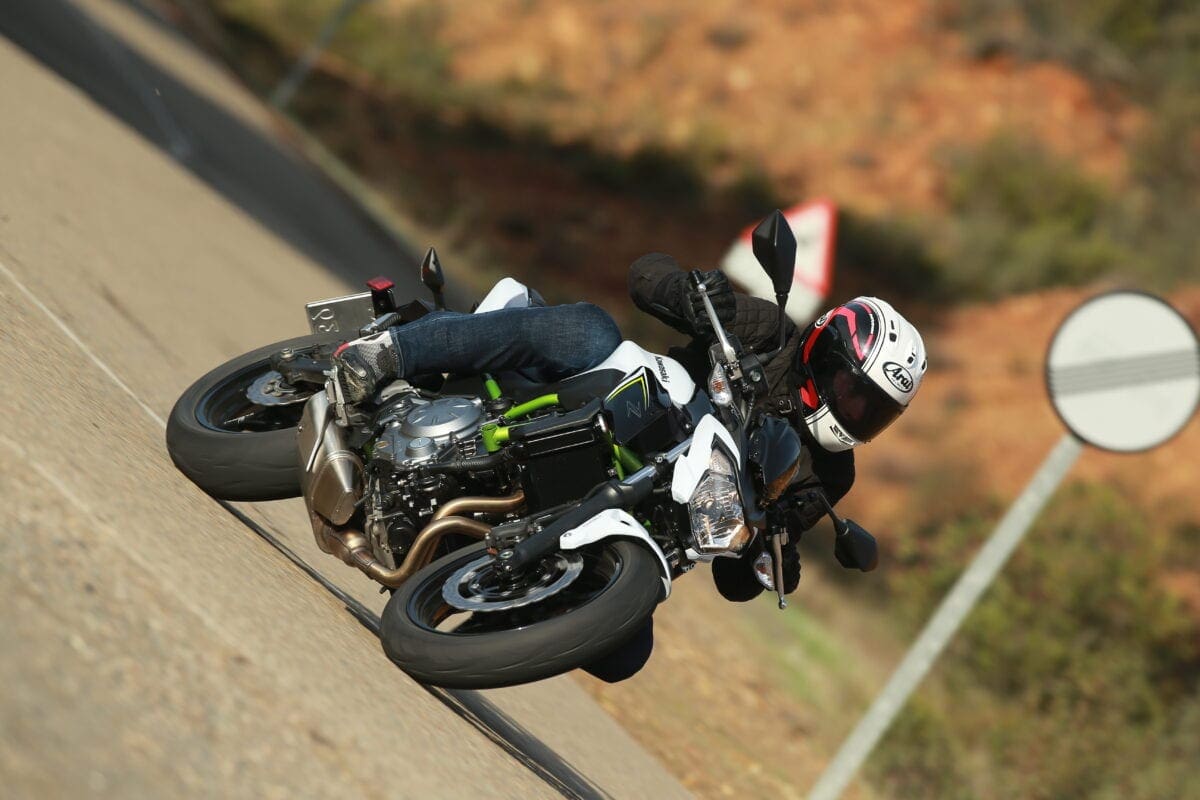 Good for distance
After lunch, our route continued on more of the same great roads. We'd already been in the saddle for four hours, and a further two helped to get a proper appreciation of the Z650's comfort levels. The upright riding position was so relaxing and the bike's considerately padded seat only added to the pleasure. There wasn't a part of me that felt tired by the end of the ride, which is testimony to the Kawasaki's considered build. There are a load of accessories available to make the bike more touring friendly, but it didn't feel like it largely needed anything. OK the accessory touring screen would be a wise move if you were tackling a European tour, but for the everyday ride to work or blast along your favourite roads, I don't think you'll find the need to kit this bike out with too many bolt-ons.
With large trips in mind, another key thing to talk about is the bike's great economy. We gave the twin's motor a pretty hard time from start to finish, but it still maintained a 51mpg average despite its thrashing. The fuel capacity might be a litre less than the ER-6N's, but the improvement in economy and the lightening of the bike means the overall range is still pretty much identical between the two model's; around 210miles.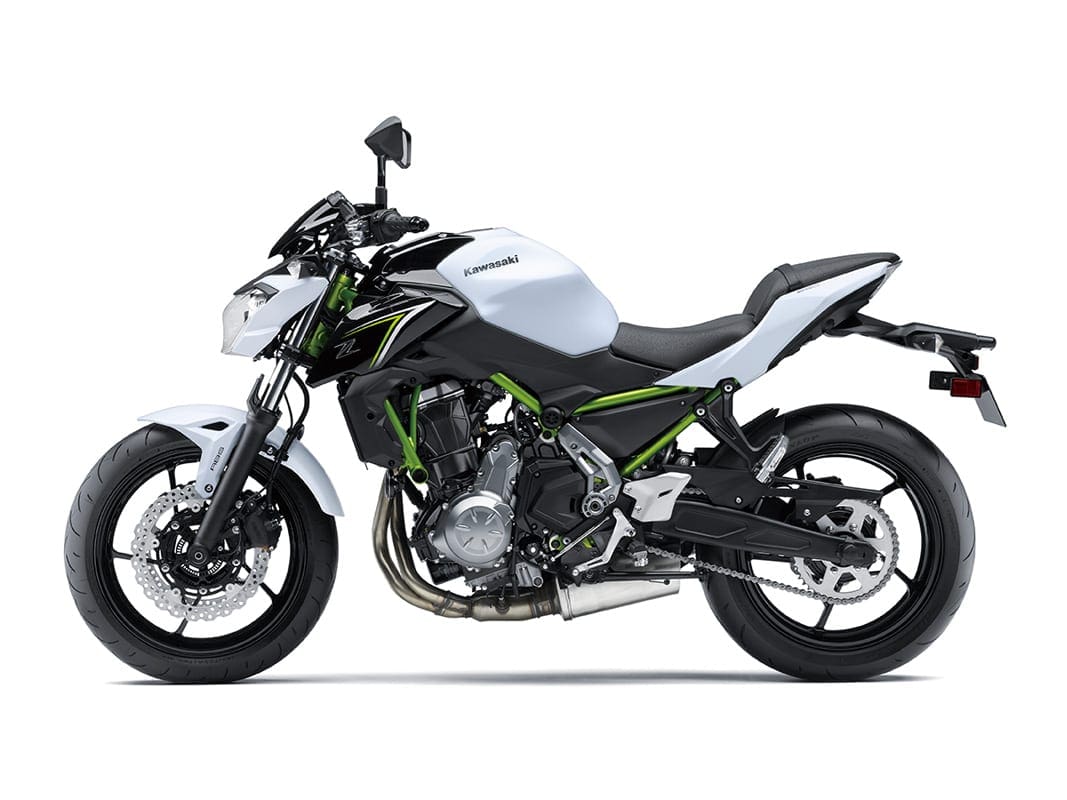 Value for money
There wasn't anything to dislike about the Kawasaki, which delivered on all its promises. It was a basic bike that maybe lacked in excitement, but housed the potential to offer lots of fun, regardless of who you are or what you're riding experience. Best of all is the model's competitive pricing, with the base model Z650 being priced at £6099. You're getting a lot of bike for that money, especially when you take into account the performance, comfort and styling of the machine – all of which counter any inclination of budget suggested by the pricing. From the adjustable clutch and brake levers to the striking 'Z-shaped' LED rear light unit, Even the smallest of features had been produced to a high standard, giving the model an air of quality. For those with a bit more budget, and the desire for something a little bit more special, they'll also be the option of a 'Sport' spec machine that will cost £6999 and feature a screen, Akrapovic exhaust, tank guards and crash protection. Both models will be available in dealers from late January, and I'd highly recommend a test of one if you're after a classy middleweight with good handling, a decent motor and looks that get noticed for all the right reasons. Kawasaki needed to get this build spot-on, which is exactly what they've done.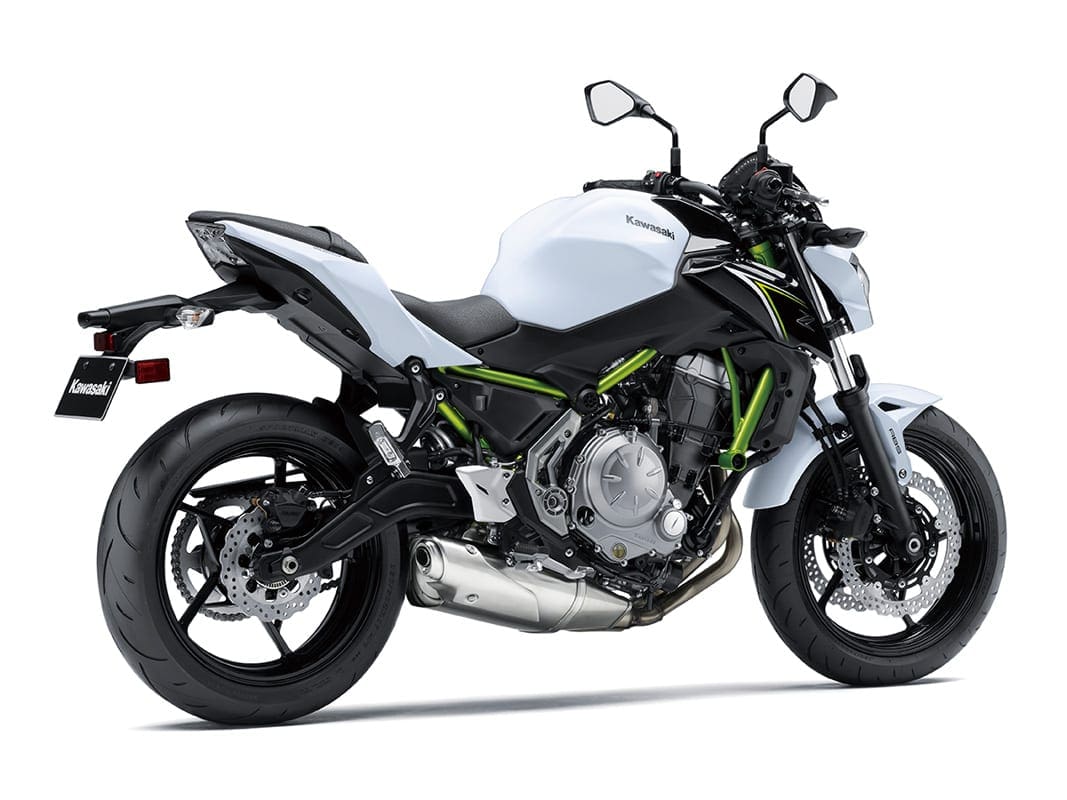 Specification: Kawasaki Z650
Engine:                        649cc, liquid-cooled, in-line four
Peak power:                67bhp (50.2kW) @ 8000rpm
Peak torque:               48.4ft-lbs (65.7Nm) @ 6500rpm
Transmission:            6 speed
Frame:                         Steel trellis type
Wheelbase:                 1410mm
Weight:                       187kg
Tank capacity:            15 litres
Seat height:                 790mm
Price:                           £6099 (Sport model – £6999)
Contact:                      www.kawasaki.co.uk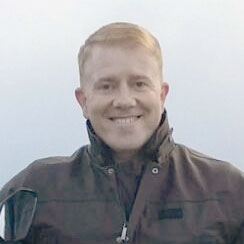 Latest posts by Tony Carter
(see all)
Does this get you revved up? Tell us why...
---
---
Subscribe to MoreBikes Newspaper
Get MoreBikes delivered through your letterbox every month. 12 issues for £15. Click here for more information.
---
Get MoreBikes.co.uk Updates
Enter your e-mail address below and you will receive biking news straight into your inbox...



You can unsubscribe at any time.
---