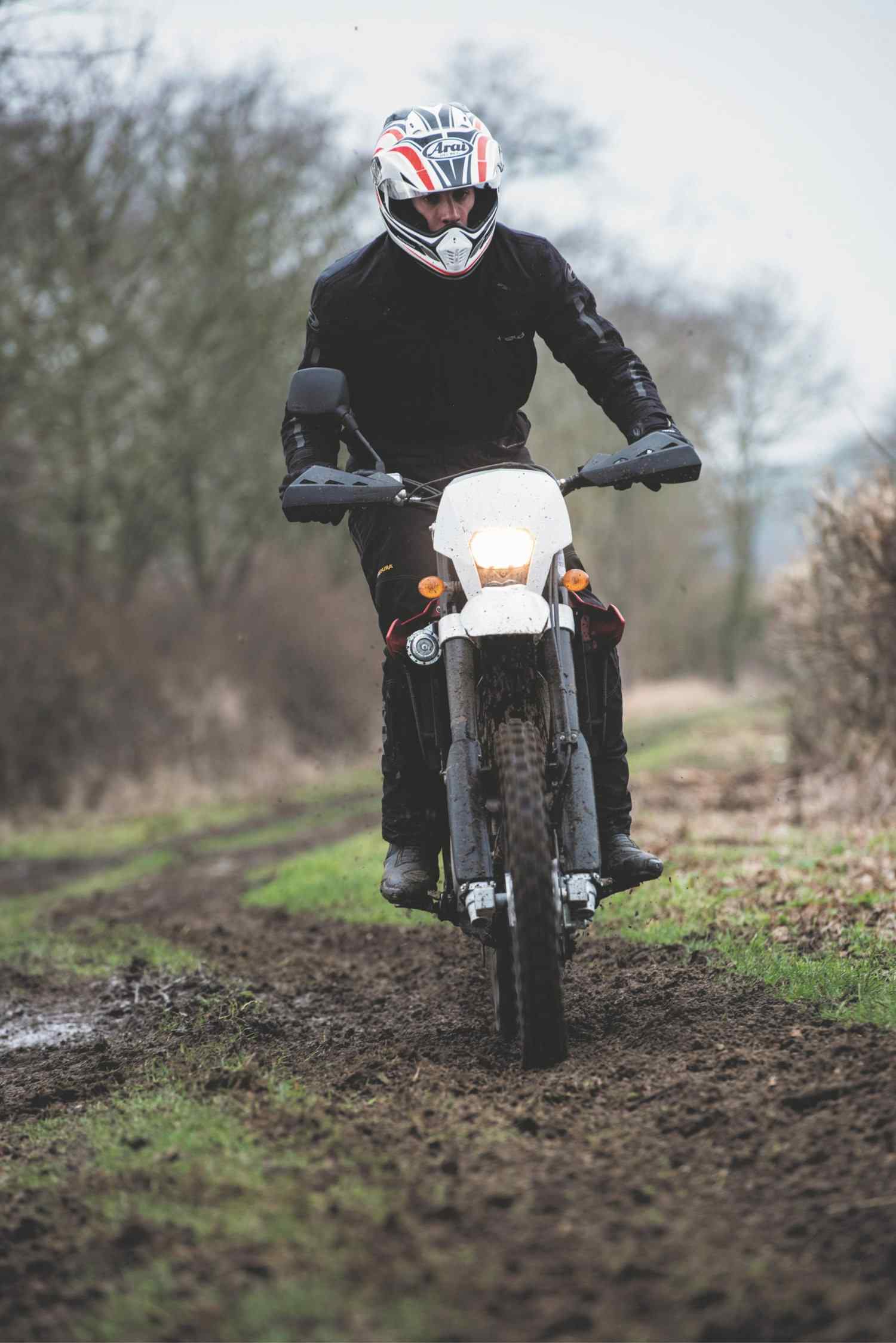 Ask around your mates and you'll probably find that quite a few of them have already clocked onto the joys of motorcycle green lanes (or trail riding). And with good reason too – often there's no better thing to do than whip out a local Ordnance Survey map and figure out where the nearest byways are. Sure, you're going to get wet and muddy, but chances are you'll also have a really fantastic time, made even better if the experience is shared with a few like-minded mates. Make sure you visit the Trail Riders Federation first though – understanding the need to respect and preserve our green lanes is vital, and it's also a great place to find local groups. This isn't all about huge mud roosters, or racing across fields: riding legally and responsibly is important to protect the wildlife and nature surrounding our byways (and that means a taxed, road-legal bike, insurance and of course a bike licence). Upsetting ramblers will only ruin the ride for everyone, so visit www.trf.org.uk, and if you do get the trail-riding bug, a membership is well worthwhile.
If you want to find out more about the off-road scene, then make sure you visit the International Dirt Bike Show at Stoneleigh on the 30th October to the 2nd November – it's full of every type of riding, from trials to greenlane and enduro to motocross. You'll find all the bikes there, as well as loads of kit for sale and plenty of great advice. You'll even have the chance to try it out for yourself. PLUS, there's the chance to win yourself a Honda CRF450! Enter on the show website www.dirtbikeshow.co.uk and you could be having one of your best ever winters of riding!
Choosing the right bike
You'll be pleased to know that you're spoilt for choice, with an option to suit just about every rider and every budget. Once you know how much you've got to spend, you should factor in whether this bike will be your main source of transport or something for the odd free weekend, then it's time to start scanning through classifieds. Historically, bikes like Honda's XR400/600 have been cult machines for trails, and you can pick one up for under a couple of grand. Other recent bikes worth considering include Suzuki's DRZ400 and Kawasaki's KLX250. If you're after a lighter, smaller option, Honda's CRF250L is also worth a thought, retailing for £3,950 OTR. The point is, there are loads of bikes ripe for the picking, but something which is key is how well you fit it. Most trail bikes are tall and you're going to have to learn to live with. The peg and bar positions are fairly varied though, so look for a bike which fits you and your body best. And remember to try it both sat down on the saddle and whilst stood up. Choose a motor that you're comfortable with – do you really need 46bhp, when a bike with 25 horsepower could suit you more?
Two-stroke machines like Honda's old CRM250 are great for this kind of work (and much easier to ride than the CR250 of the same era), but whatever bike you choose, don't go too heavy. A Honda NX650 Dominator will tackle most that a green lane can throw at it, but at 155kg it's got a bit too much mass. Look for bikes around 120kg and less. When buying second hand, carefully check the V5 and the frame / engine numbers – unfortunately, dirt bikes suffer a lot of theft, so don't rush into a purchase.
You can convert a motocross bike, but not without first making it road legal. Green Lanes aren't actually off-road, they're simply off-Tarmac, and the same laws apply as on the M25. The fact that you'd need a brake light and speedo as a minimum for a daytime MoT (which is limiting at this time of year), plus a registration from the DVLA and insurance means that most people don't tend to go down this route. 'Crossers also tend to have a much more aggressive power delivery than you want for green lanes, so are best avoided.
Get kitted up
Textile riding kit can be perfect for green lanes, but bear in mind that you'll be getting pretty hot, so don't load up too much with the thermals. Many people wear motocross gear, but the most important thing is of course a crash helmet. Road legal motocross lids are great, but you'll want some goggles too.
Large motocross boots give you plenty of support for when you fall over, so are worth the investment. Lightweight textile gloves are better than leather, and if you can lay your hands on some body armour, it makes the odd tumble a lot more comfortable.
Where can I ride?
Unless you have the permission of the landowner, you shouldn't be riding on random fields or brick-pits. Trail riding is exploring 'unsurfaced public roads'. There are thousands of rights of way across England and Wales, but only some have vehicular access – you can't ride on Footpaths, Bridleways or Restricted Byways. The best way to ensure you ride legally is to check your route on an Ordnance Survey (OS) Explorer map. It's worth investing in a new one for your area, as in 2000 RUPPs (Roads Used as Public Paths) were reclassified as Restricted Byways, which means you can no longer ride them.
You're looking for a series of green crosses on the Explorer map, which mean Byway Open to All Traffic (BOAT). Unsealed Unclassified Country Roads (UUCRs) are also open to riding – often, unclassified roads are Tarmac without an A or B classification, but some are still unsurfaced – these are the uncoloured roadways you'll find on the map.
Routes can be closed at certain times of the year, and other traffic orders could be imposed that aren't shown on the map (don't worry about "not suitable for motor vehicles" signs), but you'll soon learn the best routes near you, and when planning a trip away, looks for somewhere that has plenty of options with the minimum of 'boring old Tarmac'!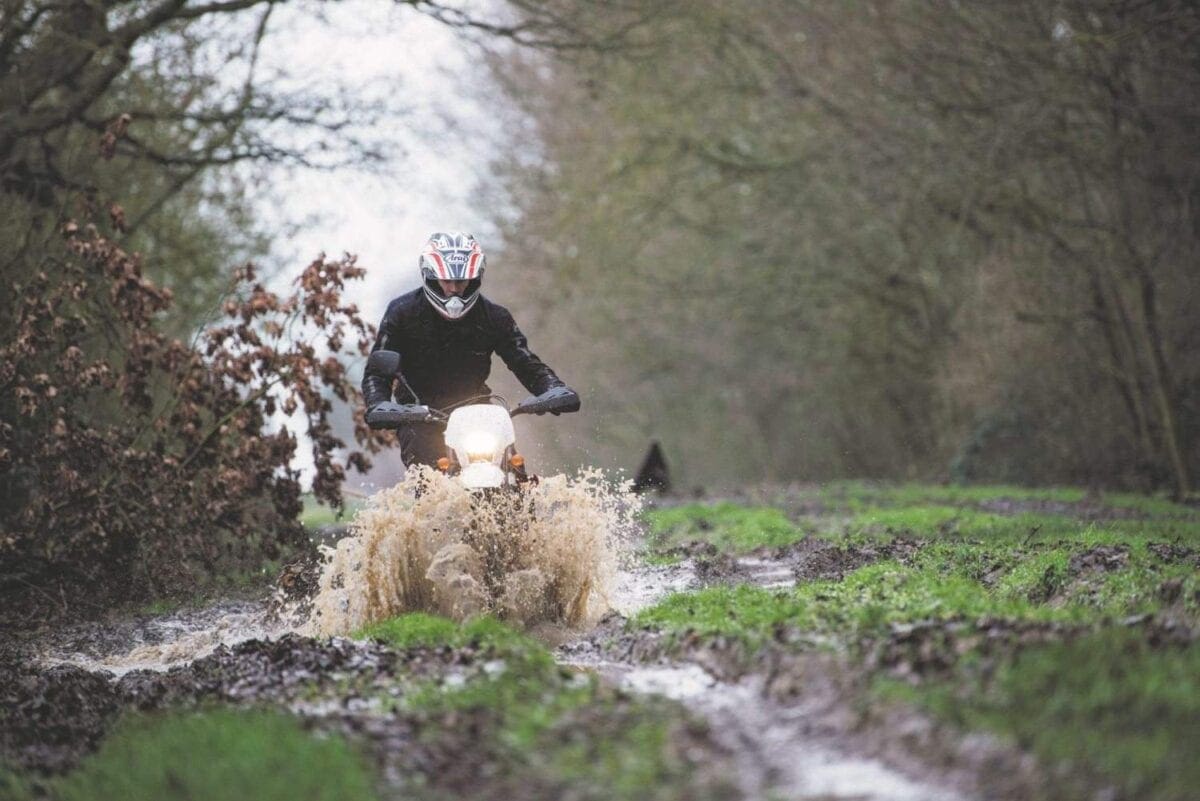 How to read the lane
Expect the unexpected. Most of the time, it's easy to predict exactly what you're dealing with after only a few hundred metres, but things can turn a lot more extreme the farther you travel down one – especially if there's been a downpour. If this is the case, a lot of the vehicle tracks scored into the ground are likely to fill up and leave you second-guessing just how deep the puddles are. It's often wisest to find an alternate path around the puddles (though don't stray off the track and damage the surrounding countryside). If you want to get a bit more adventurous, it can be a good idea to first get off the bike and check how deep the water is with a stick. When you go through, just slow your pace down to a crawl, cover the clutch and select a low gear. On the flatter tracks, try to get your weight back and your head upwards, constantly looking ahead. Be prepared for obstructions like broken branches or even animals, but always look at where you want to be, not the thing you want to avoid – target fixation is the fastest way to fall off!
Surface changes are another thing to be wary of: loose stones ride very differently to hard-packed mud, so keep your wits about you and adjust your throttle to suit (the same goes for deep, wet mud). It's sometimes more beneficial to stay clear of pre-cut ruts, as they can guide your front wheel awkwardly. Remember, trail riding should never be a race, but an experience made sweeter once you've reached your destination with both you and your bike intact.
Whether you want to go all-out and invest in a brand new bike and kit, or only have a few hundred pounds to dip your toe in the (muddy) water, green lanes are a huge amount of fun, so what are you waiting for?!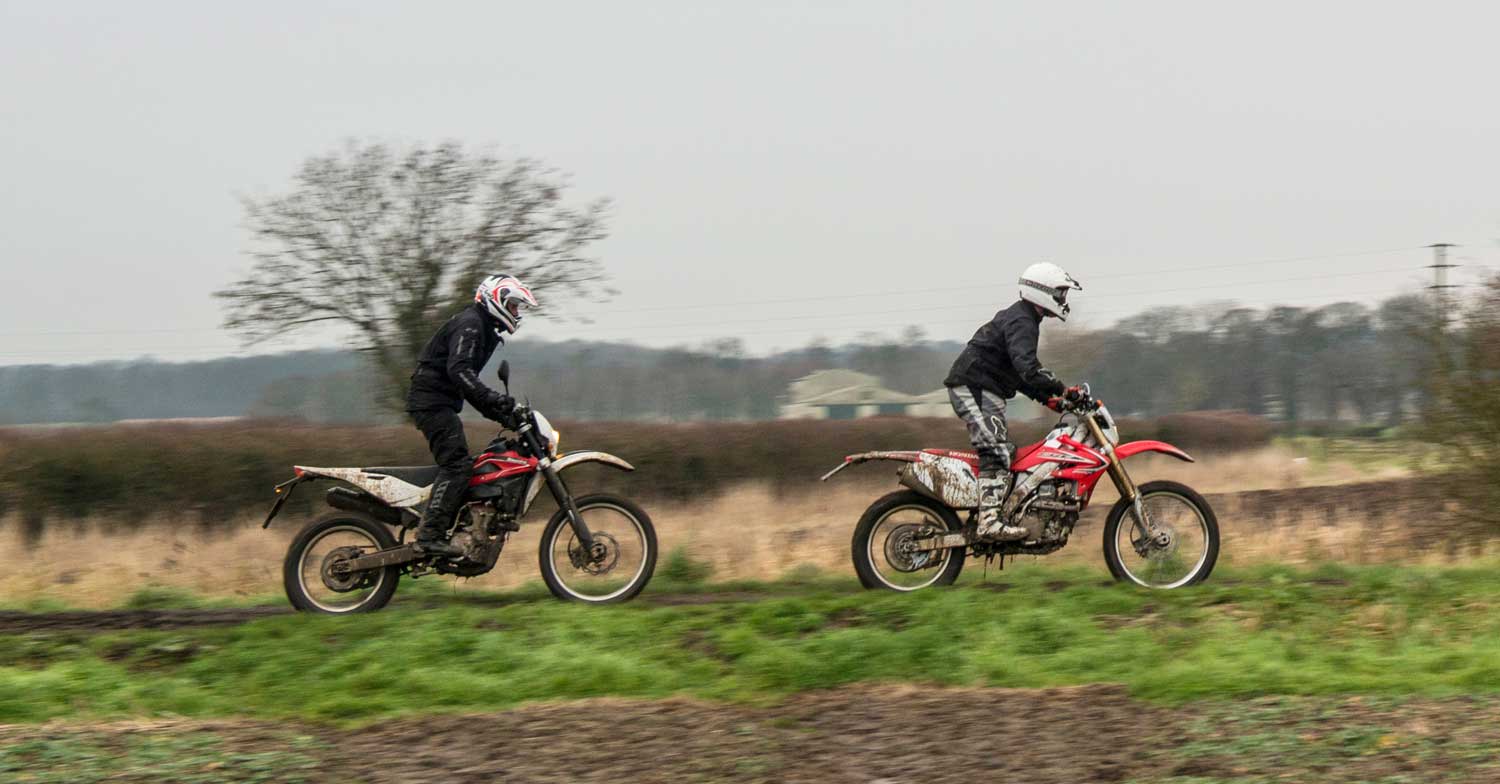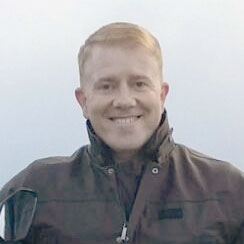 Latest posts by Tony Carter
(see all)
Does this get you revved up? Tell us why...
---
---
Subscribe to MoreBikes Newspaper
Get MoreBikes delivered through your letterbox every month. 12 issues for £15. Click here for more information.
---
Get MoreBikes.co.uk Updates
Enter your e-mail address below and you will receive biking news straight into your inbox...



You can unsubscribe at any time.
---