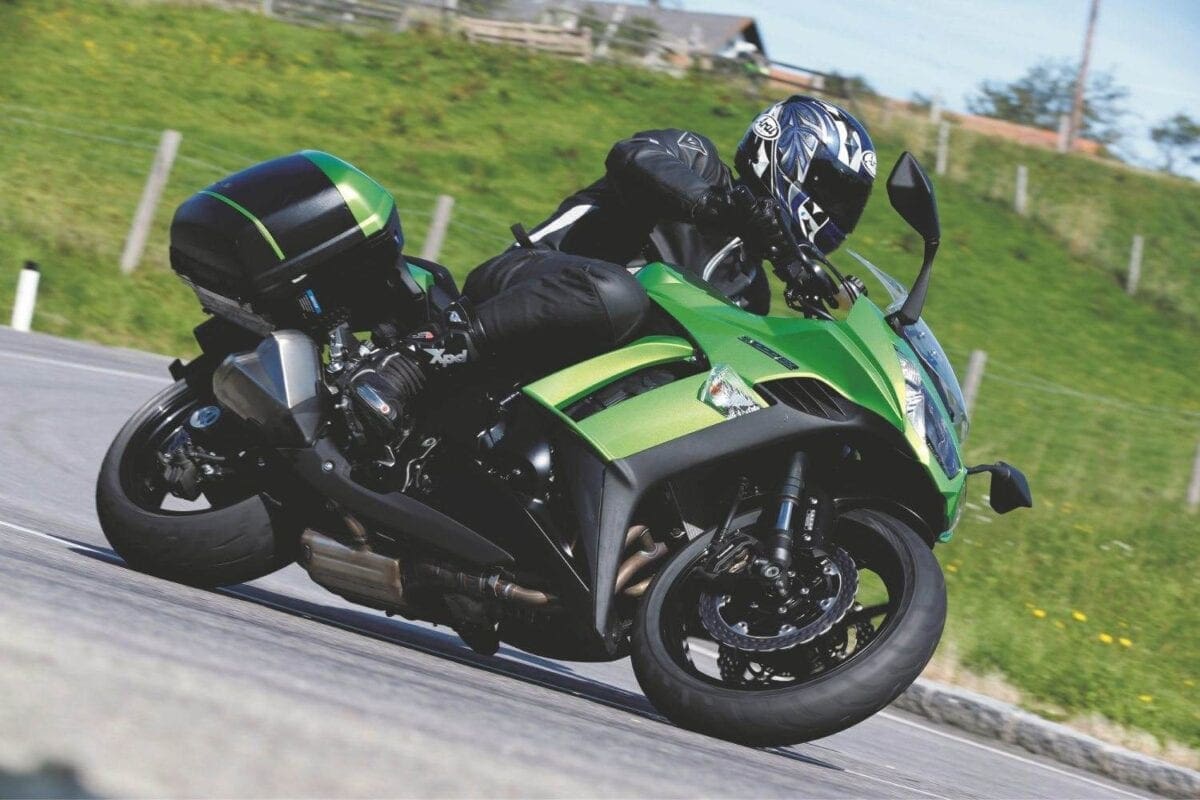 Subdeck: £9849 | 1043cc 4cylinder | 140bhp | 82lb-ft
The traditional sports-tourer class is supposed to be in decline, as increasing numbers of riders decide that versatility in a motorbike doesn't mean just sports and touring, but crossing rivers and trekking up mountain trails too. Presumably nobody told Kawasaki, whose Z1000SX has been a big hit since its launch three years ago, despite showing absolutely no inclination to get mud on its Bridgestone boots.
The SX is an old school sports-tourer, created fairly simply by adding a fairing to the naked Z1000. Despite that it worked very well and sold even better. That success has encouraged Kawasaki to give it a comprehensive update for 2014, incorporating modified engine and suspension, new front brake and a host of other details.
Tell me about the engine
Updates to the 16-valve powerplant are really just tweaks to give it a little more refinement and throttle response. The 1043cc lump's camshafts are revised with a view to boosting performance at lower revs, and the intake trumpets are redesigned so they're all the same length. There's a 4bhp claimed boost at the top end, too, to a peak of 140bhp at 10,000rpm.
That might not be open-class super-sports horsepower, but the SX has more than enough poke for serious speed, along with a generous helping of torque throughout the range. Top speed is around 150mph, and it heads towards it mighty rapidly, staying smooth apart from a tingly patch at about 7000rpm. It revs eagerly to the 11,000rpm redline, changes sweetly through its six-speed box (which has slightly shorter first five ratios, and taller top), and makes a more involving howl thanks to an airbox that has been redesigned for that reason.
The Kawa also gets some electronic aids, with two power modes (the second of which cuts output by 30 per cent) and a three-way adjustable traction control system. This is a KTRC system based on that of the ZZR1400, and on dry, mostly grippy Austrian roads on the launch it was impressively unobtrusive, while adding a welcome level of security.
What's the chassis like?
Beneath the SX's familiar swoopy bodywork there's no change to the twin-spar aluminium frame or swing-arm. But suspension and brakes are modified, the forks being slightly firmed-up with damping mods and the rear getting a stiffer shock spring with a hydraulic preload adjuster situated just below the seat on the right, and accessible on the move if you don't mind riding one-handed.
The changes give a slightly tauter, sportier feel that was great on the twisty launch route, especially as Kawasaki's mechanics had firmed the bike up very slightly from standard settings. It still felt a tad soft when riding harder, especially under braking, but a couple of extra clicks of fork damping and shock preload firmed it up nicely, at the expense of a slightly less plush ride later on. There was no sign of the slight high-speed instability, possibly related to panniers, that some testers mentioned about the old model.
At 230kg wet the SX is heavier than a super-sports bike but it felt light and manoeuvrable enough to be great fun on the twisty launch route. And its uprated front stopper is brilliant, the Tokico monoblocs giving enough power for eyeball-loosening stops with just one finger, aided by the very impressive ABS system. Bridgestone's S20s gripped well, there was plenty of ground clearance, and the SX was so much fun that I didn't once wish I was riding something sportier and less comfortable.
Should I buy one?
If you're looking for a good compromise between sports bike and tourer, at a competitive price, then why not? After all, 1800 people bought the old model in the last three years, making it Kawasaki UK's best selling bike each year, and this model is significantly if not dramatically better in quite a few areas. It's also good value, with the base model SX's price likely to increase by only £100 to £9299.
Many riders will spend more than that, not just on the (highly recommended) ABS, which will cost about £400, but also on the completely redesigned and purpose-built Givi panniers. These are more stylish and substantially narrower than their predecessors, and each is big enough to hold a full-face helmet. As before, they're likely to be available as part of an upmarket Z1000SX Touring model, adding about £500 to the price.
So what's it like to ride?
Fast, entertaining and more comfortable than a sports bike. Clip-ons above the top yoke give a reasonably upright and roomy riding position, and there's useful wind protection from the unchanged screen, which adjusts through three positions via a simple press-button system. But hands don't get much protection, which won't be great in winter even if you do fit accessory heated grips.
The SX will cruise effortlessly at three-figure speeds, although it'll only do so for about 150 miles before needing a top-up, as fuel capacity is unchanged at a less than generous 19 litres, and consumption dips below 40mpg if you're riding briskly. Kawasaki say the fuel gauge is more accurate. The digital instrument panel now has an eco riding light to tell you when you're riding efficiently, plus fuel consumption info that can be toggled from the mode button on the left clip-on.
Both rider and pillion should be happy to get through several tanks of gas. The seat is slightly thicker and should be more comfortable. It felt okay on the launch but I'd need to ride further to be sure. The pillion also gets a revised seat area and unchanged grab-handles. The SX isn't luxurious but it's significantly more practical and comfortable than most sports bikes — and still a lot of fun to ride.
Tested by: Roland Brown Photos: Double Red & David Reygondeau
Tech Spec
Price: £9699 (with ABS)
Engine: Liquid-cooled, 4-stroke four cylinder
Power: 140bhp (104kW) @ 10,000rpm
Torque: 82lb-ft (111Nm) @7300rpm
Weight: 230kg (kerb)
Seat height: 820mm
Tank size: 19 litres
Contact: www.kawaski.co.uk
---
Advert
---
Enjoy everything More Bikes by reading the MoreBikes monthly newspaper.
Click here
to subscribe, or
Read FREE Online
.
Sign-up to the More Bikes Newsletter
Enter your e-mail address below and get regular updates straight to your inbox… You can unsubscribe at any time.