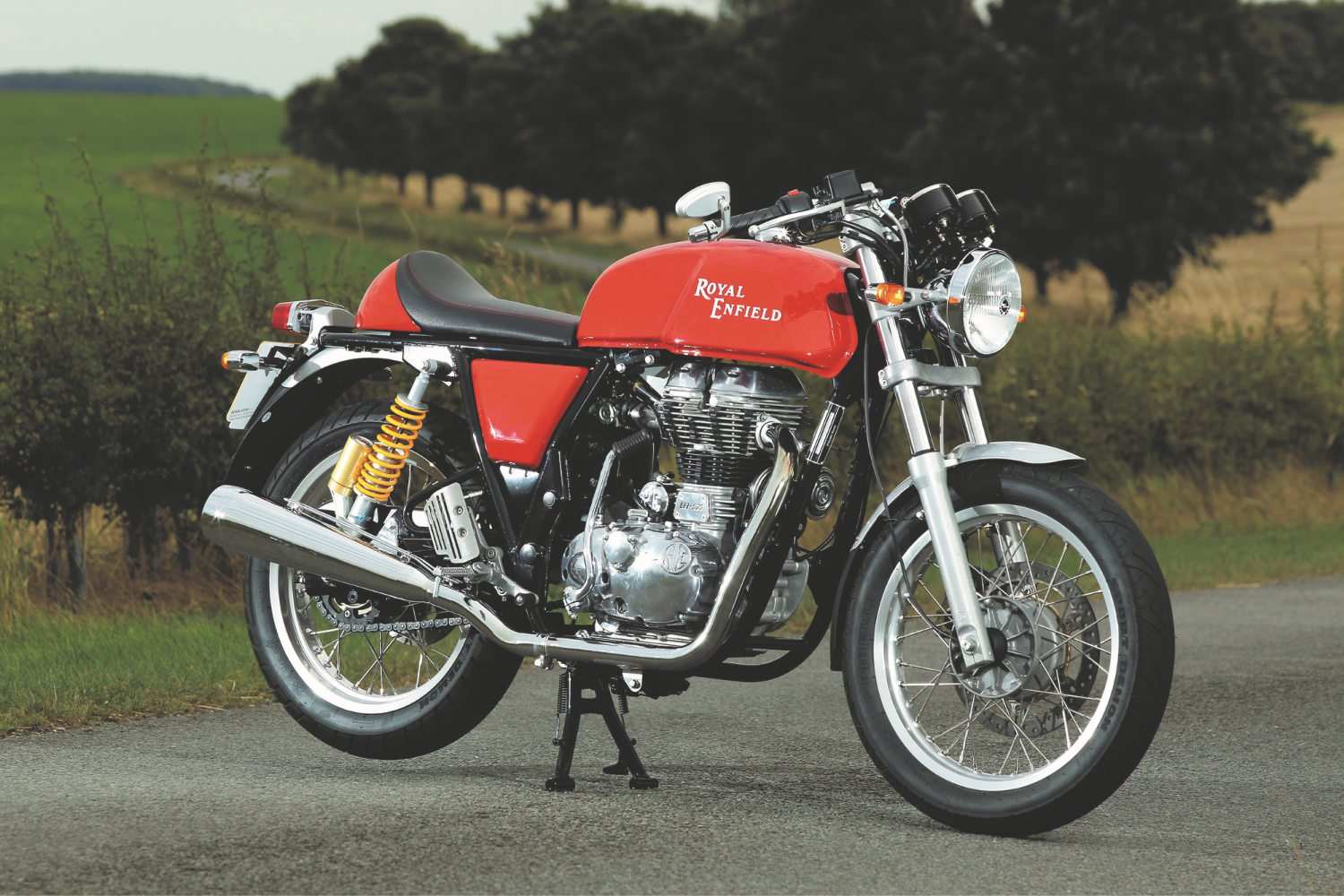 £5200 OTR | 535cc 4 stroke single | 29.1bhp |44Nm @ 4000rpm
Lying flat on the tank of this retro-styled bike, throttle held at the stop and with the roar of 44 identical red machines around me, I can't stop grinning, but despite this being a modern bike, it's the sixties that put me here.
In 1962, Roger Boss (an experienced development tester and then Sales Manager at Royal Enfield) lied to his managers, hoodwinked the dealers, and was responsible for developing a bike that would be as important then as it was 51 years later.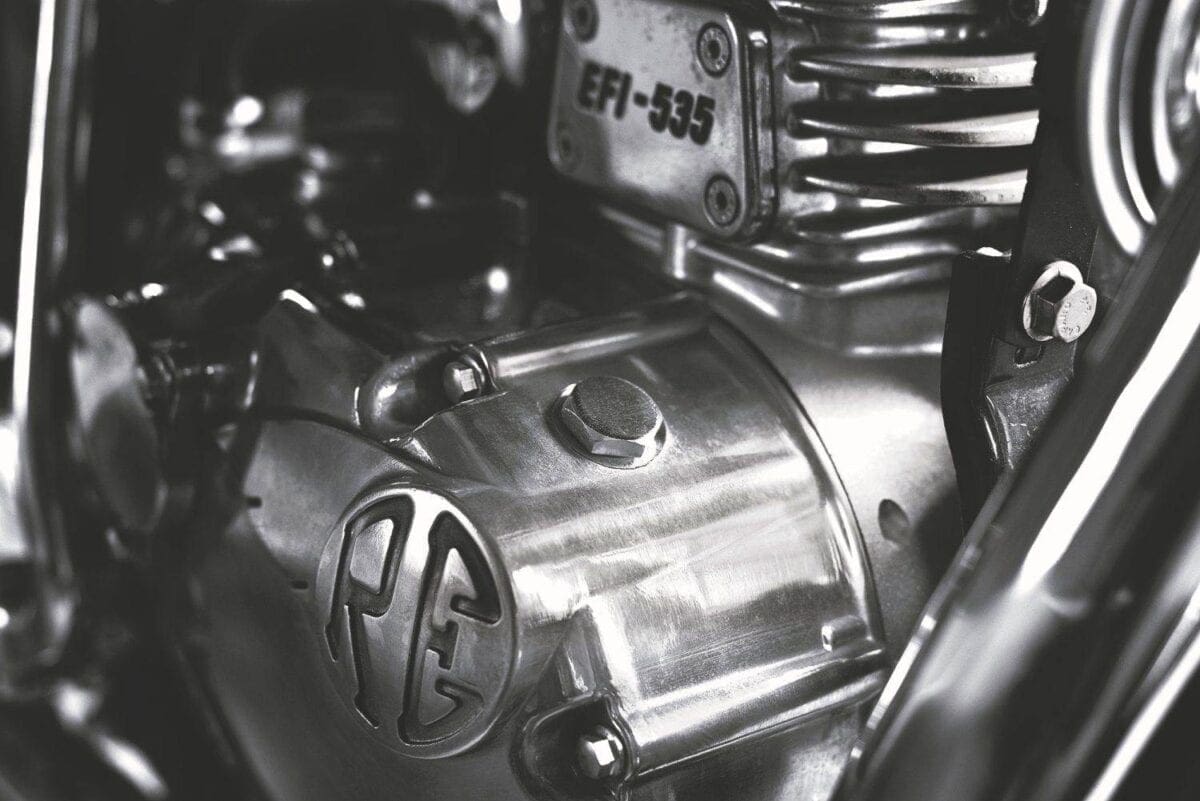 The original Continental GT was an off-the shelf, ready-customised 250 designed to appeal to the young bikers of the era who were taking standard bikes and turning them into unique café racers. Dealers were afraid of sports bikes tarnishing the name of biking, so called for a ban on the use of the low handlebars that gave a forward leaning riding position. Roger ignored this, and told his bosses that clip-ons (the low bars of the day) were exactly what was wanted, and built up the first prototype.
Launched in 1964, the GT was ridden by five journos and testers from John O'Groats to Land's End in just over 22 hours. No mean feat in the days long before 24hour filling stations and road-side M&S!
Eicher Motors Ltd, the Indian owners of Royal Enfield, have sent us on a shorter journey from London's Ace Café to Brighton, but this is no less of an important bike to the company than it was when it was based in Redditch.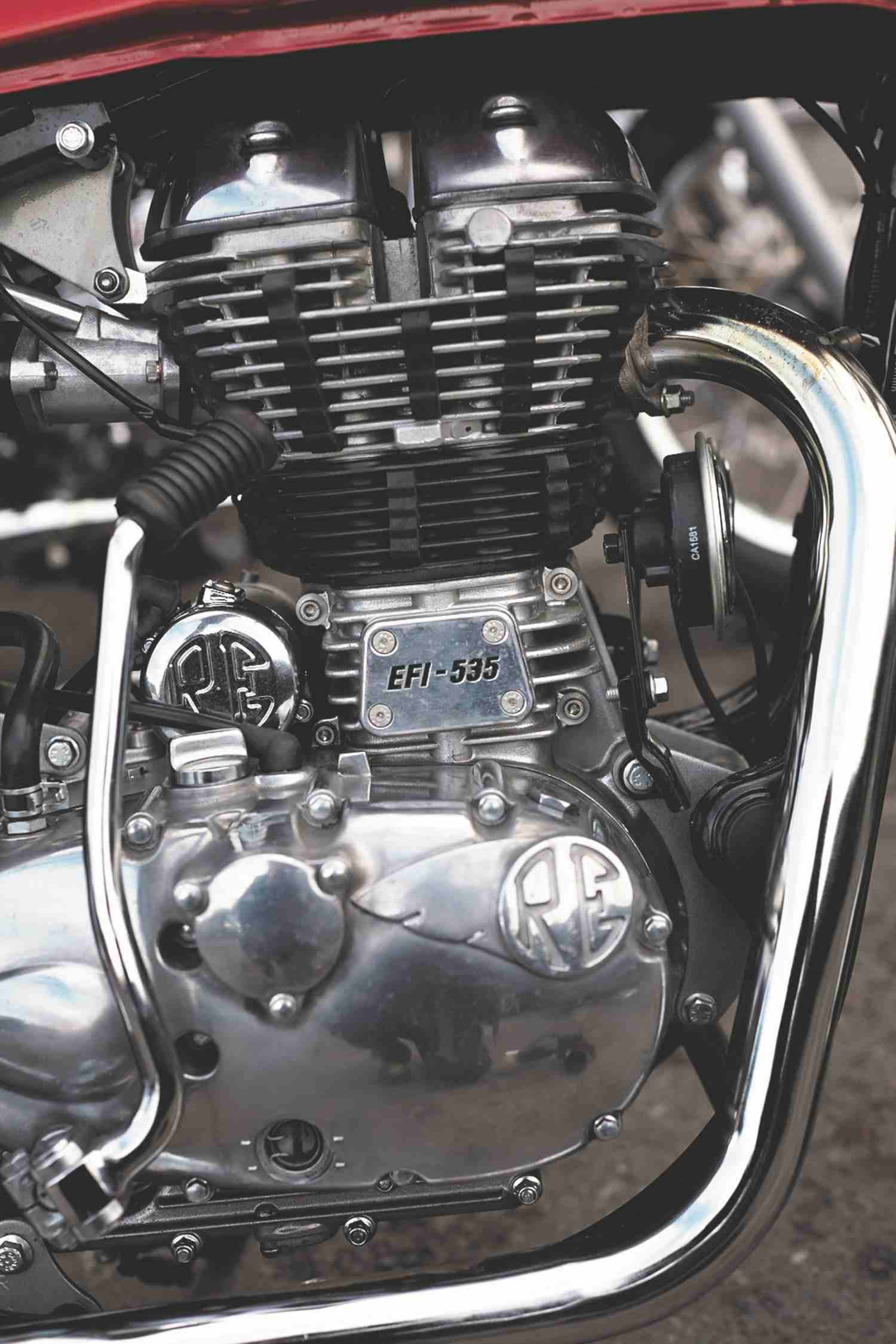 Tell me about the engine
This is probably the least original part of the bike – it's the single-cylinder air-cooled lump Royal Enfield have been using in bikes like their Bullet, but bored out from 499 to 535cc and paired with a remapped ECU and a Keihin fuel injection system. This has tickled power up by 1.9 to 29.1bhp, and torque from 41.3 to 44Nm at 4000rpm. Not dizzying figures by today's standards, but the original GT made the Rockers happy with just 21bhp, so who are we to argue?
With just one big piston getting thrown up and down in the case, the engine's predictably vibey at speed, but not excessively so. I'd call it characterful, which might also let you forgive the odd stall when filtering through very heavy traffic – roll off sharply after some hard acceleration, and the bike can sometimes hesitate, occasionally stopping altogether. Still, with a quality 12V electrical system and a DENSO starter motor, it's never hard to get the bike running again. There's even a kick-starter, if you want the real vintage experience.
The five-speed gearbox is smooth and positive, with only the slightest of hunting for neutral, and while the cable-operated clutch gave me problems at one point (the cable appeared to have stretched, making it difficult to disengage), this was only an issue in the first mile of riding a bike that had been abused the day before. I was quickly given another machine which worked flawlessly.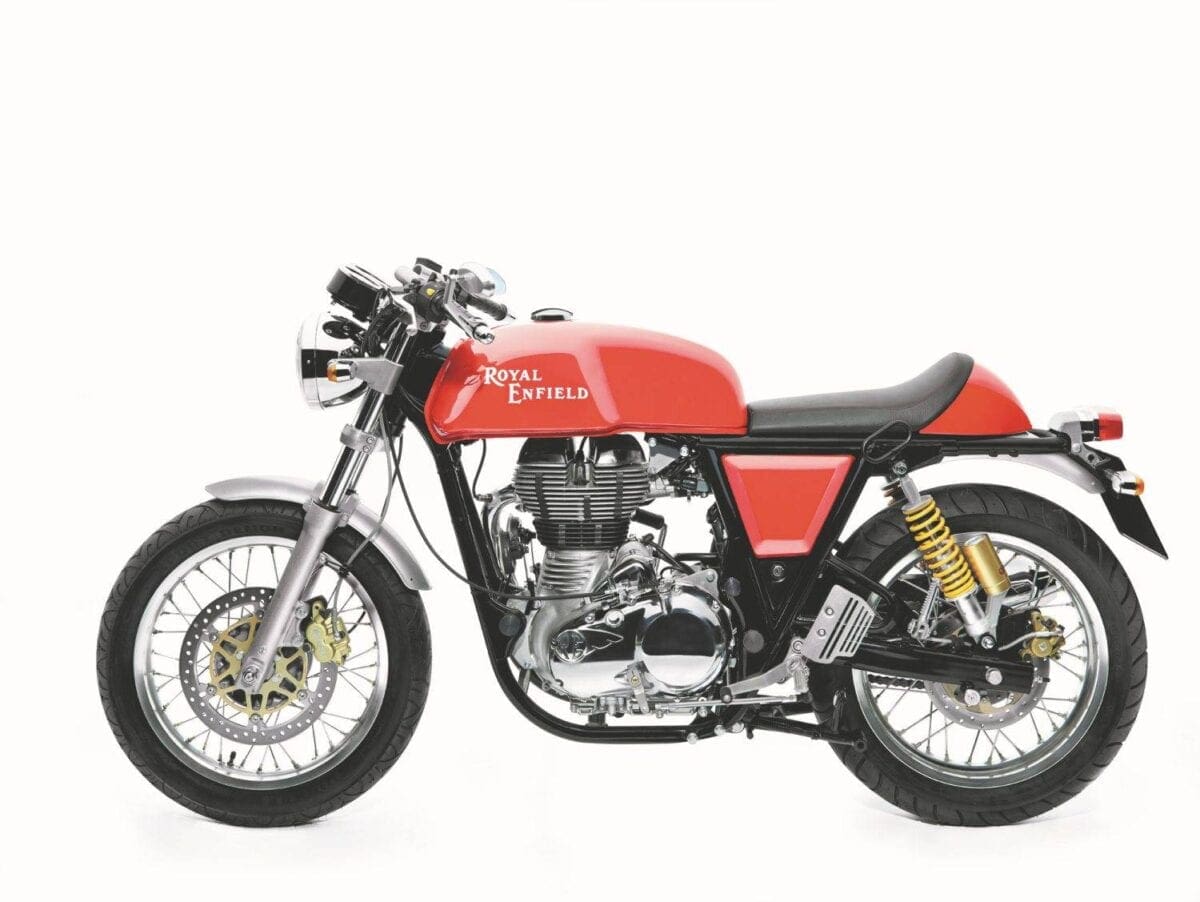 What's the chassis like?
Sublime. Designed by Hertford-based Harris Performance, their experience in making race and custom frames has allowed Enfield to build a bike that's as happy being flicked through busy city traffic as it is on the sweeping roads of the South East's countryside.
The double cradle chassis is carried by 41mm forks and twin Paioli piggy-back rear shocks, which handled my 14 stone without any problems. The single seat is set at 800mm, and is surprisingly comfortable… in fact, I was lucky enough to be the only journalist allowed to ride back to the Ace after the launch (everyone else caught a coach), and having ridden it non-stop for that extra 60 miles, I can tell you it's got enough padding to keep your bum happy.
As the bad weather came in on the ride back, I guess this is also an exclusive review of how the bike performs in the wet. A couple of sharp stops in the pouring rain proved that the Pirelli Sport Demon tyres grip well on the greasy roads of the capital, with the twin-pot Brembo caliper on the front, and single on the rear working smoothly, but with more than enough power to haul the 184kg bike to a standstill.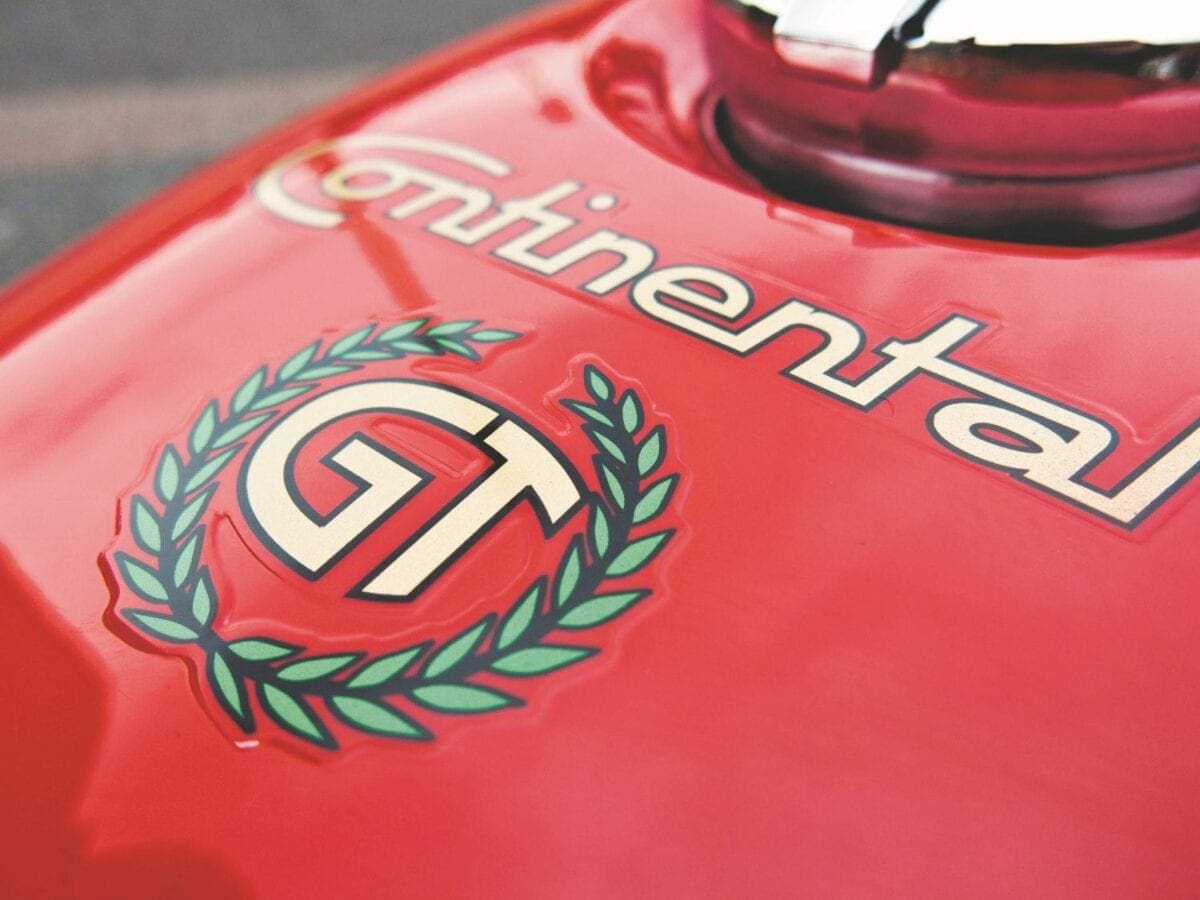 Should I buy one?
It depends what kind of rider you are. If you're speed obsessed then probably not, but this bike isn't just for riders looking for a bit of nostalgia. Sure, the silhouette of this bike is pure '60s GT, but Royal Enfield want this to be the bike that helps make them the global leader in the mid-size motorcycle market. Sounds ambitious? In 2012 Eicher motors recorded sales of over £816 million. Production for this year will be 175,000 motorcycles, with 250,000 planned for 2014. Bear in mind that there's a 6-7 month waiting list for Royal Enfields in India, and the company's hopes for global domination start to look a little more plausible.
Enfield knew they couldn't just rehash an old design if they wanted to be taken seriously, especially in the European and American markets, so they've thrown a lot of investment at this bike. With the quality parts used throughout, and the incredibly smooth and deep paintwork, all the signs are that this is a bike built to last. With the little niggles of the fuelling it's not 100% perfect, but the Enfield still manages to combine all the style and inspiring ride quality from what many consider the golden-age of biking; with much of the build-quality and performance offered by the latest technology.
So what's it like to ride?
It's a lot of fun. Some may mock the low power output, but when a bike handles this well (and especially when you're with riders on similar spec machines), it's impossible not to have a big grin on your face. There's something to be said for riding a bike flat-out without too much fear of losing your license. The limiting factor of most of today's sports bike is the rider… on the Continental GT it's the power output, and that's exactly what Royal Enfield intended.
The chassis could easily handle more power, and in the great old Brit-bike tradition it's more than likely that we'll start seeing owners shoehorning other people's motors to the Enfield (Tri-Field – a mixture of Triumph engine and Enfield chassis' were popular in the 60s). For the rest of us there's enough here whether you've just turned 19 and have an A2 licence, or you simply love the fact that this bike turns more heads than anything I've ridden before. As it was, flat on the tank, throttle to the stop, the speedo waved its way to 90mph. Not the 100mph the 'ton-up boys' were looking for in the 60s as they raced between cafés, but good enough to leave the city behind and head for an ice-cream on the promenade with a grin.
I got to talk to Roger Boss in Brighton, and away from the crowds of journalists and PR reps, he shared some fantastic stories from his days with Royal Enfield. I asked him how he felt about the bike that he'd been so involved with, being made in Asia: "I can honestly say that if I didn't know it was made in India, I'd never have realised. It's wonderful."
So, is it a fitting tribute to the inspirational bike of the '60s? Roger certainly thinks so, and having had one of my best rides ever, I've got to agree.
Tested by: John Milbank Photos: Tim Keeton, John Milbank, Royal Enfield
Tech Spec:
Royal Enfield Continetal GT
Price: £5200
Engine: Air cooled, 4-stroke single cylinder
Power: 29.1bhp (21.4kW) @ 5100rpm
Torque: 32lb-ft (44Nm) @4000rpm
Weight: 184kg
Seat height: 800mm
Tank size: 13.5 litres
Contact: www.royalenfield.com

The return of the cafe racer? Classic Bike Guide magazine's editor Gary Pinchin says it never went away.
The Triton – polished alloy tank, single seat, clip-ons and loud pipes – defined the Sixties Rocker era. There are still plenty on the streets – and even more still being built! But the new era of cafe racer is different. A generation, tired of sportsbike excess or adventure bike Gore Tex, have sought to get their kicks by customizing old bikes.
It's not just about cafe racers, its streetrackers, bobbers and Brat Style*. It's about style and individualism. It's about recycling. And for the younger set, it's about biking cool on a budget. It's seventies and early eighties Japanese bikes as well as old Brits.  Unlikely bikes like CB250/350 Hondas, CX500s, XS750 triples, GS750s, airhead Beemers are revered by this new customising cognoscenti – as much as Gold Stars and Bonnies were back in first coming of the cafe.
For those who have discovered the cult, it's no longer about how much horsepower your bike might have, or how fast you lapped Brands on a track day. It's about having fun on the back roads. And it's about style. In an otherwise dull motorcycle industry, there's this one niche that's finally offering an alternative way into bikes. While Royal Enfield's Continental GT might be a production cafe racer, it fits the bill perfectly. And for those with imagination, it presents a really good base model for personalization.  
Want to learn more about these great bikes and more? Pick up a copy of Classic Bike Guide from your local newsagents , or visit  www.classicbikeguide.com
*Five or six years ago Brat Style was just a bike shop in Japan. The style of customs they produced has now become a worldwide biking style. To understand Brat Style check out: www.bratstyle.com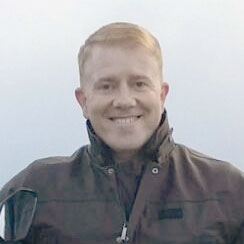 Latest posts by Tony Carter
(see all)
Does this get you revved up? Tell us why...
---
---
Subscribe to MoreBikes Newspaper
Get MoreBikes delivered through your letterbox every month. 12 issues for £15. Click here for more information.
---
Get MoreBikes.co.uk Updates
Enter your e-mail address below and you will receive biking news straight into your inbox...



You can unsubscribe at any time.
---