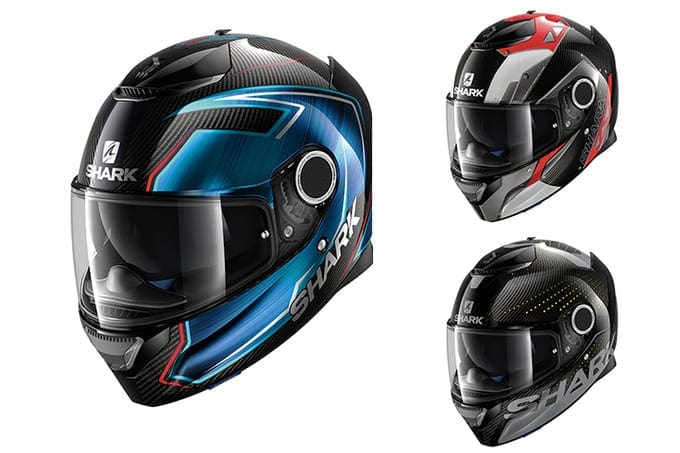 Following the launch of its brand-new Spartan Carbon last year, SHARK Helmets has now launched 11 new colours on the state-of-the-art model – and they are available in UK dealers now.
The Spartan has been developed using the latest reverse engineering and Computational Fluid Dynamics (CFD) technology recently developed on other top-end SHARK models. Everything about its striking design is aimed at achieving optimal aerodynamics and rider comfort, making it the perfect choice as an all-round road-riding helmet.
With prices starting from £349.99, the Spartan Carbon has a number of new features developed to make the helmet quiet and stable at speed. A 'SHARK SKIN' cover on the side mechanism of the visor contributes to the reduction of whistling noise and a double spoiler on the rear incorporates air extractors for increased internal cooling and aerodynamic trail.
The Spartan Carbon is compact and lightweight at 1290g*. A Pinlock Max Vision insert is included in the box and there's a retractable integrated sun visor, offering full coverage. It comes with all the features you'd expect from a premium SHARK helmet: SHARKTOOTH compatibility, quick release visor system, removable and washable lining, SHARK Easy Fit for glasses wearers, anti-scratch visor and it fastens using a double-D strap system.
The Spartan Carbon is available in sizes XS (53/54cm) – XXL (63/64cm) in a choice of 14 colour options, including a Sylvain Guintoli replica.
SHARK Helmets has also introduced a standard version of the Spartan made from multiaxial composite fibre, allowing riders to benefit from SHARK Helmets' latest innovations at the lower price. The Spartan is available in 21 colour schemes with an RRP from £259.99.