Japanese developer and tuning house Mugen has joined forces with Honda to build an electric motocross bike – and it has been inspired by the T-Rex dinosaur.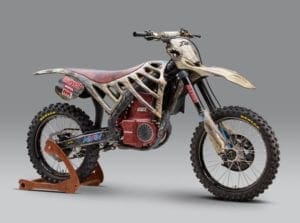 Their electric racebike – the Shinden – which has won three successive outings of the electric Zero class at the Isle of Man TT, has helped cement Mugen as one the key players  in the electric motorcycle world.
And the company has been hard at work, further developing the existing technology with the announcement of their new Electric Motocross machine; the E-REX.
Mugen unveiled the E-REX prototype on the Honda stand at the recent Tokyo Motor Cycle Show – and if you look closely, you'll also be able to spot Showa suspension and Nissin braking components (both brands which Honda owns), so just like the Mugen Shiden, no expense has been spared when it comes to top-spec parts. You might have also spotted the carbon fibre brake discs on the E-Rex – but we're trying not to get too excited just yet, because it is still a concept.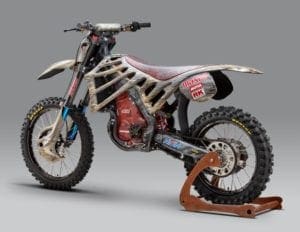 The real question now is what Mugen and Honda plan to do from here. They've said that they will:  "Explore the future potential," of an electric motocross machine (which is admittedly a bit vague) – but with whispers of electric dirtbikes being introduced to multiple off-road racing series, Mugen and Honda are well poised to dominate the dirt track, too.