Italian footwear specialist TCX has just launched its latest fashion conscious 'biker sneaker' – an updated version of the Street Ace.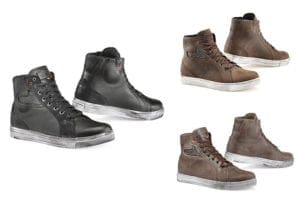 The 'biker sneaker' has become a popular choice for lots of riders who are after a casually-styled boot that can be worn both on and off the bike, that promises to keep you safe too – and these stylish new boots from TCX fit the bill perfectly. 
The boots are made from full grain (vintage-look) leather, feature a redesigned sole with improved tread, and have a waterproof lining to help keep you dry in the wet. Most importantly, the boot is CE-certified and features additional protection on the toe, heel and ankle.
They'll set you back £119.99 and are available in sizes 36-48 in Black, Coffee Brown, Dakar Brown and Cold Grey.
The new Street Ace boots are also available for women – coming equipped with a specially designed sole, which has been adapted to the shape of the female foot, and (according to TCX) to offer exceptional comfort thanks to a detachable, antibacterial footbed, an EVA insert to absorb vibrations and an assembly footbed made of thermoplastic material.