With a relatively successful racing career behind him, including a Canadian National Championship and an Isle of Man TT podium, former racer Andreas Georgeades decided to hang up his leathers and pursue his passion of squeezing powerful car engines into custom built motorcycles.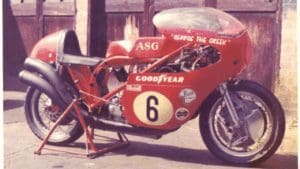 Between 1978 and 1998, Andreas built three Ferrari powered custom motorcycles. Two were powered by a Ferrari V6, the same engine famous for powering both the Lancia Stratos and Ferrari Dino, while the third was powered by a Ferrari 308 V8.
 His first attempt involved stuffing a 200bhp Ferrari V6 into a Honda CBX. During the build, Andreas (as you'd expect) faced quite a few challenges – including converting the Ferrari chain driven cams to belt, and modifying the motor to accept a clutch and transmission from a Suzuki donor bike.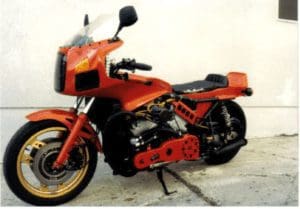 Next Andreas wanted a V8 – and he had his sights set on a 250 bhp, four-cam, eight cylinder Italian motor that would cost him close to £45,000 (in today's money).  To pay for the 1978 Ferrari V8 308 engine, he traded in his bronze trophy from his podium finish at the Isle of Man TT.