This is a really cool little gadget from Optimate, which works to diagnose, recover, charge, test and maintain your motorcycle battery all year round.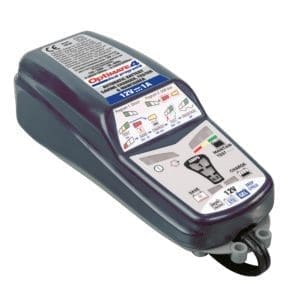 The Optimate 4-1A Dual Program charger has been updated for 2017 (they're onto the third incarnation!), offering more efficient power circuitry, a 1 Amp charge current and refined software control.
Safe to use with all types of lead-acid batteries, it can either be connect directly, or through the 12v port on CAN-bus equipped machines. Key-less activation also offers safe, unsupervised and automatic charging and maintenance for BMW CAN bus-equipped bikes without the need to turn on the ignition to activate the charging process.
Alongside normal maintenance and charging, a low voltage pulse function can recover neglected, sulphated batteries from as low as 0.5V – while pre- and post- charging testing will let you keep a close eye on its condition via its built-in LED display.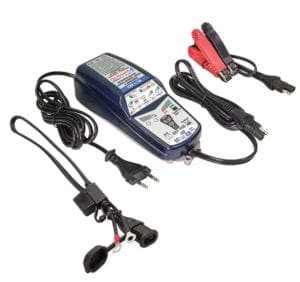 The Optimate features a weatherproof case, built-in wall mounts, a 6ft AC supply lead and a 6ft charge lead – it's ideal for use in garages, sheds, workshops and other demanding environments.
It can be used outside of the UK too, thanks to high frequency fully electronic power conversion which means it's able to receive 100 – 240V AC power.
There are a couple of models of the OptiMate 4-1A V3 on offer – the standard model costs £70.99, while the dedicated BMW CAN bus edition costs £77.99.