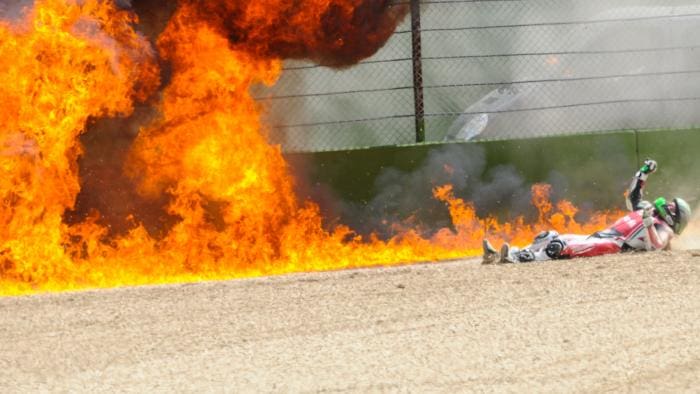 In case you were out in the sun at the weekend instead of watching WSB, here's something that happened that you might fancy a peak at – the fireball that engulfed Eugene Laverty's Miwaukee Aprilia. Click on the image below to watch a video of the huge crash:
The crash happened on the second day at the Motul Italian Round in Imola when Laverty was involved in a clash with Yamaha's Alex Lowes – during the coming together Laverty's Aprilia brake line on his bike was cut which left Eugen with no option but to jump off the back of the bike and watch it plow into the crash barrier before ending up in a mass of flame.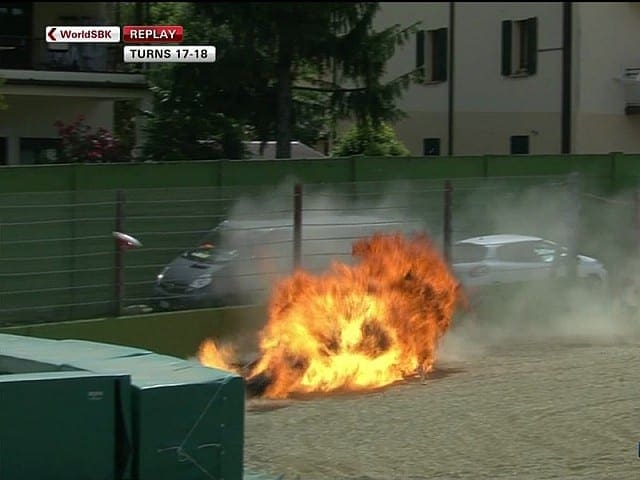 Amazingly, Laverty wasn't injured in the tumble. He said: "I had no brakes because the brake line came out when we bumped together. I tried to pump the brakes a few times, then I realised there was nothing working and the wall was fast approaching, so it was time to get the hell out of there. It is good I got off when I did, and it feels like you're accelerating when you're used to decelerating there, so it was really fast.
"It wasn't how I wanted to finish the race that's for sure, but I'm lucky to finish in one piece."