Custom bike builders Revival Cycles have just unveiled their latest project – an outrageous Ducati SP4 sidecarcross outfit that they've aptly named Odioso (which is Italian for obnoxious).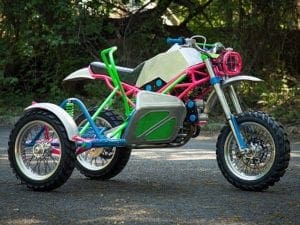 In the custom bike world, there are few bigger names than Austin based Revival Cycles, founded by designer Alan Stulberg and mechanical engineer Stefan Hertal. Each year they host the Handbuilt Motorcycle Show in Austin, bringing the best of the custom motorcycling together to exhibit their latest creations. This year they're taking part in Rebels Uncaged, a custom bike competition ran by Rebel Yell Bourbon, the show's sponsor.
Revival Cycles build for this year's competition is a Ducati sidecarcross beast, based on a 1999 Ducati ST4 sport-tourer – complete with a 916 engine (4-valve DOHC liquid-cooled 996cc V-twin) and audacious 80's themed paintwork. As you can imagine, converting a sport-tourer into a sidecarcross outfit is no mean feat, and Revival Cycles have definitely had their work cut out to get the Ducati SP4 up to scratch.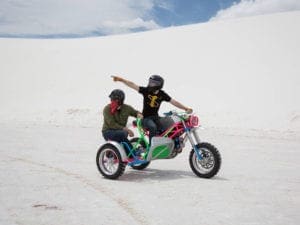 The 105bhp off-road custom is now 50kg lighter than the original ST4 (weighing in at 172kg – minus the sidecar) and features a hand-crafted aluminium petrol tank, Renthal Twinwall handlebars, a Domino accelerator, KTM WP 48mm reversible forks, a multi-adjustable Öhlins rear damper, Warp wheels, Metzeler Karoo 3 tyres, Brembo brake calipers, new footrests and a Motogadget electric unit. They've also added specially adapted reinforcement bars and an additional subframe, a modified Honda SL-350 fender and a front headlight.
For the uninitiated, sidecarcross is probably one of the more spectacular but lesser known two-wheeled sport disciplines on the world stage – and as a result, Revival reckon that it is one of the world's first Ducati sidecar-cross bikes ever built.
Here's a short video of the lads from Revival whizzing around White Sands National Monument in New Mexico on the bike itself…