An awesome virtual reality motorcycle simulator has been unveiled by simulator builder Cruden.
Cruden has been working on professional-grade motorcycle simulators for quite a few years now – it developed it's first in 2005, and since that time the company has been working on a range of hardware and software to create the most accurate motorcycle simulator on the market.
Vehicle simulators have been around for quite a while – from the (very) basic driving simulators used in driving centres to test a new driver's hazard awareness, to the high-grade flight simulators used by commercial and military aircraft pilots.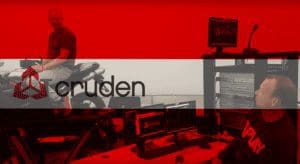 Cruden recognised early on, that simulating motorcycles comes with its own set of unique challenges. Riding a motorcycle is far more physical experience that driving a car, as riders shift their centre of balance and 'counter-steer' when riding a motorcycle (both things aren't especially easy to replicate with a standard simulator).
Due to the wide field of vision needed when riding a motorcycles, Cruden decided to go down the virtual reality route, and use a VR head mounted display (HMD) to give an unlimited field of view and offer full immersion. It's also recorded 3D audio of a Yamaha R6 and Ducati 848 Evo to create a more realistic experience for the firm's custom Panthera simulation software, which is closely integrated with the B306-HMD simulator rig and the VR headset.