2006 MotoGP world champion Nicky Hayden has died.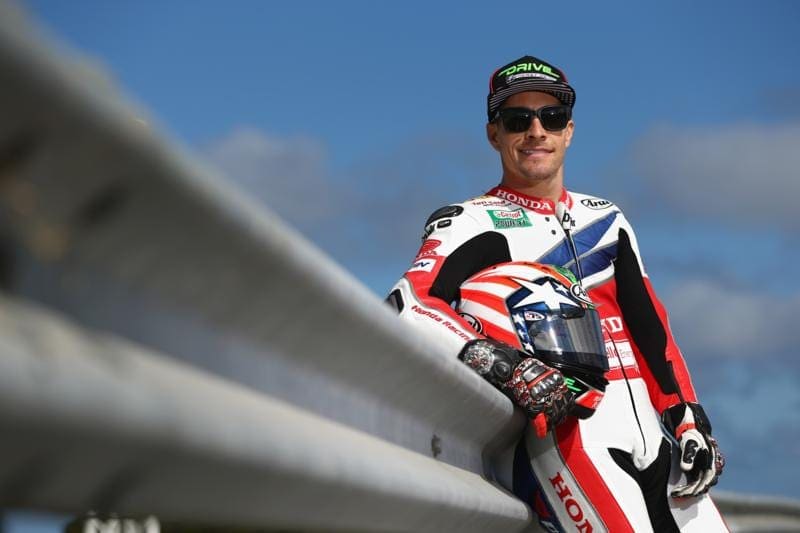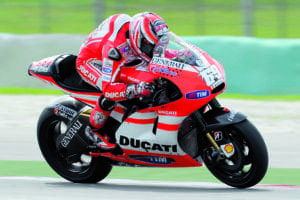 The 35-year-old was involved in a road accident with a car, just days after competing in the WSBK championship round at Misano. After the incident, Nicky was taken to a local hospital, and was then transferred to another nearby hospital for further assessment. Today he succumbed to his injuries.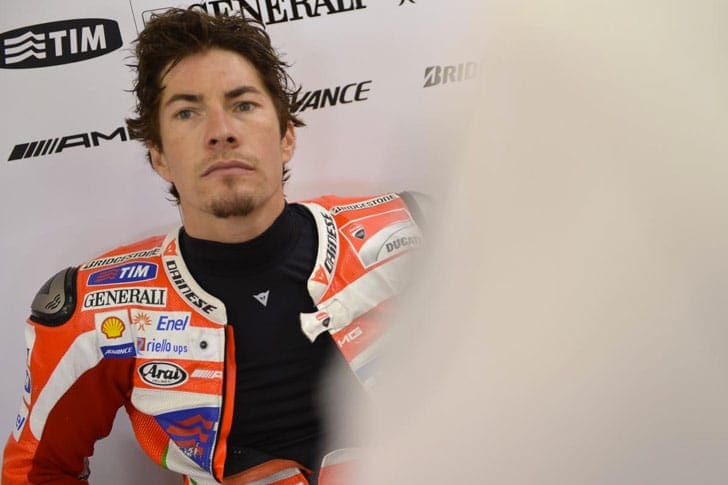 Nicky lived and breathed motorcycles. He competed throughout his youth in Kentucky, moving onto the AMA Pro Flat Track circuit first, then onto the AMA Superbike series. In 2006 he snatched the MotoGP world title from his good friend Valentino Rossi, and has been continuing to compete at the highest lever in World Superbikes for the Red Bull Honda team.
MotoGP recently released an interview with Hayden in which he talked about various aspects of racing including that pivotal moment in 2006 at Valenica. Here are his thoughts to the MotoGP world on…
…his first memory on a bike:
Nicky Hayden: "I get that question a lot and I really don't remember because I don't remember life before bikes. From the time I literally crawled, I was around a motorcycle. My dad raced, even my mom raced because my dad—the story goes—he needed a fast girl because he wanted to make fast babies. He'd come from Kentucky, where horse racing is so popular, and the bloodline is so important. So my mom and dad both raced, my older brother was racing, and from the time literally I could crawl, I was already with the bikes."
NH69: "Racing motorcycles is just a way of life for me. It's what I know, it's what I've always done, my family does it, my friends do it, and it really is more than just a job. It's a passion. Bikes are a way of life for me."
NH69: "Yeah, I started in dirt track. That's what my father knew best and we started with dirt track, but the thing was, at that time in America, there wasn't a lot of opportunities for dirt track riders. There was not a lot of guys getting paid, there was only two factory riders, and my dad's hero was always Kenny Roberts. Kenny Roberts was one that went from dirt track to road race and seeing that, seeing the future he had, we thought we should try it to open more doors, get more support, and get more people behind us. And we gave it a try. I love dirt track but immediately, I loved road racing even more because the tracks were longer, there were more variables, it was uphill, downhill, right hand corners. One of the things I liked most too was the rain. In dirt track, when it rained, you didn't get to race, and as a kid I hated rainouts. You would be so excited and having to turn around and drive home was like torture. So I love this about road racing and immediately I liked the speed."
NH69: "Yeah, as a kid, I really had a big desire. That's all I ever wanted. I never said, 'When I get older, I'd like to be an astronaut or the president.' I never had these crazy dreams as a kid. I wanted to be a GP racer. And people sometimes would ask my dad, 'Did you have to make him practice and train?' They laugh because, 'No, I had to make him do his homework or make him brush his teeth, but never to ride with a motorcycle.' It was just a love for it and I still love it."
NH69: "Wow. I don't really know if there's just one secret to riding these bikes at a high level. Of course it takes some talent but it takes some mentality to have to want to push and go to the edge. As I've learned, as I get older in life, it's not just about the rider and what you do on the track. It's about having the right team behind you, the right equipment, and being able to have the engineers help you and give those people the feedback to help you do your job. So there's a lot more that goes into it behind the scenes than some people see."
…the rider and the bike becoming one:
NH69: "I think it's very true. It's like dancing. You have to work together, dance together, and if you're fighting the bike constantly and going against it, you're not going to go fast. When you're really going fast, you're moving with the bike and it's all one motion. I would say when you're going fast on a motorcycle, you're in a zone. Because when you're doing speeds of 220mph, a lot of it has to be habit, be natural, be instinct, be reflexes, because you can't think about it. At that speed, if you have to think about what you need to do, it's too late. You've already missed your brake point, your throttle point, where you need to shift, and I think that's where starting young helps riders because when you start young, you create those things like people say, riding a bike: it just comes natural, it comes easy."
NH69: "My jump to MotoGP was huge. I went from AMA and I came from a big family, from Kentucky, a small town. I grew up sharing a room with my brother and I look back now because at times I was so lost. I was just a kid who was really still a dirt tracker at heart, and got thrown into a very deep end, and I had a lot to learn. And if I'm completely honest, the step was bigger than I thought it was going to be. Not only did I have to learn a new bike, and the team, and the racing, but I had to learn the whole culture, the travel, and it was deep water and not easy in the beginning. But luckily I had a good bike—that really helps—and I was able to get good results and justify it. I was able to win Rookie of the Year that year, in 2003, and beat out (Troy) Bayliss and Colin (Edwards) and good riders to get that award. It was a steep learning curve, but I learned to swim just quick enough to stay on.
…being an American road racer:
NH69: "Well, I don't want to say Americans have it any harder. Of course, at times, being American helps—you catch a few breaks. But I think anybody outside—it's easier for Europeans, for sure. People outside, Americans, Australians, different people, have it harder at times because it's farther from home, it's more you have to learn. It's not just learning new tracks, it was a completely different style of tracks. The tracks we have in America were a lot more built for cars. Some of them are inside ovals, like Daytona, and they were more narrow, and the curves you couldn't use. So it was more than I just have to learn this layout; I have to learn this whole style of track."
NH69: "Laguna 2005 was like a dream for me because everything worked perfect. In racing, it doesn't always go like a dream. Normally on the weekend, you work, you try something with a bike. It's maybe a little bit better on braking, but it's worse on corner exit and it's a compromise, but that week, everything was perfect. The bike, from the first practice, was working well. Every change we made was only better. Every time the lap time come and I remember being here in the lead in the race, and my mind wondering, coming out of that corner, that turn three, I remember looking up at the tower during the race, when I'm leading the race and I should only be focused. My mind was relaxed. I was looking to see who was in second, third place, who else was doing what. I got the pole position, I got the fastest lap, win the race. National anthem, I ride with my dad, and it was just a fairy tale. On that day, I felt unbeatable."
NH69: "Well, speaking of 2006, the race in Laguna that year was completely the opposite. Everything that race weekend was really difficult, I felt a lot of pressure, I qualified sixth, it was really hot, that year was record highs, and I couldn't have done that race a half-a-tenth faster. Whereas the race in 2005, I think I could have done it maybe 3, or 4, or 5 seconds faster if I needed to, but 2006 was much more difficult. What I remember that year was coming out of the last corner of Valencia and realising my dream of being World Champion at the highest level was coming true and that was very special."
…beating Valentino Rossi. Did it make it even more special?
NH69: "Absolutely. I mean that in a good way. I have a ton of respect for Valentino Rossi, as we know, he's the goat. He's the one, in my opinion, who has done so much, in our lifetime, for MotoGP, and put it at the level that it is. To be the guy that beat him that year—it wasn't easy, I had a couple of breaks, everything went my way. And to be able to beat him certainly made it extra special."
…gearing up for Valencia in 2006:
NH69: "Well, for sure, in Portugal, that moment in the gravel trap, that thought of being World Champion just slipped through my hands. You never know how many times you're going to be in that opportunity in life, but I gathered myself up, and after the race, maybe one hour after, I started to think of only Valencia. I looked at the points and realised I still had a chance. I know Valencia is a small track, many guys go fast there—maybe it's not the best track for Valentino at that time. And I somehow, as crazy as it sounds—people ask me now—from about an hour after that race, I always believed I was still going to be World Champion. Going into the last race, I think 11 points down on arguably the greatest rider of all time, with all the momentum on his side, an injured shoulder. Not many people outside of my team and family gave me a chance, and for whatever reason, that whole season I believed it was going to be my year. And that's what I said all along, is this is my year and I still think when they let off the yellow fireworks, I laughed, and I've seen the pictures because I guess I like being the underdog. I did have to chuckle and being on the podium and seeing the yellow fireworks was just something that was incredible for me. I would say that moment for me was what I lived all my life for and not just me, it wasn't like a goal I felt I won. I felt my family won it, like we won it together, because my parents, and my sisters, and my brothers, they sacrificed so much to give us this opportunity at a young age and I felt like we won it."

Latest posts by Ross Mowbray
(see all)
Does this get you revved up? Tell us why...
---
---
Subscribe to MoreBikes Newspaper
Get MoreBikes delivered through your letterbox every month. 12 issues for £15. Click here for more information.
---
Get MoreBikes.co.uk Updates
Enter your e-mail address below and you will receive biking news straight into your inbox...



You can unsubscribe at any time.
---