MotoCorsa, the top Ducati dealer in the USA has thrown its name into the ring as a potential buyer for the iconic Italian brand – and they're looking for $1.6 billion to help make it happen.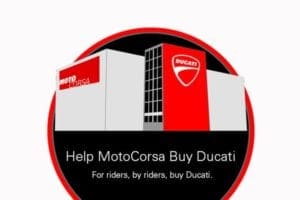 There has been a lot of rumours flying around over the last few weeks, as it emerged that VW Group are considering the sale of Ducati to release some assets as they make a gradual shift towards electric vehicle technology.
At the time of writing, a handful of the world's largest motorcycle manufacturer have already been linked to buying Ducati Motor Holding, including Royal Enfield, KTM, Polaris, Harley Davidson and BRP Rotax – and now we can add another potential suitor to the long list; MotoCorsa.
That's right, the top Ducati dealer in the United States is throwing its hat into the ring, and looking to Ducati owners to help crowdsource the $1.6 billion needed to wrestle the Ducati brand from its owners at VW.
'Kick in some cash and help us buy Ducati. Each $25 gets you .0000015625% of the company! Besides your shares, you'll get some fun stuff, too! Everything from a commemorative sticker set to a brand new Ducati motorcycle and more!'
Although MotoCorsa have been a little tongue-in-cheek with their campaign, as far as potential owners for Ducati go though, a group of passionate Ducati owners from around the world sounds like a pretty good option for Ducati's future and stability, especially considering the Italian brands turbulent history.