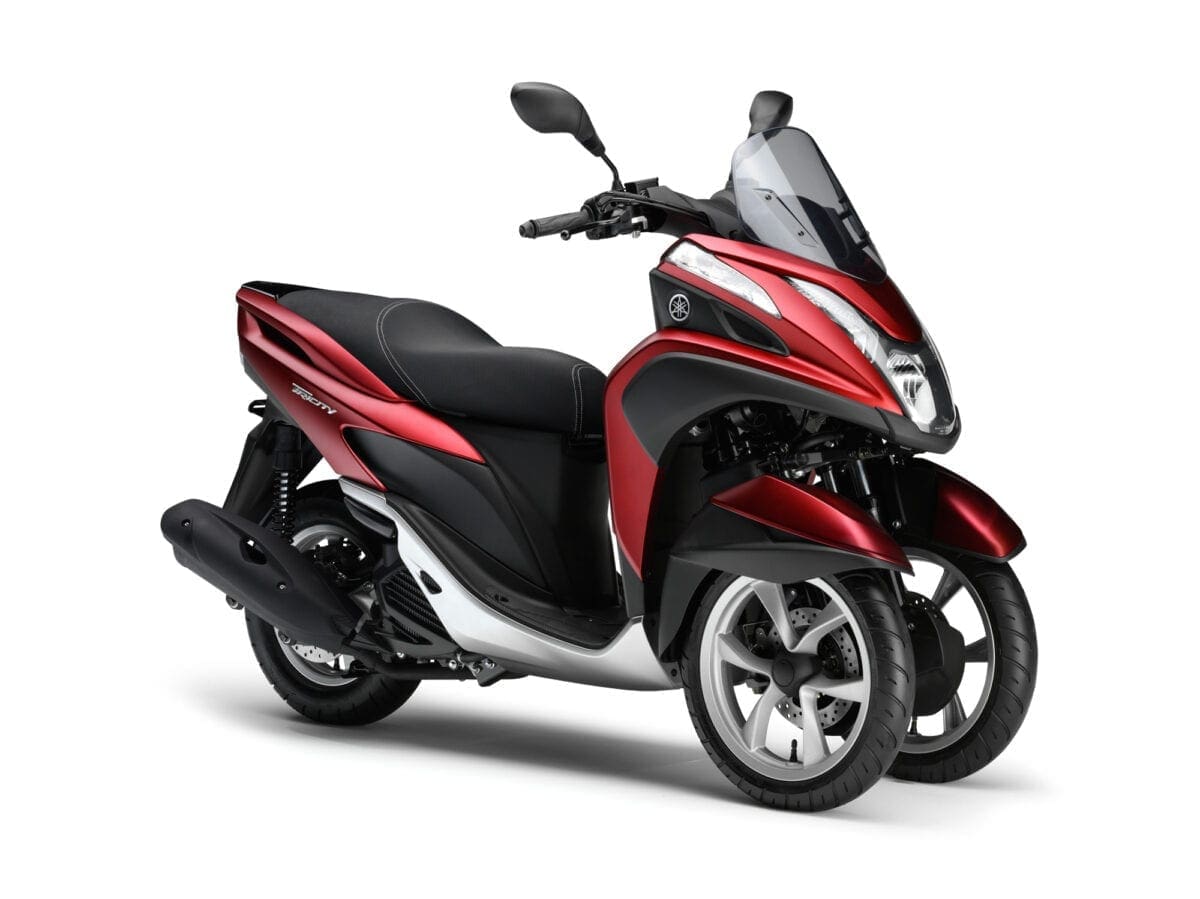 We'll be reviewing the Tricity as soon as we can, but for now, here's what Yamaha has to say…
Urban traffic congestion is a major problem in many European cities, and is set against a background of increased environmental awareness and the squeeze on many consumers' disposable incomes. The landscape of personal mobility is set to change drastically, and Yamaha is working to develop New Mobility solutions designed to facilitate and encourage the adoption of a new mindset amongst urban commuters.
Despite the availability of a wide choice of scooters, a huge number of commuters continue to make their daily journey into the city using public transport or a car. In addition to these non-riding members of the public, there are also those riders who currently commute on 2-wheels – or may have done so in the past – and are attracted by the increased feeling of stability and riding confidence that are associated with a new 3-wheel concept.
The all-new Tricity is the first model in Yamaha's New Mobility segment, and it represents a new solution to the issue of personal transportation. Unlike some other larger and heavier multi wheel scooter-style vehicles, the Tricity has been developed using a completely different approach in which lightness, sportiness, agility and ease of use are the key elements.
An alternative approach
Featuring twin front wheels that automatically lean when cornering, the new Tricity delivers scooter-like agility combined with enhanced confidence and an increased feeling of stability. With a strong focus on riding enjoyment, ease of use and affordability, Yamaha's Tricity is equipped to transform the daily lives of urban commuters throughout Europe.
The Tricity development team in Yamaha Motor Corporation focused on creating a future-proof concept that offers an attractive and realistic alternative for today's urban commuters. The key targets for the Tricity were set as follows:
*          Simple, easy and enjoyable to ride
*          Light and agile handling
*          Increased stability feeling
*          Comfortable in different road conditions
*          Functional and practical urban commuter
*          Unique design with innovative and advanced technology
*          Weight and overall dimensions in line with 125 class scooter
New Leaning Multi Wheel Chassis
The Tricity's exclusive new Leaning Multi Wheel (LMW) mechanism has been developed specifically by Yamaha for our New Mobility vehicles, and it features a patented system that is designed to create a good feeling of stability, combined with a sporty and agile handling character.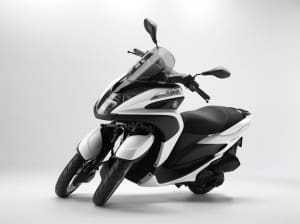 Hidden behind the lightweight front cowl, a lightweight parallelogram link gives the rider the ability to lean the Tricity in much the same way as a conventional 2-wheel scooter. The parallelogram link's component parts are connected to the forks and the frame's steering head, and when the Tricity rider enters a turn this system allows the twin front wheels to lean over in parallel. While leaning over, the track (distance between the twin front wheels) remains almost consistent, and this ensures a natural and intuitive feel during cornering.
Another key element of Yamaha's new LMW mechanism is the use of special tandem-type cantilevered telescopic front forks that feature two separate tubes for each wheel. The rear fork tubes function as guides, while the front fork tubes handle the shock absorbing functions to deliver smooth cushioning throughout the 90mm stroke. The suspension system on each front wheel operates completely independently, and this gives a smooth and stable feel over bumpy road surfaces and in changing road conditions.
Lightweight cast alloy wheels
For sure-footed roadholding and easy handling over a variety of road surfaces, the Tricity is equipped with twin 14-inch aluminium front wheels that are fitted with 90/80-14 tyres. Featuring 3 pairs of V-shaped cast spokes, these beautifully styled lightweight wheels complement the dynamic and elegant bodywork to give the Tricity a unique and enchanting image.
At the rear the Tricity is equipped with a 12-inch diameter cast alloy wheel with a 110/90-12 tyre, and this 3-wheel layout delivers a smooth and comfortable ride together with good levels of cornering grip for confident roadholding.
Unified Brake System (UBS)
The Tricity is equipped with a Unified Brake System (UBS) that is designed to enhance stopping efficiency and deliver smoother chassis characteristics during braking. The system incorporates twin 220m diameter front discs and a 230mm rear disc, and when only the left hand brake lever is applied, the braking force is applied to the rear wheel and also to the front wheels, giving balanced and effective stopping power.
When the rider applies only the right hand lever, the front brakes are applied, and when the rider applies both the left and right levers at the same time the Unified Brake System distributes the braking force to the front and back brakes using input from both levers.
The intelligent UBS technology not only makes the Tricity easy to use, it also ensures smoother stopping with minimal fluctuation in the handlebar motion.
Newly developed 125cc 4-stroke liquid-cooled engine
Powering the Tricity is a newly developed 125cc liquid-cooled 4-stroke engine that has been designed to produce good acceleration from low speeds, together with smooth higher speed operation. The engine benefits from specially designed intake and exhaust systems that enhance performance in typical urban stop/start situations, making the Tricity a strong performer in congested city streets.
This new engine is equipped with a special cylinder that has been developed using Yamaha's leading casting technology. Manufactured from aluminium alloy with specific silicon content, this lightweight cylinder has no steel sleeve, and the piston runs directly onto an aluminium bore. This unique design gives excellent heat distribution, which in turn contributes towards stable engine performance and improved lubricant life.
For high levels of economy the new engine is equipped with Yamaha's exclusive YMJET-FI fuel injection system that ensures high combustion efficiency with smooth low speed acceleration, together with a responsive power feeling through the mid and high rpm ranges.
The lively 125cc engine transmits its power to the rear wheel via an efficient CVT transmission for smooth and easy acceleration, making the Tricity an ideal means of transport for customers who have little or no scootering experience.
Light and compact
Weighing just 152 kg with fuel and oil, the defining characteristic of the new Tricity is its light, compact and agile handling feeling that sets Yamaha's New Mobility engineering philosophy apart from the larger and heavier multi-wheel models available in the market.
With its confidence inspiring 3-wheel design – combined with a fun-to-ride character and a smart, modern image – this revolutionary new model is ready to win the hearts and minds of those non-riding commuters who are ready to make a change to their daily lives. Of course, the Tricity is also sure to find favour with many past and present scooter riders who value the additional benefits that this compact 3-wheel scooter has to offer.
The lightweight bodywork is both strong and easy to clean, making it ideal for the rigours of city life – while the aluminium wheels keep unsprung weight low for agile steering feel together with smooth and responsive suspension characteristics. The strong new tubular frame design also offers a large flat footboard with plenty of space for the rider, while also contributing towards weight reduction.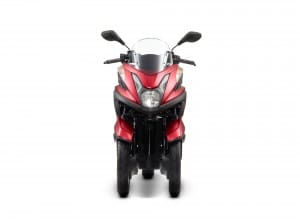 50:50 weight distribution and centralized centre of gravity
Weight distribution plays a major role in shaping the handling and character of every vehicle, and this lightweight urban commuter benefits from a 50:50 weight distribution. This philosophy of distributing the weight evenly between the front and rear wheels is the same as the approach used on Yamaha's MotoGP bikes, and it contributes greatly towards achieving the Tricity's easy manoeuvrability and natural and enjoyable handling character.
Furthermore, the Tricity's centre of gravity has been set at a point just below the front of the seat, and together with the low overall weight and 50:50 weight distribution, this idealized centre of gravity is another key factor in achieving a light and responsive handling character.
Contemporary design
Yamaha's designers have created a smart body design that accentuates the modern and aesthetic appeal of this New Mobility vehicle. Viewed from the side, the beautiful lines of the front cowl flow smoothly into the flat footboard area and through to the rear cowl. The contrasting colors of the body panels enhance the futuristic profile – while the combination of the aerodynamic front cowl together with an upswept tail and angular twin front fenders gives an overall impression of dynamic movement.
The beautifully styled bodywork is functional as well as fashionable, and Tricity riders can look forward to experiencing a relaxed and comfortable ride on their journey to work. The stepped dual seat features a slip resistant material, and its generous length and substantial cushioning material ensures a comfortable journey for the rider and passenger.
The upswept legshields and flat footboard area give a roomy riding position with easy accessibility, and the lightweight bodywork and sports screen also help to protect the rider from the wind and weather. There's plenty of storage space under the seat, which can accommodate full-face helmet designs, and a convenience hook in front of the rider gives useful carrying capacity.
Easy to read instruments and LED lights
Just like the rest of this new urban commuter, the instruments are stylish, functional and easy to use. An animated sequence greets the rider when the Tricity is turned on, and the attractive full LCD instrument panel features a central digital speedometer flanked by a clock, air temperature gauge and odometer. The display also includes an array of indicator lights, and the easy to read design displays the relevant information in a clear manner.
To enhance the futuristic styling the Tricity is equipped with dual front LED position lights, and there is also an LED taillight and LED license plate lamp.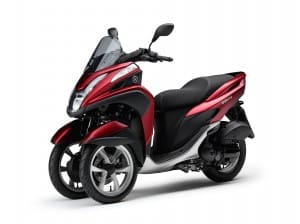 Affordable price and low running costs
By ensuring that the company's entire design, development and production processes are operating at a high level of efficiency, Yamaha have been able to ensure that its new generation of models can be produced with reduced lead times and also at a highly competitive price.
Available from Yamaha European dealers in summer 2014, the new Tricity will be priced at less than €4,000, confirming its aim to really create a new segment in the urban commuter market.
With high fuel economy and low maintenance costs, this innovative New Mobility vehicle is poised to change the urban commuter market and introduce many new and existing riders to an affordable, easy and more enjoyable way to live every day.

---
Advert
---
Enjoy everything More Bikes by reading the MoreBikes monthly newspaper.
Click here
to subscribe, or
Read FREE Online
.
Sign-up to the More Bikes Newsletter
Enter your e-mail address below and get regular updates straight to your inbox… You can unsubscribe at any time.