During last week's Senior TT, Ian Hutchinson suffered a broken femur, after crashing out at the 27th Milestone – causing a full course red flag.
The footage doesn't give a huge amount away, but highlights Hutchy's use of his (hand operated) back brake – while a post on social media, appears to suggest that the front tyre of his Tyco BMW machine was punctured and deformed, which must surely have contributed to the front end washing out.
Hutchinson has had over 30 operations on his left leg after crashing out at the 2010 TT – and the incident is another terrible blow for the 15th most successful TT racer of all time, who has fought so hard to get back on his machine over the last few years.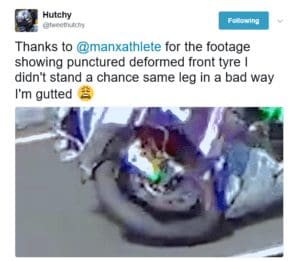 Hutchy came off at the 27th miletone – after an epic one and a half lap battle with Peter Hickman, as they fought for first place. However, as the Bruce Anstey came into the pit lane at the end of his second lap, red flags were shown on Glencrutchery road. It was initially unclear who was involved in the incident, but Tyco BMW team posted on social media, confirming it was Hutchinson involved – and that he was conscious, and on his way to Nobles Hospital by helicopter with suspected leg injuries, which have since been confirmed as a broken femur.