Krazy Horse Customs is a nationally renowned custom shop, bike dealer and café, based in Bury St Edmunds – and it's got a busy schedule of events planned for the summer to keep petrolheads in the area entertained.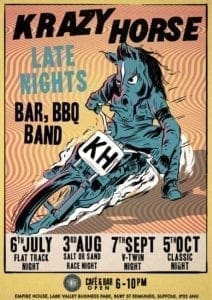 Krazy Horse has a couple of building on site, Empire House and Deco House, which are just a short stroll away from each other. Empire House encompasses a showroom, workshop, café and clothing department. It showcases a range of bespoke and low volume production vehicles from Norton, Indian, Zero Engineering, Paton, EBR, Avinton, Kiwi Indian, and Zaeta that Krazy Horse sells. While the Deco House showroom displays a range of Indian and Victory Motorcycles in addition to Morgan Motor Cars. The showroom also has an adjoining car workshop.
Each month from now until September, they're throwing Krazy Horse Late Nights – a night of BBQ, beer and bands – and they'll also be in attendance at a range of other show throughout the summer.
Here's the full breakdown of the Bury based bike shops schedule – but if you need more information, click HERE.
28 – 29th June 2017
The Norfolk Show @ Norfolk showground, Norwich