Saint has just unveiled its brand new Unbreakable range, the world's first single layer protection for motorcyclists.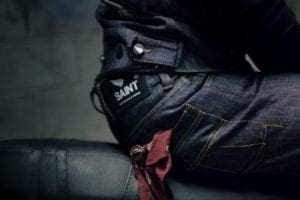 Saint's Unbreakable clothing line is created by stretching and blending industrial and military Dyneema fibres with merino and cotton. If you've not heard of Dyneema fibre technology before – it's used by the UK and USA military for both personal and vehicle armour, and is woven through Carbon Fibre to further increase strength, resistance and durability. 
 Saint has created a video to showcase the 'Unbreakable' material withstanding a range of abuse, from a belt sander to a knife. 
Saint said: "We are passionate about our motorbikes but tired of compromising looks for safety, or safety for fashion. Saint apparel delivers great freedom and form, with world first single layer protection. With no bulky layers or liners, we provide the very best in strength and impact abrasion resistant denim, while maintaining a classic style."