KTM has just announced its partnership with former FIM World Motocross Vice-Champion and KTM Global Race Director, Kurt Nicoll and California-based Champion MX Vacations – offering the chance to ride some of California's iconic motocross tracks aboard new 2018 KTM models.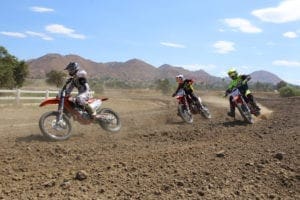 Champion MX offers riders the chance to book a holiday to Southern California and immerse themselves into the MX landscape by riding at some of the world's most iconic motocross tracks – and KTM are providing brand new 2018 SX and SX-F models for customers to play on.
"The Champion MX vacations are designed to welcome riders to Southern California and cater a motocross holiday package to them," said Kurt Nicoll.
"You don't need to be a pro, you just need to know how to ride. Imagine palm trees, sunny skies and riding the best equipment possible, the brand-new KTM models on some of the most legendary American tracks. With a maximum support on all services, we'll make sure this will be an unforgettable vacation!"