Valentino Rossi had a successful operation on the fractured tibia and fibula of his right leg, last night after being hospitalised after an accident suffered yesterday evening while riding at the VR46 Academy.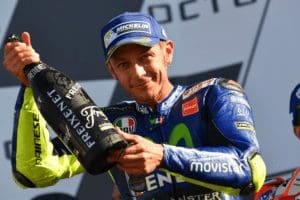 'The Doctor' received surgery between 2am and 3am in the early hours of this morning. During the surgery the fractures were fixated using a metal pin, without any complications.
 Rossi said: "The surgery went well. This morning, when I woke up, I felt already good. I would like to thank the staff of the Ospedali Riuniti in Ancona, and in particular Doctor Pascarella who operated on me. I'm very sorry for the incident. Now I want to be back on my bike as soon as possible. I will do my best to make it happen!"
Rossi, is currently fourth in the MotoGP standings, 26 points behind Andrea Dovizioso who sits at the top of the standings with six races remaining. The next race is at Misano in San Marino on 10 September.