Participating in round 10 of the FIM Supersport 300 World Championship in Portimao, Portugal, Carrasco rode to victory ahead of Yamaha riders Alfonoso Coppola (by 0.053sec) and Marc García (0.062).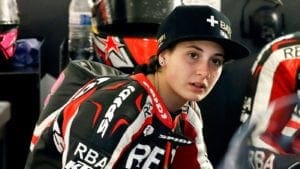 Ok, so she won by just one-tenth of one second, but it was enough for Carrasco and her Kawasaki Ninja 300 to make world history, as the 20-year old became the first female motorcyclist to win a world championship race in Portimao, Portugal.
Carrasco, from Spain has been racing professionally since 2013 – but dropped out of Moto3, after a couple of years of sub-par finishes. In the Supersport 300 Championship, she had yet to finish better than seventh, before coming in first in Portimao.
Speaking to WSBK, Carrasco said, "I am very happy about this result. When I first came to the world stage at 16, it was a bit weird for everyone. But it's been four years now and they've all got used to it, so to speak.
Women will never be a majority, this is clear. I think the number of women will increase, but in the end in the world championships there is a great level, which makes it complicated."