The first Bennetts Rider Panel survey focused on the topic of motorcycle and scooter thefts – surveying 2,330 riders from the UK and Northern Ireland.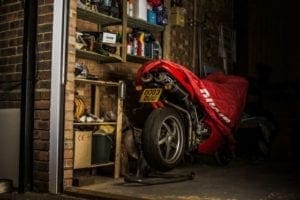 Seven out of 10 respondents said they are concerned about their bike being stolen and 19% have been a victim of motorcycle theft. Over half (55%) of those who have experienced a theft had their motorcycle stolen from their home, however 77% of all respondents believe that their bike is more likely to be stolen when it is away from their home, in an urban area.
When asked about the prevalence of bike thefts, half of respondents believe that more thefts take place nowadays in comparison to five years ago – yet the 74% of respondents who had their motorcycles stolen stated it was '10 or more years ago' and just 20% have experienced theft in the last five years.
Security devices
The most commonly chosen security device by those taking part in the survey is their bike's standard steering lock, with 85% using it to secure the motorcycle they ride the most. 15% of those relied on it completely for keeping their bike safe, even though no respondents believed it to be the most effective security device available.
The manufacturer's immobiliser was the second most commonly used with 53% selecting that option, suggesting that many motorcyclists depend on the security measures fitted to the motorcycles as standard. 10% admitted to never having purchased any motorcycle security devices.
Locked and alarmed garages were voted the most effective security devices, with nearly half (45%) of those who answered using one. One in 10 of respondents believe that a tracker was the most effective security device – yet only one in six of all respondents choose to fit one.
Thatcham and Sold Secure ratings are the most popular when riders are looking to purchase a security device – with over nine in 10 looking for the ratings. Weight and size are the least important factors according to the Rider Panel – despite inconvenience being widely attributed as a reason why riders don't carry locks and chains with them.
Security away from home
The Bennetts Rider Panel members believe (91%) there aren't enough secure parking spaces for motorcycles and scooters in urban areas and 60% of respondents said they were less likely to park their motorbike in towns and cities due to their belief that it is more likely to be stolen.
77% of respondents believe that the biggest threat of theft, when they park away from home, is in urban areas and just 5% think the risk is greatest in rural areas.
When leaving their bike unattended in urban areas, respondents seemingly used fewer security measures than they do at home – only disc locks are more likely to be used with usage rising by 15%.
Whether leaving their bike at home or away from home, most respondents relied on multiple security devices – with just 11% relying on one choice at home, 23% away from home in urban areas and 75% away from home in rural areas.
Motorcycle crime reduction
Over half of the respondents (59%) think that most stolen motorbikes are broken up and sold as parts – a fact backed up by Motorcycle Crime Reduction Group figures that confirm the many motorcycles are 'cloned', which involves being broken up into parts within hours of being stolen and reassembled onto legally acquired frames, which have log books. This can net thieves thousands of pounds a day.*
80% of these 'cloned' motorcycles find their way into the legitimate dealer network. Before the industry's MASTER Scheme, it was virtually impossible for dealers or the police to identify stolen parts.*
MASTER, stands for Motorcycle and Scooter Tagged Equipment Registration. It uses a sophisticated array of technology to mark the motorcycle or scooter's major component parts providing a unique 'fingerprint'.
Managing Director of Bennetts, Vince Chaney, said: "It's extremely interesting to see the results of our first Rider Panel survey and it's given us a great insight into the thoughts of motorcyclists in the UK and Northern Ireland. Motorcycle thefts are a huge problem and we see from the survey results that the concern of bike theft is meaning a lot of the respondents are less likely to park their bike or scooter in an urban area – could the introduction of more security parking mean that more motorcyclists are happy to commute on two wheels?
"Our hope for the Rider Panel results is that we can build up a wide picture of rider's thoughts and opinions which can then be used to push for changes in laws and regulations to enhance rider's experience."
For more information on Bennetts motorcycle insurance or to get a quote, visit: www.bennetts.co.uk
*Facts and figures supplied by the Motorcycle Crime Reduction Group.
---
Advert
---
Enjoy everything More Bikes by reading the MoreBikes monthly newspaper.
Click here
to subscribe, or
Read FREE Online
.
Sign-up to the More Bikes Newsletter
Enter your e-mail address below and get regular updates straight to your inbox… You can unsubscribe at any time.