Richa Cyclone Jacket and Trousers
Tested by: Ross
Trousers – RRP: ££299.99 – £329.99 // Colours: Black or Grey // Sizes: M – 6XL
Jacket – RRP: £399.99 – £439.99 // Colours: Black, Fluo Yellow or Grey // Sizes: S-6XL
I'm quite partial to a bit of Richa gear – I've been using a pair of their Goretex gloves pretty much non-stop for the past 18 months, and I've barely taken off my Bonneville wax jacket after getting my hands on it a couple of months ago. And I have to confess; this Cyclone jacket and trousers suit from Richa has more than lived up to my expectations.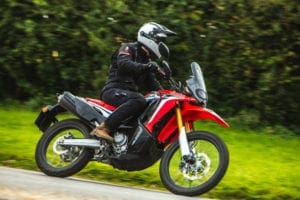 This Cyclone suit from Richa has coped admirably of late, as I've put in some serious miles in pretty unpredictable conditions. The jacket and trousers are warm (when they need to be), cool (when they need to be), comfortable, 100% waterproof (according to Richa) to which I can testify, up to this point at least, and they even clean up pretty easily too.
The elbows, shoulders and back all offer Level 1 approved D3O impact protection (and the armour can even be removed for washing) – although I have to confess, I wasn't blown away by the back protection on offer and have ended upgrading slightly. Nevertheless, the armour does stay in place well, unlike some of the other gear I've worn where the protection 'wanders' while riding, which is probably a testament to how well the gear fits, more than anything.  There's a removable thermal liner inside which zips in to place easily, and offers a pretty decent degree of warmth in the worst conditions – and once removed, the jacket and trousers are both still surprisingly warm, but the Richa A.V.S (air vent system) is integrated to increase airflow in the jacket (and help keep you at a reasonably temperature on those warmer days).