Anders Lundgren and Lasse Sundberg of Fullhouse Garage Shop in Sweden have built an incredible Indian Super Scout, paying tribute to the Swedish co-founder of Indian, Oscar Hedström.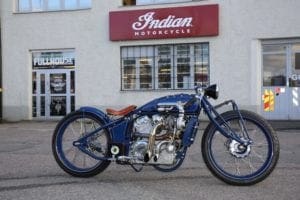 Anders said: "We wanted to build a bike that was related with the Indian history of board track racing and at the same time included the new era of technology that Indian stands for today. The Scout model was the perfect choice and we came up with the name Super Scout to honour the old Scout models that were almost unbeatable on the race tracks."
Featuring a water-cooled Garret 25 turbo, the Super Scout was built during 2017 in their Stockholm workshop and now makes 150 to 200hp at the rear wheel depending on the boost pressure. The engine, fuel pump, headlamp and shifter pedal are from a modern day Scout, but the frame is a one-off built from three sections. Lasse Sundberg (from Roth Engineering) built the frame up in-house and says it was the most difficult part of the build, surprisingly even more tricky than the fitting the turbo.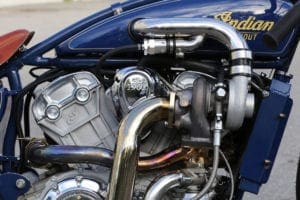 The Garret 25 turbo itself has an external wastegate and boost control. The headpipes and downpipes to the turbo and the wastegate are all in stainless steel and fitted as tight as possible to the frame so to not interfere with the slim lines of the bike. Anders said: "We wanted to give the bike some extra boost of power and to also show that we can combine an old school look with modern technology."