Our friends at Motociclismo Italy have spent some with Antonio Cappellini, Vespa's Product Development Manager, to find out about the new Vespa Electtrica.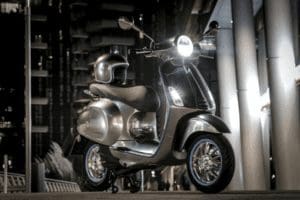 How long have you been working on this electric Vespa?
"The project started in 2016, but was born as an evolution of the experiences acquired by the Piaggio Group since the days of hybrid MP3 – which in fact have evolved further developing hybrid and electric engines, not least that on Wi-Bike ".
What were the most difficult technical steps?
"The challenge was to develop small, integrated, performing, high energy density and efficient automotive components, as well as reliability. In our case, in order to guarantee the customer some features (for example, a helmet compartment) we have dedicated components. The lithium battery has integrated control electronics, and the engine-vehicle management system is in fact an all-in-one device, in which several functions have been integrated. All components have also been developed to maximise efficiency."
What kind of electric motor do you use?
"Permanent magnet brushless synchronous, mounted close to the wheel and coupled with a cascade of gears, which allows a high torque density. In addition to reverse gear, this Vespa also has the KERS (Kinetik Energy Recovery System) function, which actually manages the recovery of kinetic energy, which is usually lost, at all stages of deceleration ".
Why has the performance of a 50 cc?