One of six super-rare 1980s prototype Lamborghini motorcycles went under the hammer yesterday – but failed to reach its reserve. So if you're into your Italian metal, there's still a chance to get your hands on a unique piece of motorcycling history.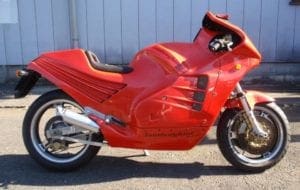 Back in 1989, Lamborghini was toying with the idea of creating its own mass-production motorcycle – and the iconic Italian brand teamed up with French motorcycle experts "Boxer" to produce six prototypes; the Design 90 was the result.
Fitted with a 1000cc Kawasaki engine, the Lamborghini Design 90 kicks out around 130bhp of power – and with a weight of just 405lb, it's pretty quick compared to other bikes of the time, with a top speed of 160mph.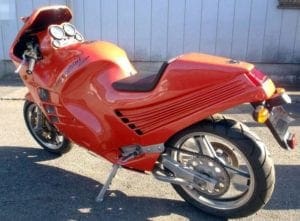 Despite its Lamborghini Countach inspired styling and superbike levels of performance, the prototypes failed to find much of a fan base – but now one keen collector is offering a chance to get your hands on a rare piece of automotive history. This particular model has been with the same owner since new, and has spent several years in Japan in the hands of a private collector – before being entrusted to Cheshire-based auction house H&H Classics.
Mark Bryan, a motorcycle expert with H&H, said: "The sort of person who would be interested in buying this is most likely someone with a large collection of Lamborghini cars and maybe even a Lamborghini tractor. They do crop up for sale from time to time but it's not common so hopefully a collector will take an interest. It's in very good condition and has been in Japan for a long time as far as I'm aware. It's one of those bikes that will always attract interest and we're hopeful it will do well at auction."
With a starting price of £42,500, auctioneers expected the Design 90 to attract offers between £80,000 and £90,000 – but sadly, this time, it didn't sell. But, i