BMW is looking to start offering up the back seats of its motorcycles and scooters to get around congested cities.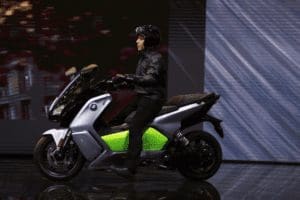 BMW already offers car sharing through its DriveNow brand, which allows customers to rent a range of vehicles by the minute. As a first step to bring motorcycles to a broader audience, the Bavarian brand is planning to start a pilot scheme this May to allow people to rent bikes (via an app) from dealers for a few days at a time – across Germany, France and Austria.
Ride-sharing has been proving extremely popular in Southeast Asia – with Honda investing in Singapore-based Grab back in 2016 to offer motorbike-hailing services in Indonesia, Thailand and Vietnam. BMW sees the potential broadening of its services, as one of the steps to grow BMW's customer base threefold to 100 million users by 2025.
Peter Schwarzenbauer, who heads BMW's Mini, Rolls-Royce and motorcycle brands, said in an interview at the Geneva International Motor Show: "This is definitely an option, but we haven't found the solution for the second helmet yet. There's the issue of sizing and then re-using helmets in the summer heat — it's not ideal."
Additionally, Schwarzenbauer suggested that BMW is considering a second, smaller electric scooter, to meet growing demand for agile two-wheelers to beat city traffic. He said that the new model would be smaller than the existing C Evolution maxi-scooter that has a range of around 160km (100 miles) – but declined to offer up any more details at this point.
The statement comes just days after we revealed that BMW's managing director Stepan Schaller said that the Bavarian brand are not interested in electric motorcycles, instead betting everything on its electric scooters.
https://www.morebikes.co.uk/43950/bmw-boss-electric-motorbike-not-interest-us-betting-everything-scooter/