Moto Guzzi unveiled its Concept V85 at last year's EICMA to widespread admiration – and to explain what's going on with its Paris-Dakar inspired styling, here's an interview with the man behind it, Marco Lambri.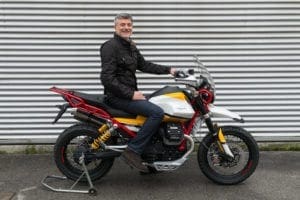 1) You're a member of The Clan and a diehard Guzzi fan. Where did your love for the "Eagle" originate and how did you get to the point of designing the V85?
"I grew up in my father's workshop, in amongst the engines, and I received my very first bike, a little Malanca 50, as a gift when I was just five years old. Ever since then, my love of two-wheelers has never waned.
However, my passion for the "Eagle" was only really sparked when I was 16 years old and I went on a school trip to visit the Moto Guzzi plant in Mandello. In addition to the production areas, we were also shown the little testing track located behind the plant. It had just stopped raining and the track was still wet. A test rider was out on the track, doing some test laps on a Le Mans III. When he came back in after the test ride, he stopped the bike in amongst us students: the heat coming off the tyres and evaporating the water on the road surface, and the clicking noises caused by the dilation of the bike's metal components all over the Le Mans made for a truly surreal atmosphere. I was totally gobsmacked and I decided there and then that one day I would work at Mandello and design a Guzzi.
I forget exactly when it was that I sketched my first Guzzi: designing cars and bikes was almost like an illness for me and every day I would come up with a new sketch. My first professional foray into the design world dates back to the period when I worked at the Alfa Romeo Styling Centre. Aprilia had just acquired Moto Guzzi and was looking for designers. I applied for the job and took along some of my design proposals. Thus, a few years and many sketches later, I landed up working on one of the most interesting and stimulating projects that I have ever put pencil to paper on: the V85".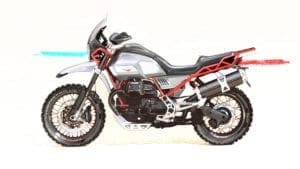 2) How much of Guzzi's Paris to Dakar history and the iconic "Eagle's" off-roading tradition lives on in this V85?
"The phenomenon of the "classics" and the return to certain values dating back to the early days of biking have become far more than just a passing fad. It is the expression of a new kind of biker with very different demands: a rider that is very particular about the look of his bike and wants to be able to express himself through it. But these days, the "Classic bike" sector too often sacrifices practicality in favour of pure image, particularly when it comes to off-road bikes. The V85 instead combines the all the values of riding in style with those of practicality. Whatever the case may be, I personally consider the V85 to be a truly modern bike. We like to call it a "classic" because it embodies all those values that we believe are timeless, and therefore also classical, for every biker. The bike is actually very simple in terms of structure, robustness and ease of use. It has no non-essential bells and whistles whatsoever and it harks back to the spirit of the earliest Enduro bikes of the 1980's, the kind of bikes on which you could go anywhere and do anything, including going to and from work, weekends at the lake or going on a summer holiday.
Moto Guzzi's off-roading history is full of inspirational examples, from the Lodola Regolarità through to the TT and NTX series. Simple, practical bikes that were the expression of Italian-ness and virtually unstoppable on any terrain. The V85 has picked up on this legacy and dressed it up with a unique brand of charm that comes down directly from another chapter in Moto Guzzi's off-roading history, namely that of the legendary Paris to Dakar.
The prototype unveiled in Milan is clearly intended to be a nod to the Moto Guzzi V65 TT that Claudio Torri rode in the 1985 Paris to Dakar race, particularly in terms of the graphics. We felt that this was a bike with the perfect spirit to introduce the "classic Enduro" concept and also to highlight Moto Guzzi's off-roading origins."
3) What are your favourite features of the Concept V85?
"Every new model has its very own story to tell. We could tell many stories regarding the evolution of a new bike and the most interesting of these stories are often those relating to the finer details. Once the basic concept and the general styling have been agreed upon, the up-scaling process invariably means that everything, right down to the most apparently insignificant little screw, has to be reconsidered.
An important factor is the headlight cluster. The bike's look is largely dependent on its headlights and normally the internal structure of the headlight itself is never really addressed in the initial sketches. These days the headlight clusters are an expression of technology, lighting quality and also the kind of "look" that the bike will have. This new Guzzi family of bikes had to be original and distinctive, even down to this extremely important component. We finally decided on the illuminated "Eagle" logo after looking at various highly imaginative ideas, but in the end it was the bike's inherent spirit that led us to decide on this obvious choice. Obvious, perhaps, but by no means commonplace and, above all, unique."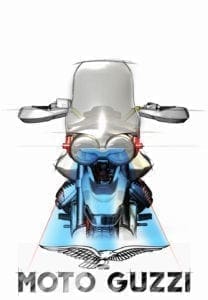 4) As a Guzzi fan, what bikes have you got in your garage?
"For me the garage is one of the most important areas of the home and my choice of a place to live has always hinged on the fact that it had to have a garage at all costs. The first thing you'll see in my garage is total chaos, or rather, I tend to alternate between periods of chaos with periods in which my favourite place gets transformed is so clean and tidy that it virtually resembles an operating theatre (this happens a couple of times a year). In addition to my tools, my garage has to have a stereo sound system because I always have to have my music wherever I happen to be. In one corner of the garage there's an old Boxer and a Sì that is still running, as well as my Red Vespa GTS and a Griso. Since I'm not at all averse to donning my leathers now and again and going out for some fun on a series of bends, with or without kerbs, for me a sports bike is a must: at the moment it's an Aprilia Tuono V4. I will obviously have to tidy the place up a bit to make room for the V85 because I didn't have an Enduro in my fleet …"
5) Have you thought about where you'll take your V85 out for its first ride?
"I'd like to take the V85 up to the lake for its first ride. The old national road No. 36, via Mandello del Lario and on to Dervio before heading off to the Valvarrone: the roads are twisty and the tar is a little rough, ideal for the V85. I've ridden the bike and, let me tell you, it rides really well. It's extremely easy to handle although somewhat unyielding and the engine pulls really well. Then there's the trip back from the Valsassina.
Let's say it's a foretaste of things to come and a way to let the engine breathe in some of that lakeside air, to make it feel at home and to take me back to some of the roads that I grew up on. Of course, at the time the guys were riding souped-up "fifties", very fast 125's or single or twin-cylinder Enduro "thumpers", but I'm sure that the V85 will take me back in time to relive those exciting rides of long ago. Also, this will help us to increasingly familiarise ourselves with this new engine on which we're currently working, with our usual extreme commitment and passion, in order to develop the rest of the V85 range …".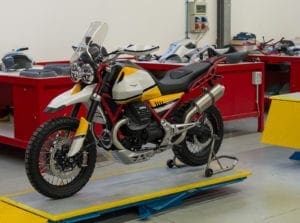 There's been no official confirmation regarding the Concept V85 going into production – but we're expecting it to on its way sooner rather than later. For more information, click HERE.
---
Advert
---
Enjoy everything More Bikes by reading the MoreBikes monthly newspaper.
Click here
to subscribe, or
Read FREE Online
.
Sign-up to the More Bikes Newsletter
Enter your e-mail address below and get regular updates straight to your inbox… You can unsubscribe at any time.