Over the years, we've all seen countless incarnations of the iconic Yamaha RD350 – but this morning, we've stumbled across an unusual custom project that's absolutely dripping with carbon fibre.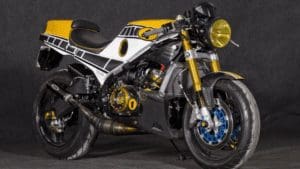 As you can imagine, a lot of work has gone into creating this very special Yamaha RD350LC by its Spanish owner, Mike Navarro – who's passion for RD's has been passed down from his father, who's owned numerous models over the years.
Getting into specifics, there's not much left of the original RD – aside from its frame. Its original engine has been restored, but has been prepared with special parts, including Wiseco pistons and a machined aluminum head Cool Head with interchangeable heads. It also includes a special crankshaft with reinforced cranks, as well as closed gearbox, clutch with centrifugal system and oversized radiator. And to get enough air through, it incorporates 28mm Stage6 R/T carburetors, Moto Tassinari V4Force carbon sheet boxes and TPR exhausts.
It doesn't end there though. There's the Öhlins fork and front braking system from an Aprilia RSV1000, as well a swingarm from a 2008 Yamaha YZF-R6. There's an Öhlins monoshock, and a Brembo braking set-up at the rear, accompanied by Goodridge hoses with quick connectors. And, it even comes with a brilliant instrument panel, which details the temperature of each cylinder at all times – among other things.