16-year-old SHARK-sponsored racer, Thomas Strudwick, won the first race of the brand-new British Talent Cup at Donington Park this weekend. MoreBikes.co.uk spoke to him after his win about how he got started, what it feels like to make history and what his aims are for the rest of the season…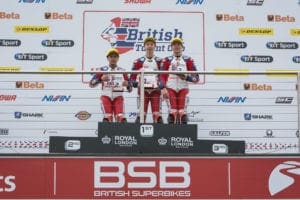 How does it feel to win the opening round of the BTC?
"It hasn't really sunk in yet that I've won the first ever race of the British Talent Cup – it's certainly something really special and I'm happy to have done it in the way I did. I won the race and was ahead of the main group by quite some distance which was the highlight of the race for me really. It feels amazing to be honest and is undoubtedly a huge part of my career – the congratulations have been huge in comparison to what I've received before. You can tell that there will be other people watching what the riders in the British Talent Cup are doing. I'm excited to see what my future holds."
Did you have to overcome any challenges to secure the result?
"The biggest challenge was just getting comfortable on the bike following on from the testing we did in Valencia and getting use to the fact that it doesn't have a quick shifter. Things like riding in the wet conditions on the Dunlop tyre were also new to me. It was nice therefore to be able to jump on the bike and be able to be finish in the top three after the first practice, second in qualifying and to know that I could push on lap one of the race. We had wet tyres on a dry track for the race which was tricky, but once I relaxed and found a nice rhythm I got to building on the gap."
At what point did you feel strongest during the weekend?
"I wouldn't say there was a particular point – I just kept building up my confidence in every session. For me, practice is really a time to get my set up on different corners dialed and not focus on overall lap time like other riders might – it's great for my confidence when I know that I can put a nice lap together that feels right. I knew I could do the laps with my fitness and I could push from the start. The way I ride is not about hitting every corner hard from lap one – I take them one at a time, pushing to its limits and then asking for a little more before moving on to the next. If I do that, I can think to myself when qualifying comes 'I've got this'."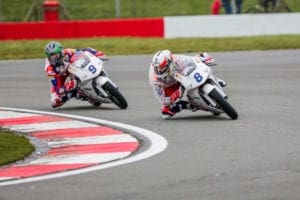 Who do you feel were your biggest challengers during the weekend?
"There were obviously a lot of riders coming in with a wealth of experience, some of which I've raced with before or I know have been good in previous seasons. Everyone is a competitor and someone I'm trying to beat. I look at everyone in different ways – I look at where they're strong and seeing how I can go quicker. I've raced with Max Cook before so know where he is stronger and where he is weaker, and I know Rory Skinner is coming from the Rookies Cup and he pushes hard from lap one so I can't let him get away. They're all my competitors and all have their strengths."
The weather conditions at the weekend were a challenge – how did you deal with it?
"I just did my best to relax into it – when you're relaxed, you're faster. I knew that everyone was on the same tyre with a similar set up and the same bike – nobody has any advantage. I got to the front from lap one and did my best to stay in front by settling into a good flow and enjoying it – that's the best thing you can do because when you're enjoying it, you're fast!"
Is there a lot of difference between these bikes and what you've ridden before?
"The principles of this bike are the same as what I've ridden before which is nice as I'm confident with that bike. I've ridden bikes with and without quickshifters before – so I've been able to adjust quickly. The bikes we use in the British Talent Cup have a really loud exhaust compared to the standard version that I ride in the BSB class, which makes it stand out as different. That's nice in a sense though because you can hear what your engine is doing and really control it.
"My career started with MX originally when I then converted to the FAB racing championship on Mini Motos. In 2014 I won the championship, a championship previously won by the likes of Scott Redding. I then moved to the KTM Junior Cup alongside BSB where I led the Championship. I did a wildcard in the same year with the Moriwaki European Junior Cup and finished second in race one but unfortunately got caught in an accident alongside another rider in the second race and broke my arm quite badly. I came back at the end of the year to do the KTM world final round and won the UK race and finished in the top ten of the world race. The year after, I raced in the Moto3 standard class – it was a bit of a difficult year as my head was not quite race ready: I'd had a long time away from racing and it was difficult for me to do well.
"In 2017 I joined the Moto Rapido Superbike Ducati Team alongside John Hopkins. For me, that was a brilliant season of racing – the start wasn't great but in the last quarter I won every single round on overall positions which was a great result. I finished third overall that season. I'm now competing in the British Talent Cup whilst also racing in the British Motostar Standard class again alongside the Moto Rapido Ducati team with Taylor Mackenzie as my teammate – two british championships both on Moto3 NSF250R machines – both of which I aim to win."
How did you find interacting with the team to set up the bike for the race?
"I've been fortunate to race with one of the top superbike teams in the UK. From that, I understand how an experienced environment works – and it's exactly the same atmosphere with the British Talent Cup. It's clean, tidy and professional. I can trust the mechanics and I work with the same helper I have in the Moto Rapido team which gives a nice continuity to everything. The mechanics are all really nice, I get on well with all of them. Our suspension guy, Santi, is very experienced – you can tell him your problem, he'll fix it, and you'll never have the same problem again. Everyone is there to help you do the best."
What are your hopes for the next round and the rest of the season?
"I enjoy racing all the tracks on the calendar, which is a big confidence boost. I have a nice lead already and just need to control that – staying on the bike and getting in the points. If I do that, I can challenge for the lead. The overall goal though is to keep improving and making the bike faster which I love doing.
"The biggest thing for me is to be in the top five or three of every single race. In my head, if I can lead at least every race at some point then that is the biggest confidence boost. Other than that, I just want to stay consistent, be at the front and be able to make the overtakes I need to quickly and safely."
What will you be doing over the break between now and the next round?
"I've got two British Moto3 rounds between now and the next round of the British Talent Cup, plus I will be going to school too. As well as school, I'll be training as much as I can to stay fit and active both in my body and my head. My overall goal is winning two british championships in one season, so I'll be doing everything I can to achieve that."
British Talent Cup
SHARK Helmets is the official sponsor of the British Talent Cup – and each of the 23 riders will race wearing a SHARK Race-R Pro helmet, as well as receive one-to-one race support at meetings from the SHARK UK Race and Technical Department.
The riders from the UK and Ireland, aged between 12 to 17 years old, have all been handpicked from aspiring hopefuls during the first ever selection event ahead of the 2017 British Grand Prix at Silverstone and returned from a test in Valencia in March – the first time they have tested their Honda NSF250R Moto3 machinery all together on track.
The all-new British Talent Cup is part of Dorna's Road to MotoGP program, designed as the perfect stepping-stone for riders from the UK and Ireland to get onto the world stage.
Here's the upcoming calendar:
Round 2 – Donington Park – 25 May – 27 May
Round 3 – Snetterton – 15 June – 17 June
Round 4 – Silverstone – 24 August – 26 August
Round 5 – TT Assen – 28 September – 30 September
Round 6 – Circuit de Valencia – 16 November – 18 November
For more information on the British Talent Cup, click HERE.

Latest posts by Ross Mowbray
(see all)
Does this get you revved up? Tell us why...
---
---
Subscribe to MoreBikes Newspaper
Get MoreBikes delivered through your letterbox every month. 12 issues for £15. Click here for more information.
---
Get MoreBikes.co.uk Updates
Enter your e-mail address below and you will receive biking news straight into your inbox...



You can unsubscribe at any time.
---