Olivers Mount has failed to make necessary safety improvements, as agreed with the ACU Road Race Committee earlier this year – and as a consequence the Scarborough short circuit is without a race permit and insurance for the Spada Spring Cup, which was set to take place on April 20-21.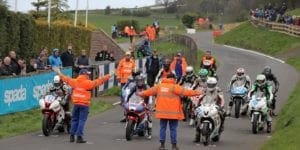 Members of the ACU Road Race Committee met with the top bods from Auto66 and PMH Promotions (who run Olivers Mount) earlier this year to agree a spate of additional safety improvements for close quarters circuit. 
But after a planned circuit inspection on March 21, the ACU found that the organisers had not managed to achieve all the improvements required by the deadline. And after a couple of extensions, the ACU has been forced to make a call, regretfully deciding they will be unable to provide a course licence for Olivers Mount.
That means that the circuit has no permit or insurance for the Spada Spring Cup, which was due to take place of 20-21 April. Of course, it won't be going ahead – but there's been no news from Auto66 as to whether it'll look to reschedule.
Don't worry though – it's not over for Olivers Mount. We've been assured that the organisers/promoters will be working closely with the ACU and Scarborough Borough Council to try and be good to go for the busy calendar of events scheduled through the rest of the year.