KTM Motorcycles has established a new racing program, and is set to compete in the single cylinder class of the 2019 American Flat track Championship.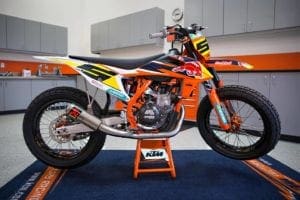 KTM competes in racing series worldwide, from Supercross and Motocross, to the premier class of MotoGP racing – and so it should come as no surprise that the Austrian brand is now making the leap across to flat track racing next season.
Former HMC KTM Factory Superbike racer, and current KTM Brand Ambassador, Chris Fillmore – who also oversees the Junior Cup efforts of KTM, will now manage the flat track program. He said: "We won't actually go racing until 2019, because we are starting from scratch and building the team throughout 2018. We started by building the flat track single-cylinder powered motorcycle so that we could show it off and share it with dealers. It is a single because we are taking the program one step at a time. We are, though, looking forward to working towards taking our flat track program into the twins class, and to continue building the brand through racing. When we are ready the KTM flat track twin be powered by the parallel-twin engine from the 790 Duke."
John Hinz, President of KTM North America, Inc., said, "We have been following the changes happening to the racing in American Flat Track and the excitement it's produced, so as a READY TO RACE company it was natural for KTM to want to be involved. I am proud to continue a long-standing relationship with Chris Fillmore as the new Team Manager for our Flat Track and Road Racing efforts. Chris has a history with KTM that most recently includes setting the World record on a 1290 SUPER DUKE R at Pikes Peak. Chris is currently heading the Orange Brigade Road Racing Team with two young riders in the MotoAmerica Junior Cup, so we're confident in his abilities to take on this exciting project."
KTM is expected to compete in the American Flat Track​​​ Singles class on its 450 SX-F FACTORY EDITION motorcycles. We can't wait to see how they get on.