Dunlop has been hard at work testing its tyres with Honda Racing and Padgett's Racing at Castle Combe circuit – ahead of the roads season kicking off in earnest.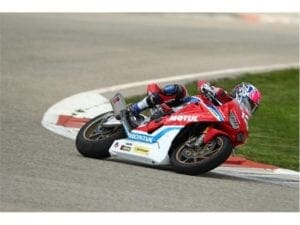 The testing gave Dunlop the chance to dial in the tyre options it'll have available, allowing the most successful tyre manufacturer in the history of the Isle of Man TT to pick 'the right tyre for the job' when the event gets underway next month.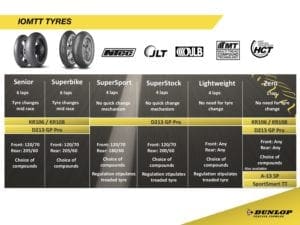 Rider feedback is central to understanding which compounds work best around the complex 37.733 mile course, taking into account the performance characteristics of each bike and rider combination, and maximising tyre stability and durability. And so, Honda Racing's Lee Johnston and Padgett's Racing rider Conor Cummins were on hand to put the tyres through their pace – and the pair of them reported excellent grip and stability across both slick KR106/KR108 and treaded options.
Pat Walsh, Event Leader at Dunlop Motorcycle said: "Our 2018 tyre testing programme has been completed with our partner teams and once again it proved very positive from all sides. We tried a combination of different compounds and constructions across the main classes, which were all well received by the riders and teams, and have allowed us to select the tyres we'll take to the NW200 and Isle of Man TT. Rider feedback is fundamental to that decision, to ensure they have the best available option for every race. Despite the changeable conditions, we were able to complete a significant number of laps and fulfil our objective."