Check out the science of pit stops, with the super-slick Honda Endurance Racing team at last year's Bol d'Or 24-hour race.
Fast and precise pit stops are in important part of endurance racing, with races won and lost in the pit lane. And Honda Endurance Racing proved just that at the 24 Heures Motos, fighting from 38th place to finish 2nd on the podium after 24 hours of racing.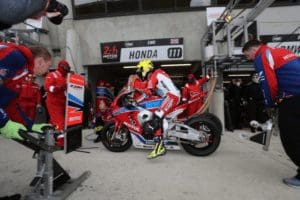 How long does it take to refuel in a duration race? At what temperature are the tires carried and how many seconds do they need to mount them? Well, this brilliant 'Science of a pit stop' video shows you what happens when a Honda Endurance Racing rider returns to the pit and the mechanics spring into action. Cool right?