The Isle of Man Post Office has commissioned a set of 12 ground-breaking stamps, featuring TT greats of yesteryear – man and machine alike.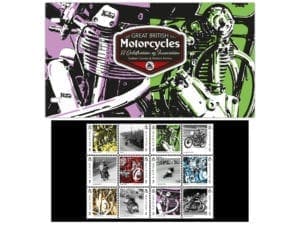 The new Great British Motorcycles set celebrates innovation, incorporating both artwork and classic archive images for the Isle of Man Post Office collection. Harold Daniell, who raced the Manx Norton Single and was a three-time TT winner both before and after World War One, and Freddie Dixon, known as 'Flying Freddie' after his victories in the 1920s on both solo machine and sidecar are just two of the riders featured in the iconic collection.
And the ground-breaking engines included in the set include the iconic Norton 'Manx' from the early 1960s, the four-cylinder, supercharged, air-cooled V-four AJS and the Excelsior Manxman, a machine at the forefront of road racing in the 1930s. Cool, right?
Maxine Cannon, General Manager of Isle of Man Stamps & Coins, said, "This is a celebration of some of the biggest manufacturers, many of whose machines and riders went onto become household names at the Isle of Man TT. That is recognised as the sternest test for machine and rider alike. We expect this to be a popular collection with motorcycling fans of all ages."